What could you and your team members do with 93,028 extra hours? 
In the third quarter (Q3) of the fiscal year (FY) 2022, our robots added 93,028 hours of extra capacity for colleagues in Finance, Sales, Marketing, and beyond. This beats the previous quarterly record of 69,973 hours (Q2) of additional capacity by 32%, and brings our total hours saved to 462,479 hours as of today.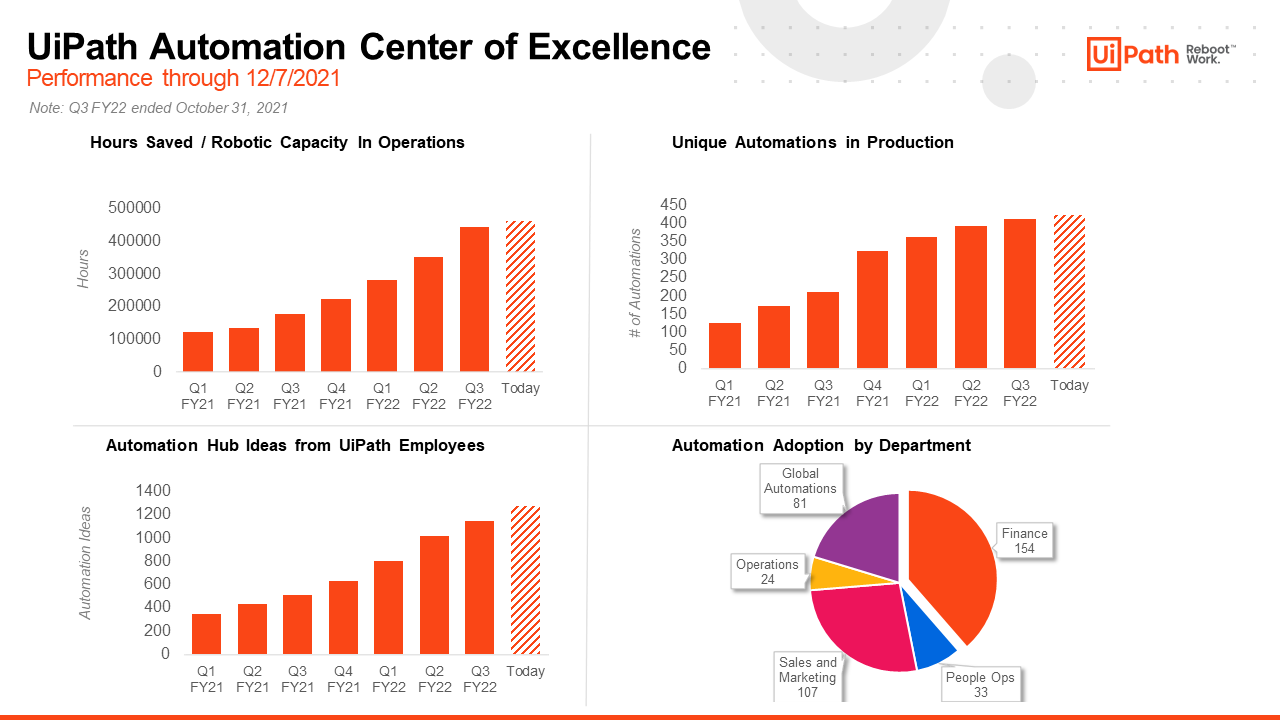 If you're new to this series, every quarter we update our community on our internal automation progress. Bookmark this page to keep up with how UiPath Uses UiPath. 
Today let's explore our lessons learned in Q3: 
Every department has a role in the CoE's success  

How we're using UiPath Apps to build user-friendly interfaces for automations 

Ready-to-go automations our company can't get enough of 

Highlights from our UiPath FORWARD IV breakout session
Use cases in every department  
As you might expect at an automation company, automation ideas abound in every department.   
Like many automation initiatives, our Finance team leads the charge in terms of both hours saved and automation ideas generated. This quarter, our Senior Controller, Florin Florescu, shared an automation idea that greatly improved productivity and data accuracy. The Profit & Loss Variance Analysis automation is an attended robot that ties different apps like NetSuite and Microsoft Excel together to deliver consolidated output reports.  
The result? 5,097 hours were freed for Florin and his Finance colleagues.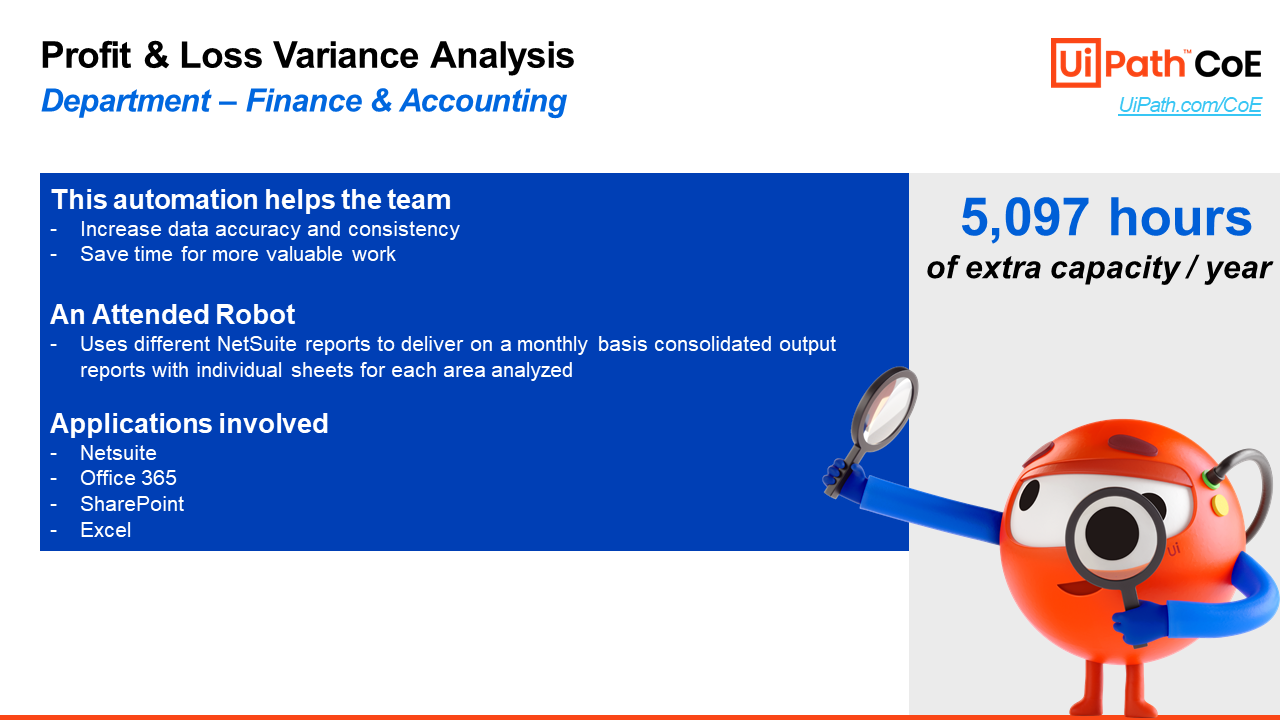 But automation ideas can be found far beyond Finance. With the help of an unattended robot, Satish Sampath on our Learning team monitors the performance of the UiPath Academy website. This helps us elevate Academy users' experience as well. 
Another example outside of Finance is Larry the Leads Bot. Larry is a great partner for our colleagues Steph Ashby and Craig Besant, saving 6,240 hours per year. The automation makes lead engagement more conversational and significantly reduces administrative work.   
Want to dig into the hundreds of automations the UiPath CoE delivered in the last few years?  
Check out this encyclopedia of CoE automations, where we'll continue adding automations each quarter.   
Designing delightful desktops with UiPath Apps 
Within the CoE we automate ourselves, too. Yes, we're an automation team within an automation company automating itself (say that three times fast!). 
We use Automation Hub to crowdsource automation ideas among employees and manage the automation lifecycle.   
This quarter, using UiPath Apps, our tool for building automation-powered visual interfaces, we created an app that accelerates our downstream Jira projects.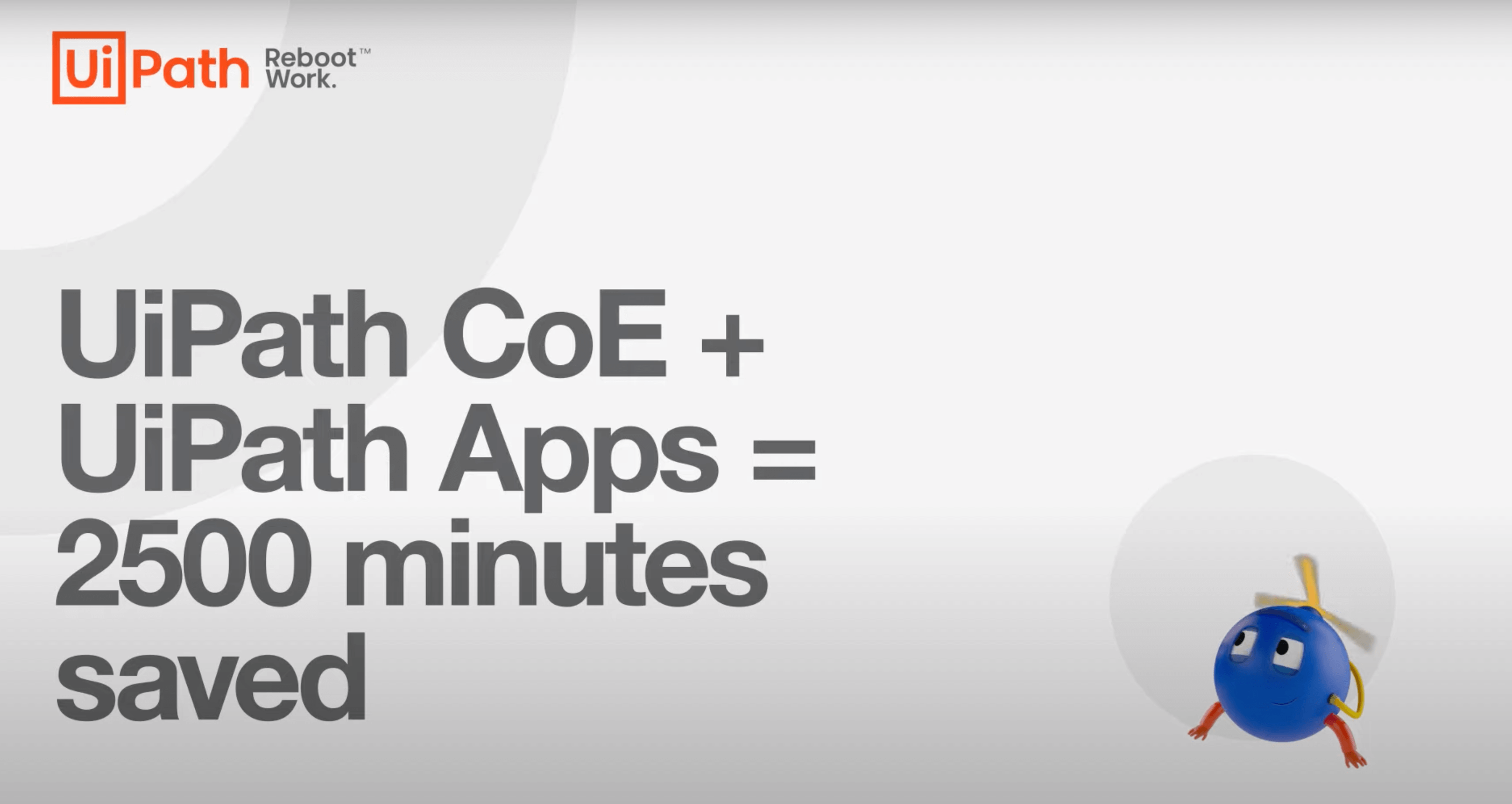 By saving business analysts from the tedious work of copying and pasting repetitive data, this automation-powered app saves us more than a week's worth of time every year.  
"Ready-to-go" automations accelerate automation adoption 
Another crucial lesson for us in Q3 was the importance of supplying a library of ready-to-go automations. While the automation examples above show how important it is to create domain-specific automations for Finance, Sales, etc., we also want to foster and share automations any team can use.  
Thankfully, in our most recent product release (2021.10) our UiPath Marketplace colleagues made it even easier to share these broadly applicable automations. Our ready-to-go automations are now available in UiPath Assistant for all UiPath employees: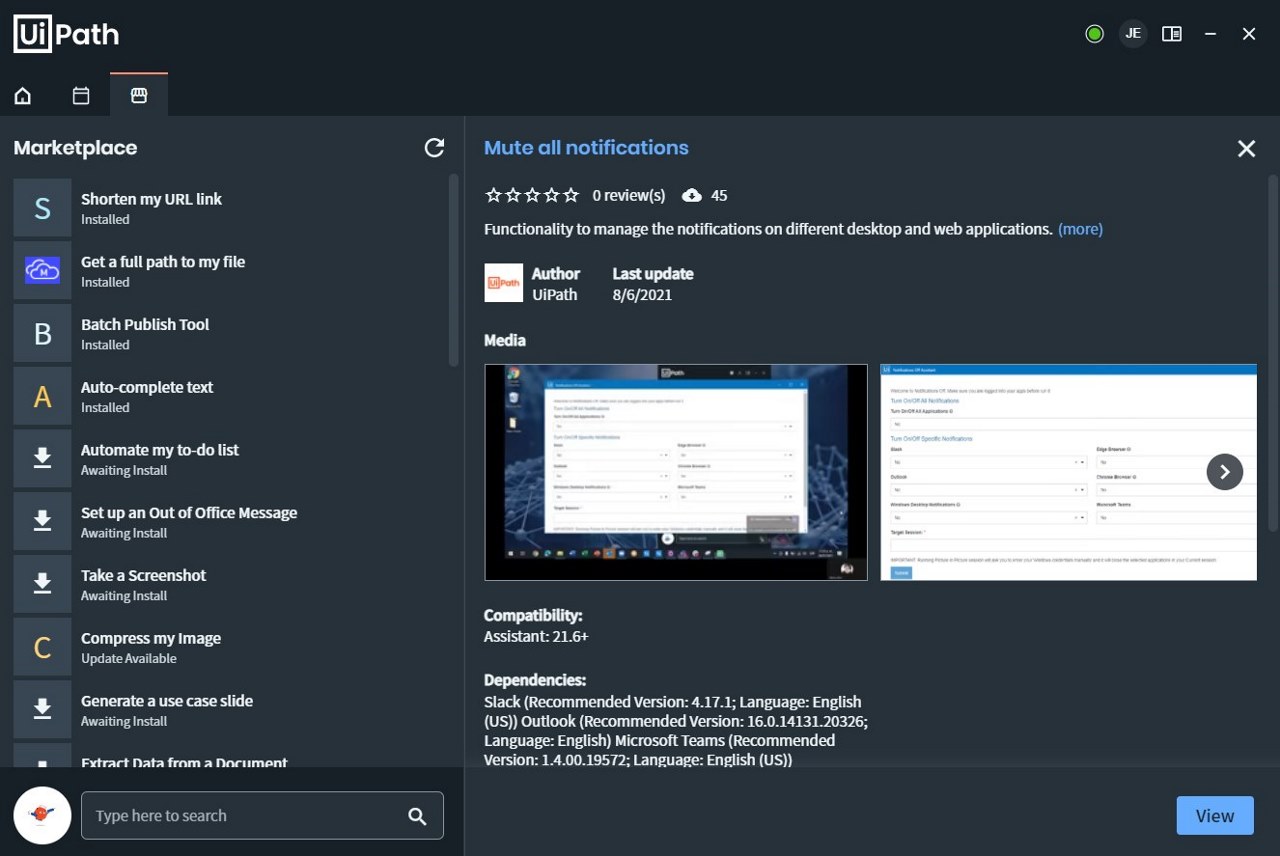 The last thing I want is to navigate to five different applications to silence my notifications, shorten a URL, or generate a use case slide. I love that our CoE enabled ready-to-go automations in UiPath Assistant. In just one click, my robot can handle some of the more manual, and frankly mediocre, parts of the day."

—Joe Edwards, Product Marketing Team, UiPath 
What happens in Las Vegas…gets shared as lessons learned on this blog! 
Another highlight of Q3 was our flagship event UiPath FORWARD IV. It was great to see so many customers, partners, and fellow employees in the world's most immersive gathering of automation experts.  
Our CoE presented during the "how to" session. Colleagues from our Finance and Procurement teams joined me to walkthrough how their teams are bringing automation to all employees.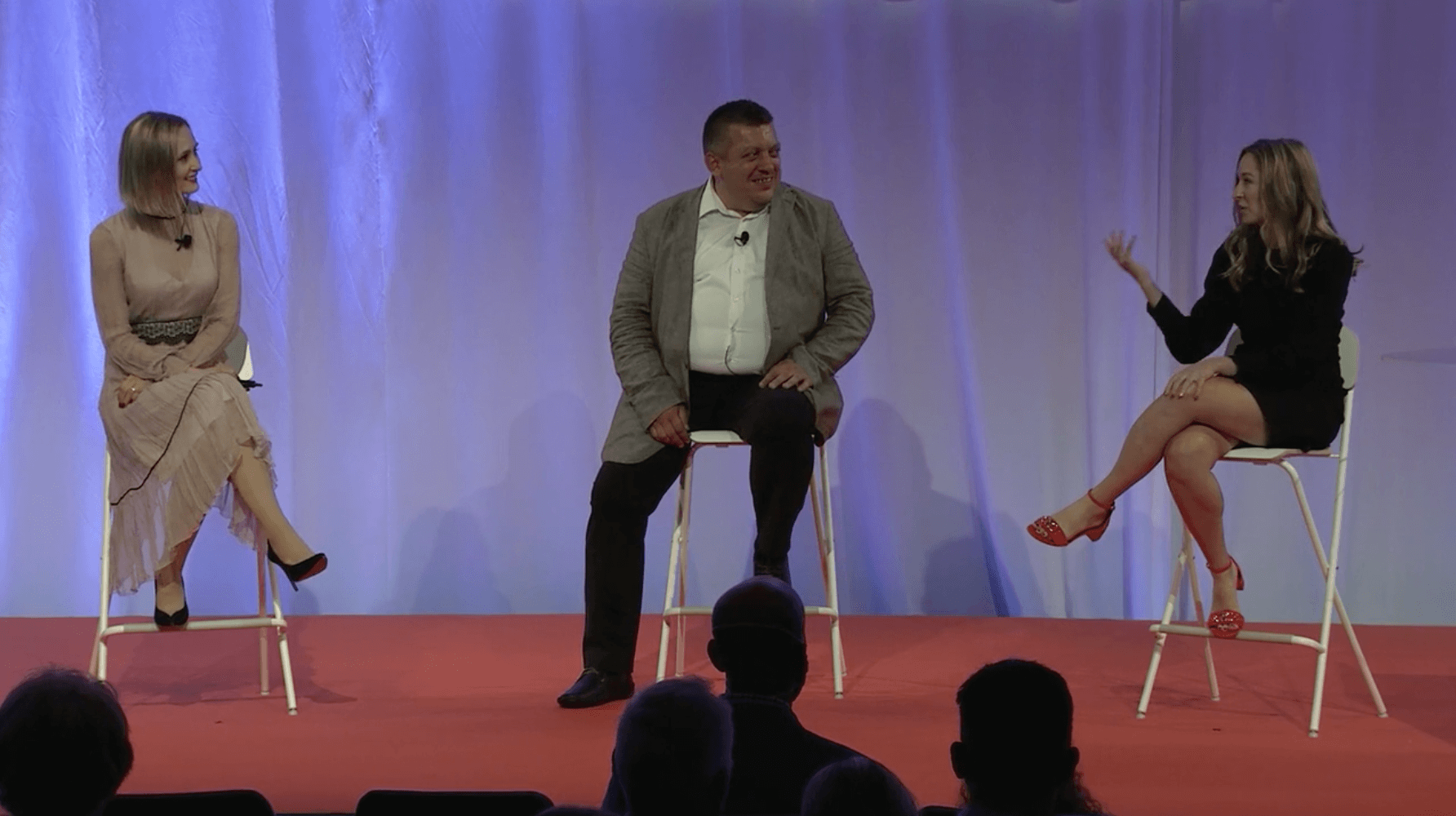 Next quarter we have even bigger CoE news to share ...Want to know what we're working on in Q4? Stay tuned.