At the UiPath FORWARD 5 conference, macroeconomic shocks—from geopolitical shifts to interest-rate rises to post-pandemic recovery—were the talk of the town. Yesterday's certainties have been upended, and new issues are pressing for attention.
From the turmoil, I would argue that chief information officers (CIOs) are forging a new role in business, very closely aligned to business outcomes. The digital CIO role is emerging and it is essential in helping organizations navigate the winds of change. Digital CIOs orchestrate the digital tools, infrastructure, and skills for the future workforce to:
Increase operational efficiency

Empower and engage employees

Deliver improved customer experience
The impact of the pandemic showed many company boardrooms that CIOs provide a critical component of business strategy. In return, though, boards are applying greater pressure on CIOs to perform and deliver.
As a result, CIOs are looking for more than just incremental improvements; the search is on for genuine transformation that will drive innovation and outsized outcomes. Automation is the next big weapon in the CIO's arsenal because it drives faster outcomes​ and optimizes and enables other tools in the CIO's toolbox such as cloud, data, artificial intelligence (AI), and cybersecurity. That means bigger impact from transformation—and more value from Day 1.
Notably, at the UiPath FORWARD 5 gathering in Las Vegas, we hosted the first in-person CIO Automation Council meeting. Here, CIOs from global companies discussed these exact topics. The Council is a new channel to share best practices and outcomes from enterprise-scale automation. It also provides valuable input to UiPath to help CIOs achieve their goals.
At the meeting, members highlighted that the focus on automation is increasing in the face of economic uncertainty and labor shortages. The message emerged that use-case-level automation is good, but alone it will not answer the strategic challenges that CIOs face.
For strategic automation, the Council offered examples of 'what good looks like,' and how automation can be designed and deployed at scale. Automation scales successfully only when it is tied to company strategic goals, and when both leadership and employees see results. And like a company's growth path, automation is a journey rather than a project. Early wins and single projects will create individual stories that inspire and mobilize employees, to drive enterprise success.
UiPath is investing heavily in the support that CIOs need to make enterprise transformation possible, by creating the communication channels such as the Council, which will help to develop expertise and the board-level messaging.
Stories presented by CIOs at FORWARD 5 were testimonials of the capabilities of automation, when delivered at scale with a strategic objective in mind.
For example, Allscripts, a global leader in healthcare IT, demonstrated how it moved from pilot to enterprise-scale automation within a year, overachieving its ROI and speed-to-value objectives. The experience demonstrated how the hallmarks of strategic transformation programs, such as governance, change management, and executive sponsorship, are critical to success. The corollary is that the executive board now understands the strategic potential of automation, and set ambitious objectives for the next phase, to scale up the benefits.
Similarly, Visionworks, the optical retail store chain, started with a roadshow to enroll its employees and stakeholders in understanding how automation can transform business operations. With an engaged workforce, the company set out objectives for process improvements, particularly to manage fluctuating, seasonal workloads.
These two examples, out of many more, provide direct testimonials that show how CIOs deal with larger issues than purely operational targets such as cost savings. For both Allscripts and Visionworks, the strategy showed up where they were struggling to find staff (and read more about the shortage of talent), helping to ensure no IT projects were impacted because of the tight labor market.
Automation at scale can improve quality, accuracy, and compliance, as well as delivering cost savings and helping to hit business key performance indicators (KPIs). The CIOs and chief technology officers (CTOs) sharing at FORWARD 5 demonstrated time and again how automation at scale can remove operational roadblocks and enable new ways of working.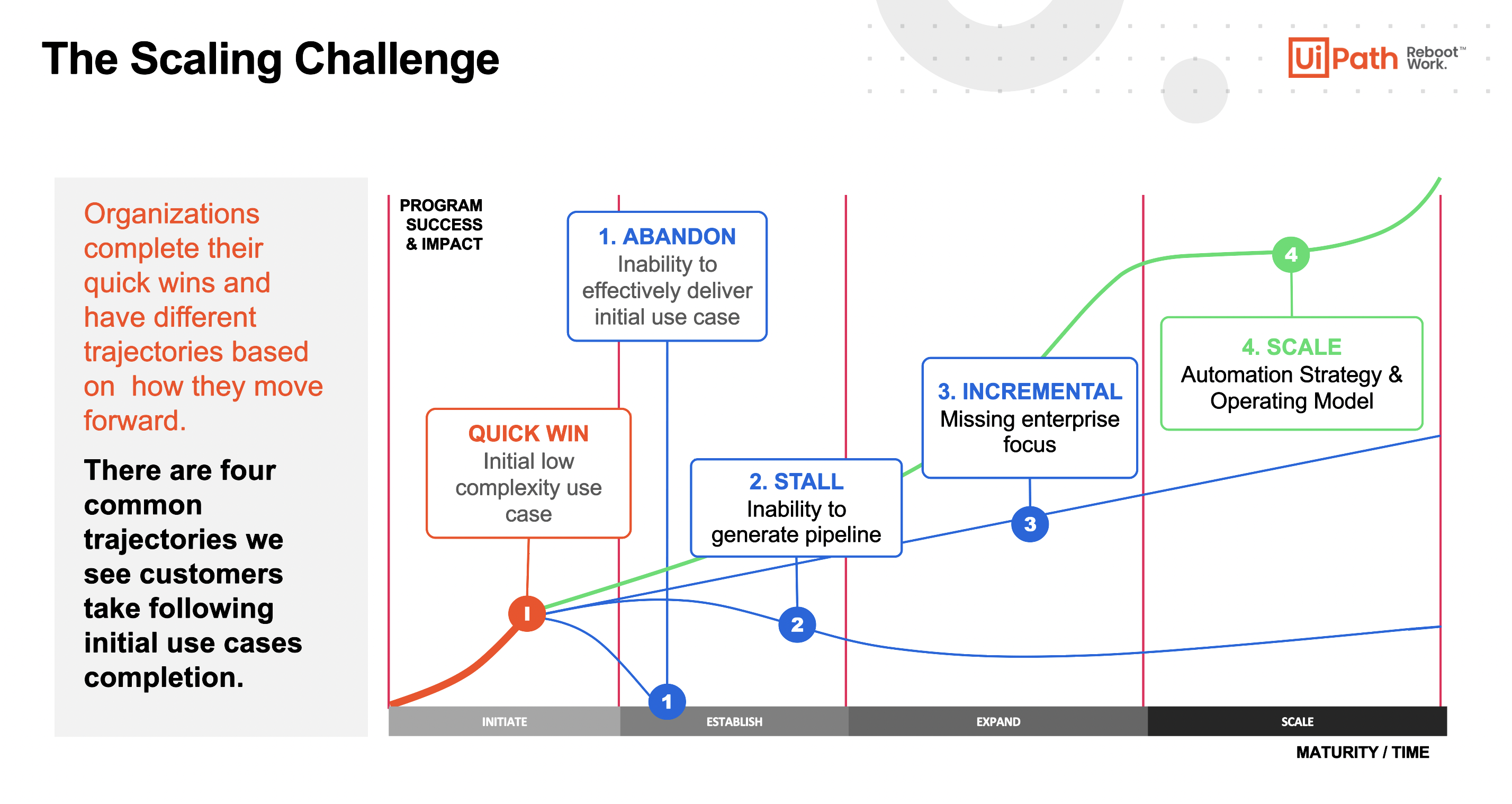 And to that point, it is essential to build the business case for automation in a way that the message is clear for the executive board. Automation at scale should bring benefits that show up in the financial statements as well as delivering streamlined operations. To make this possible, CIOs will need to think about how automation aligns with the business objectives, and show how the value of automation can be converted into strategic KPIs set by the CFO and CEO (see and hear more about this, from Jason Bowman, Area Vice President, Strategic Engagement and Transformation at UiPath).
Enrolling the enterprise fully in the opportunities of automation at scale is part of the new role for CIOs. Just as we would no longer consider the internet, or cloud, to be purely a technical play, so automation is becoming a strategic play. And CIOs are essential to carrying that message forward.
For more information about how IT leaders are using automation, session recordings from the IT Leadership Summit are now available. Register once and get access to all the on-demand sessions.