Editor's note: This post was published in 2017. For an updated blog on attended automation, check out Finding Your RPA Use Cases: 3 Ways Attended Robots Can Help You Do More.
In a recent blog entry, we discussed the similarities and differences between attended and unattended automation and the value propositions for companies in leveraging each brand of Robotic Process Automation (RPA) solution. In terms of striking a clear definition of each approach, we discovered that unattended automation essentially functions without human intervention to successfully carry out automation in batch mode; on the flipside, attended automation works in conjunction with a company's employees, who trigger and control the robots directly.
In addition, whereas unattended automation is accessible remotely via a centralized interface, attended automation is housed within a specific department or division within a company and is accessible to employees immediately connected or involved with any given automation workflow.
A good example of an attended automation context would be a call center where call center technicians are tasked with a variety of functions that require them to toggle across multiple screens or interfaces. Attended automation allows call center employees to engage with data, documents, or account information in real-time to focus more on the customer and less on the process of recalling or entering data or information.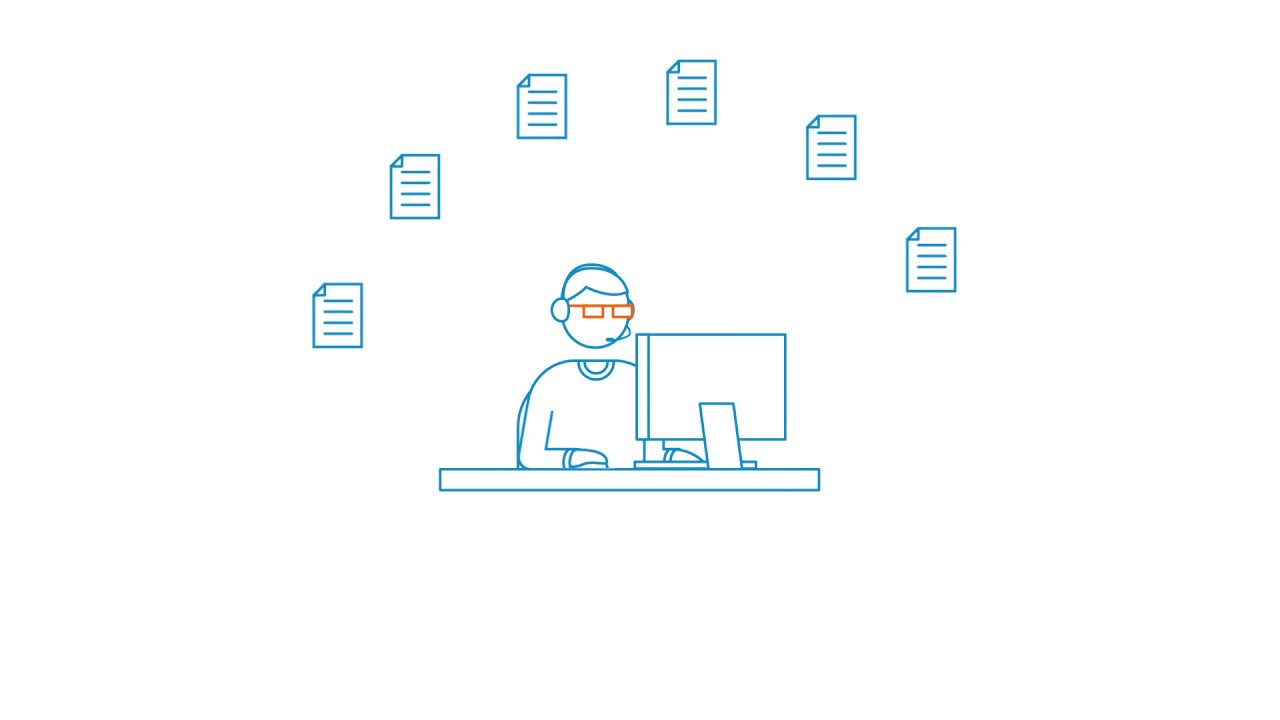 But even with this working definition at-hand, there are still many companies that fail to realize how attended automation can be applied in real-world settings and how it actually helps companies do more with less in competitive marketplaces. Let's examine three real use cases that uncover how this branch of RPA helps companies work faster, more efficiently, and drive better customer services.
Employment history verification: 8 weeks to implement, 40% manual effort saved
A candidate verification service provider works with a number of clients on an annual basis to conduct employee reference and background checks when a client on-boards new personnel. This process is variant-rich and requires much in the way of manual intervention to set-up and facilitate interviews with former employers, track and coordinate email correspondences and maintain records. The company was hemorrhaging resources, time, and human effort to successfully complete its core duties for their clients.
An attended automation strategy—with components designed to supplement human intervention—allowed the company to reduce its manual intervention rate by 40 percent by standardizing many of the tasks associated with employment verification. Email correspondence, appointment setting, and other clerical tasks were automated, thus allowing employees to focus more on the person-to-person connection between clients and their new employees. Within a small, eight-month window, the company experienced a robust ROI that allowed for greater mobility and agility in helping clients find the right employees for the right position.
Refund issuing: 6 months to ROI, 90% manual effort saved
A credit reporting firm is facing a critical challenge at the core of its operational platform: how to streamline a high-volume process such as issuing refunds to customers without disrupting existing workflows or relying on an influx of new personnel—which is extremely costly—to keep pace with the amount of refund processing work they're experiencing.
Due to the sheer volume of transactions occurring every day, week, and month, the company is incurring sizable operational costs, which are detracting from the resources necessary to facilitate other areas of business operations. Lastly, and perhaps most alarming, this credit reporting firm is relying on multiple legacy or Excel-based systems and spreadsheets to track and manage refunds without any semblance of integration strategy to make sure the data is accurate, accessible, and up to date.
With a fast, eight-week implementation window, a UiPath Attended automation solution proved a critical value proposition for the credit reporting company by increasing automation to an impressive 80 percent of processes associated with issuing refunds.
Data from spreadsheets or other legacy reporting systems were integrated and merged into one centralized hub, and the process of actually issuing refunds was streamlined through the generation, storage, and tracking of both external and internal communication. This helped improve operational costs, reduced manual effort by a staggering 90%, and provided an ROI in just six months—a benefit that now helps the company in its mid to long-term planning strategy.
Daily Profit and Loss (P&L) reporting: 100% accuracy, 70% reduction in AHT
A global financial services company, as part of its daily data analysis and reporting, is required to submit daily P&L reports consisting of more than a dozen individual reports or metrics sheets. These reports are reformatted representations of General Ledger (GL) data whereby each day the company's product control team must import a number of GL reports into an Excel spreadsheet or legacy systems in order to create a larger scope P&L report. These compiled reports are then manually edited and combined for submission to the front office for a final review before being sent to the company's home office for analysis and discussion. The process is not only inefficient and time-consuming, but the manual composition of multiple reports can cause many errors or inaccuracies in the final P&L report.
On each work day, a UiPath's Attended Robot is triggered to automatically populate the report data, validate it and generate the final report. The Robot then emails these reports to front office, allowing them to be reviewed before being uploaded into the head office web application. UiPath Robot completes this task without any manual intervention required so that product control team can focus on other critical activities.
As a result of automation, the global finance firm experienced roughly 150 hours of productivity savings, along with a reduction in handling time from 60 to 20 minutes and an accuracy rate of 100% in report generation. This also means our finance service company discovered new areas for task and job redeployment for increased efficiency and agility across the value stream.
Want to learn more? Join us for our webinar "Attended vs Unattended Automation."