Have you seen the controversy?
The enterprise world's abuzz with recent comments criticizing remote work from noted author, Malcolm Gladwell.
I won't weigh into the comments section (a particularly dangerous place on the web!), but it made me reflect on our own distributed reality at UiPath, particularly as we celebrate saving 724,988 hours with our own technology.
In this quarter's look at how UiPath uses UiPath, let's dig into why we believe automation, innovation, and hybrid work are indelibly linked.
But first, as we do after every quarterly earnings report, I'm pleased to share the latest performance dashboard from our internal automation program.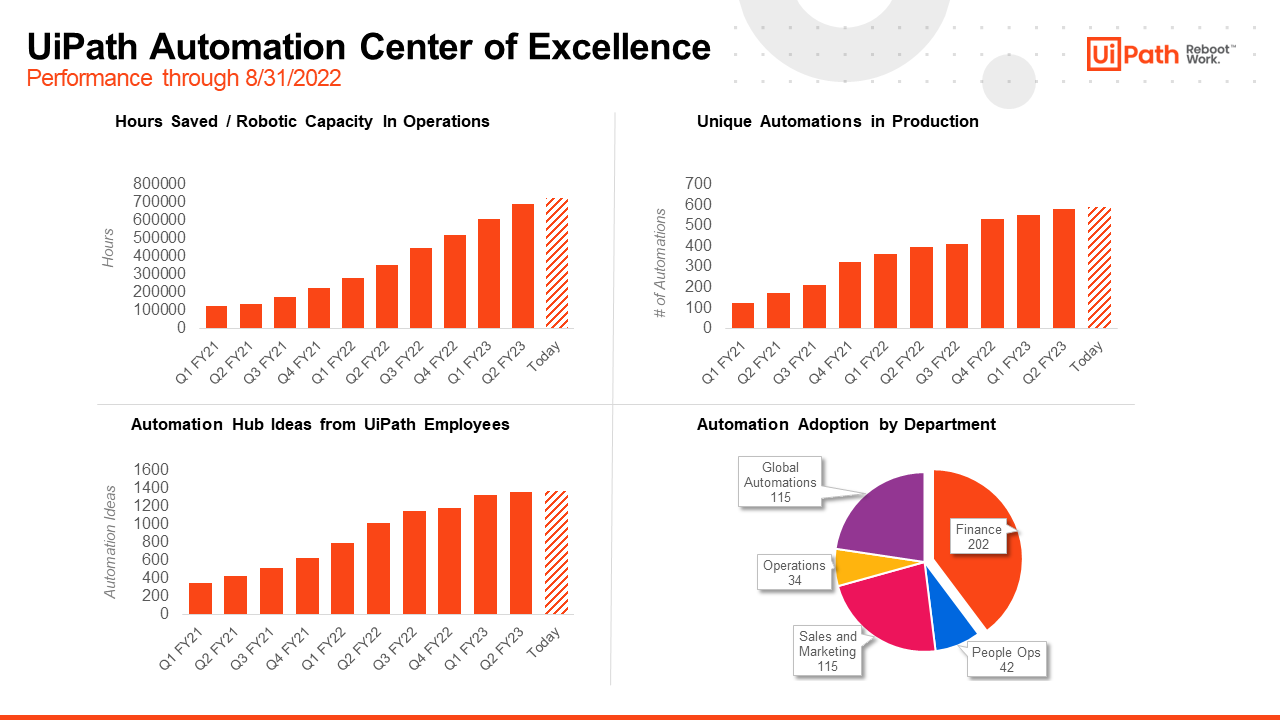 If you're new, I lead the UiPath internal automation program. We share lessons learned from our internal automation journey every few months.
Want to see use cases by department? Visit our encyclopedia of center of excellence (CoE) automations.
As you can see from the dashboard, it's been a busy quarter.
Let's dive deeper into:
Our Finance team's astounding automation journey

Remotely running a global hackathon

Some of our favorite automations outside of Finance
300 automations and counting (kudos to the Finance team!)
Our Finance team officially crossed 300 automations this quarter. A recent highlight is the Month Close Insights robot, which leverages our business intelligence tool to drill into UiPath operational expenses databases and prepare easy-to-understand trend and company performance reports.
This automation creates synergies within Finance functions, streamlines the review process, and while it saves time (18 hours/year) its most important feature is ensuring any problems with invoices are caught earlier, reducing rework.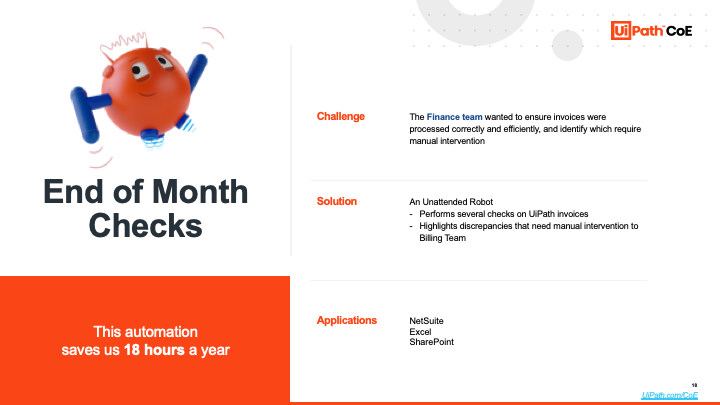 Like many automation initiatives, we started in Finance several years ago. The Finance team has been a terrific partner, crowdsourcing hundreds of automation ideas and even building up a cohort of citizen developers that extend our CoE's capacity.
How did the Finance team leverage automation to keep customer satisfaction and employee engagement high (and chart a path to $1 billion in revenue)? Get the full scoop.
Who says innovation can't happen remotely?
Hackweek is another chance to immerse yourself in meaningful projects with the amazing people we have. I'm inspired by the ingenuity and creativity of our people. It continues to inform us of how much of an opportunity we have – whether we're looking at how our platform can be applied, or things we can build to make our platform better.

Ted Kummert, Executive Vice President, Products & Engineering, UiPath
Even prior to the COVID-19 pandemic, we were a flexible / hybrid employer. The last few years showed us the immense potential in uniting remote collaboration and automation.
This quarter's best example? Our internal Hackweek. Open to any employee, Hackweek offers colleagues an opportunity to unplug from the usual chorus of Zoom calls and collaborate with peers across the globe.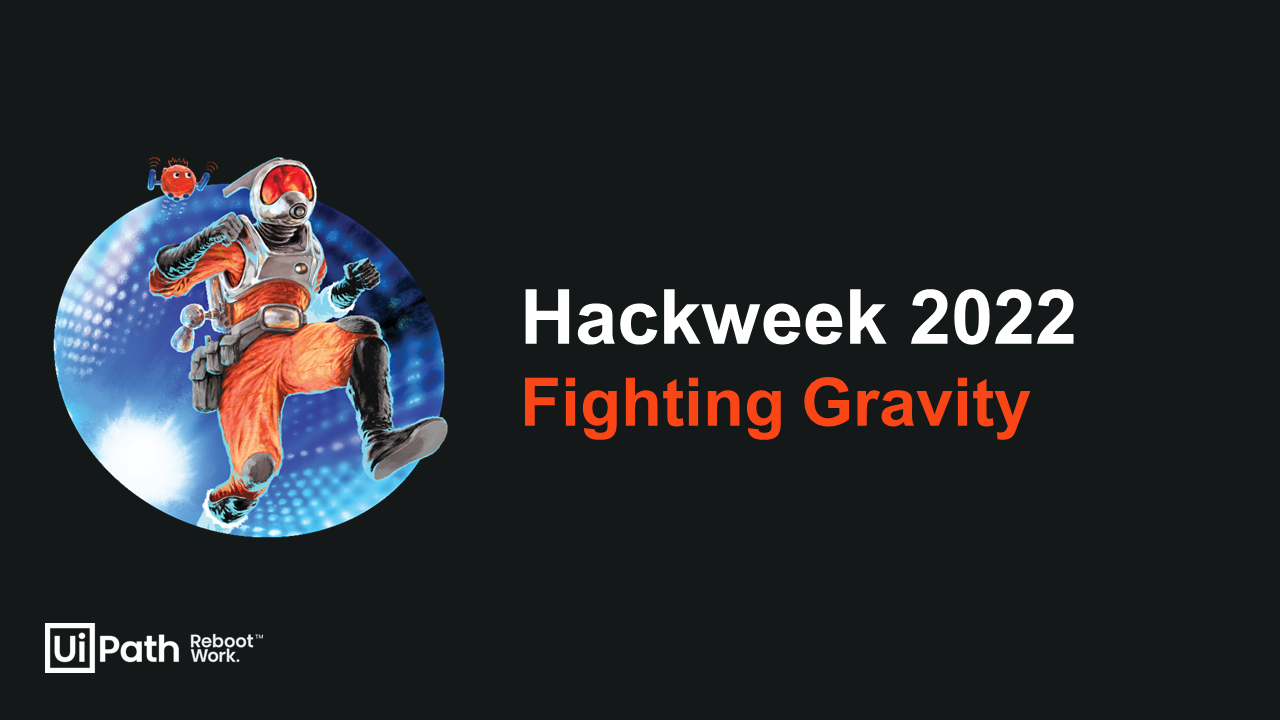 How does one organize a world-crossing hackathon remotely? If you've ever tried an internal innovation initiative, you know there are unique challenges working across time zones, finding teammates, and building a high-fidelity proof of concept that shows your idea's worth.
This year, we ran Hackweek on top of UiPath Apps and Data Service. Our Product team built a user-friendly visual interface for participants to browse and submit projects on Apps (with project information securely stored in Data Service).
Attempting this through email, Slack, or other tools would have been a struggle!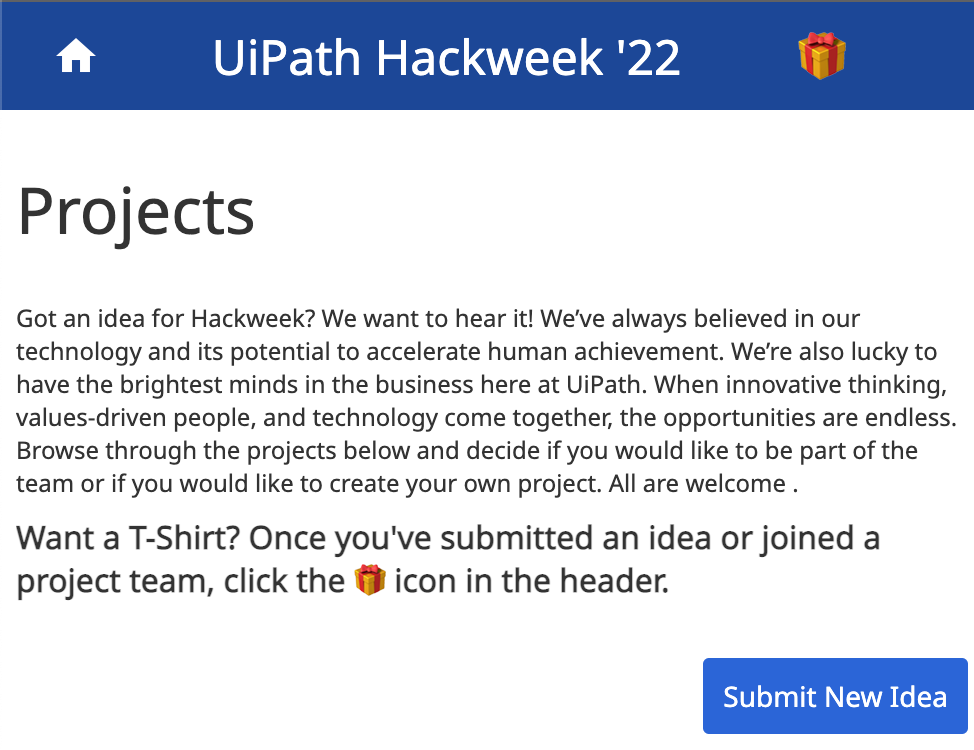 Hackweek portal built on UiPath Apps and Data Service
In a few days, 240 participants submitted 92 projects covering everything from combating climate change through automation, improving employee engagement with our own technology, and even a few projects with patentable product innovations. Many of these entries have found a home in our product roadmap, and we can't wait to see how they accelerate your automation journey.
Impactful automations in every department
While our Finance team's automation journey is thrilling, other departments don't let Finance have all the fun.
One of our favorites is the Zoom Recording Robot. Our Customer Success team was tired of the multi-step process of sharing a Zoom recording (and password) with customers and wanted a way to do so more quickly.
With dozens of meetings a week, this can be a tremendous time saver for our customer success managers.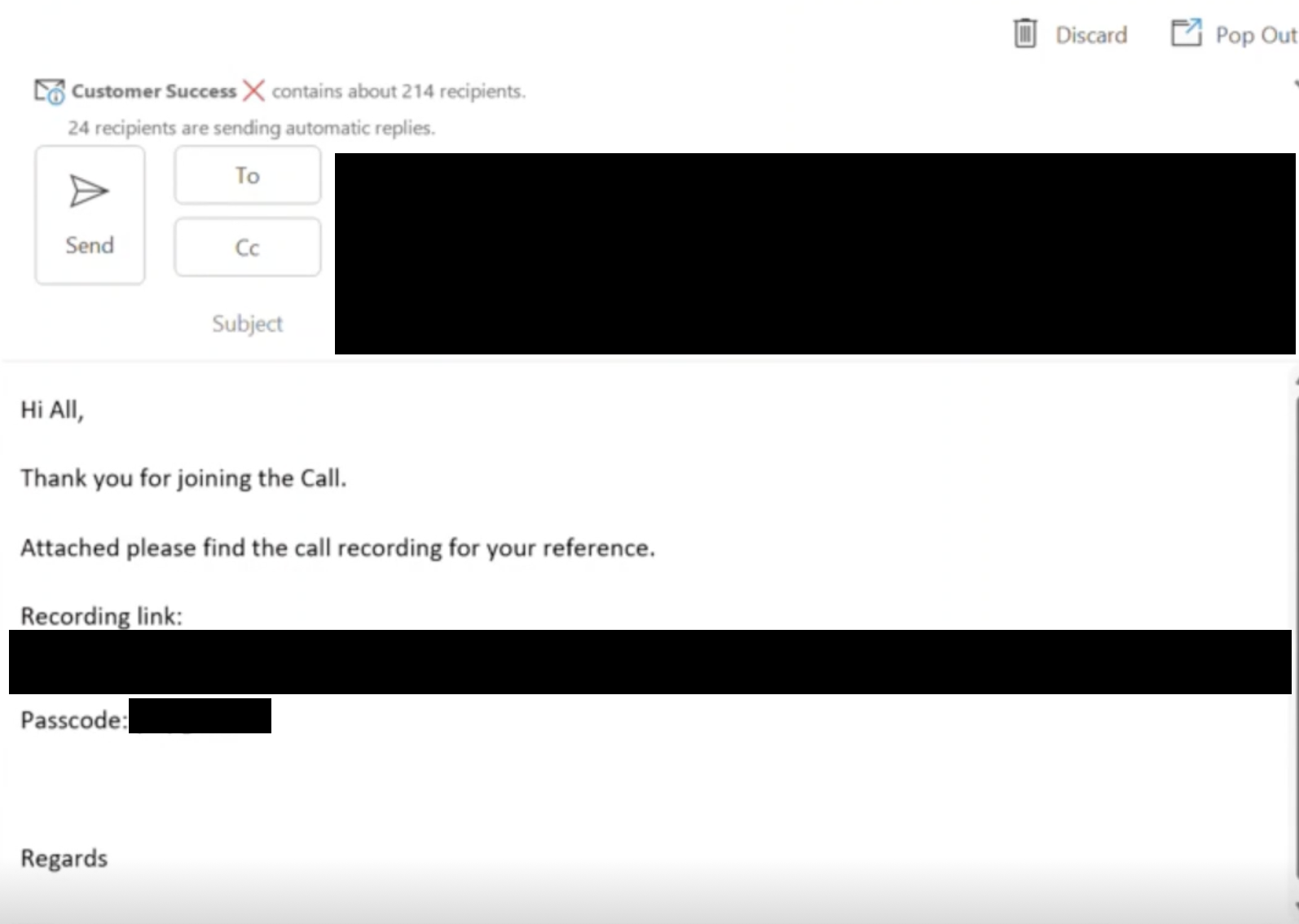 We finished the second round of our citizen developer certification program, bringing our total number of citizen developers to more than 150. While the CoE has a large group of full-time automation developers, citizen developers extend the power of our team by embedding automation expertise in business units across the company.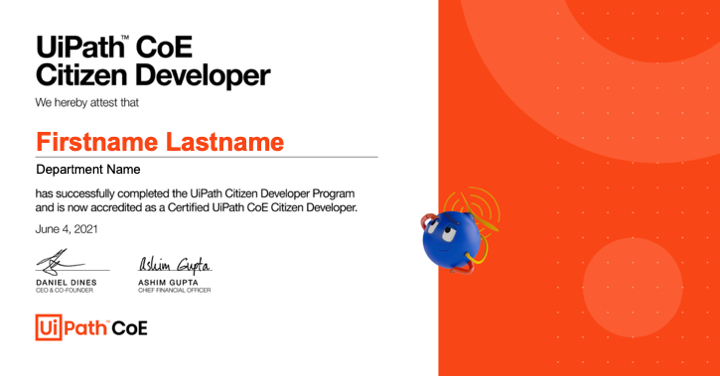 Our Marketing team uses automations to generate passes to FORWARD 5, alert sales representatives on the status of their customers' passes, and send reminders if follow ups are needed. Doing this manually would have been an incredibly slow and manual process.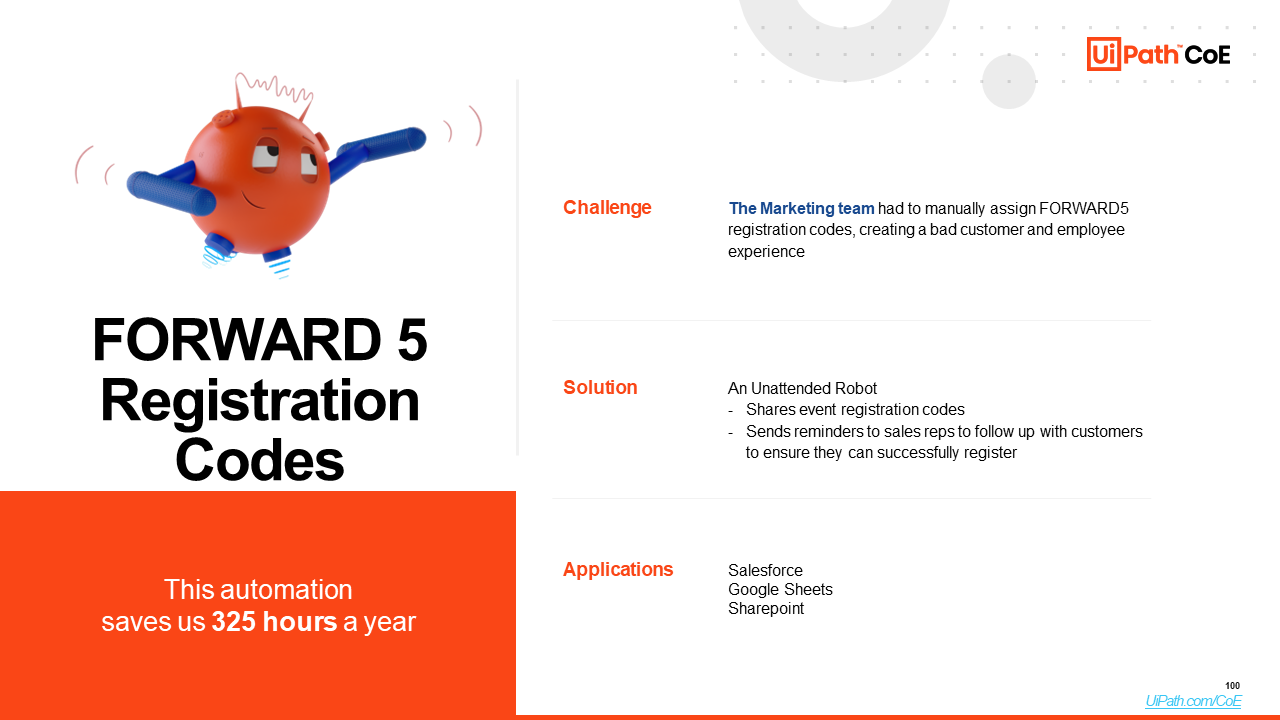 FORWARD 5 automation example. See more examples in our CoE's encyclopedia of automations.
Speaking of FORWARD 5, we'll be there Sept 27-29!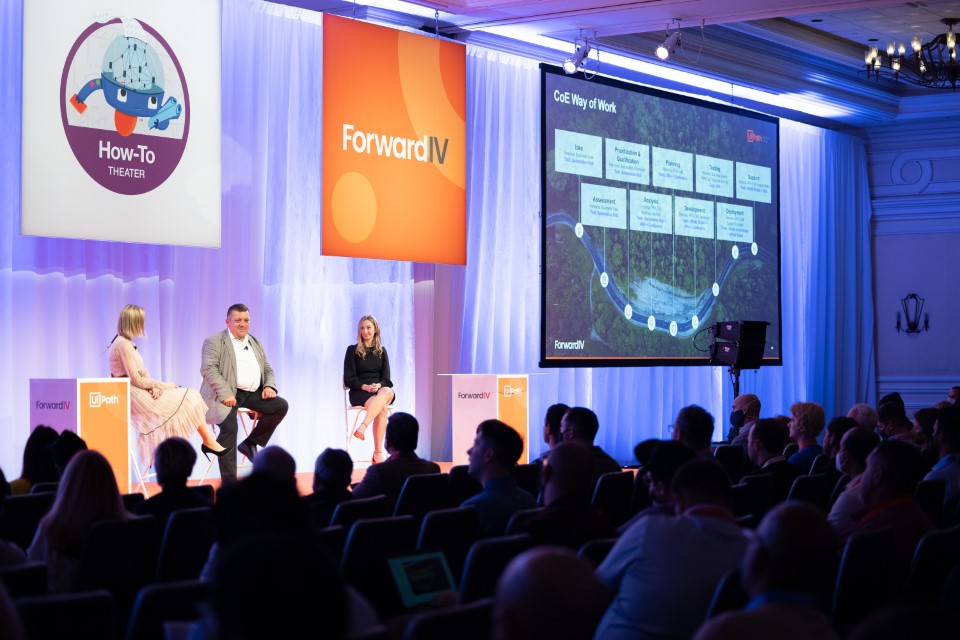 UiPath CoE at FORWARD IV
Come say hi to the CoE in Expertsville and join us for our session in the "How To" theater. Explore the full agenda online (the CoE's session is on Wednesday afternoon).
P. S. We also shared more of the CoE's story in a recent webinar. Check it out.