I'm sure you've heard the buzz. ChatGPT took the world by storm in recent months. It seems everyone is imagining what they can build with ChatGPT for (fill in your niche of choice).
And while we're also excited about ChatGPT's future use cases to further free humanity from boring, tedious work, let's look back at what one humble technology has already transformed. Let's take a look at some of my favorite automations and automation-powered apps from the Sales and Presales teams from the past quarter (Q4 FY23).
If you're new to this series, every quarter we update our community on our internal automation progress.
Bookmark this page to keep up with how UiPath Uses UiPath

Explore this encyclopedia of center of excellence (CoE) automations, where we add new automation entries regularly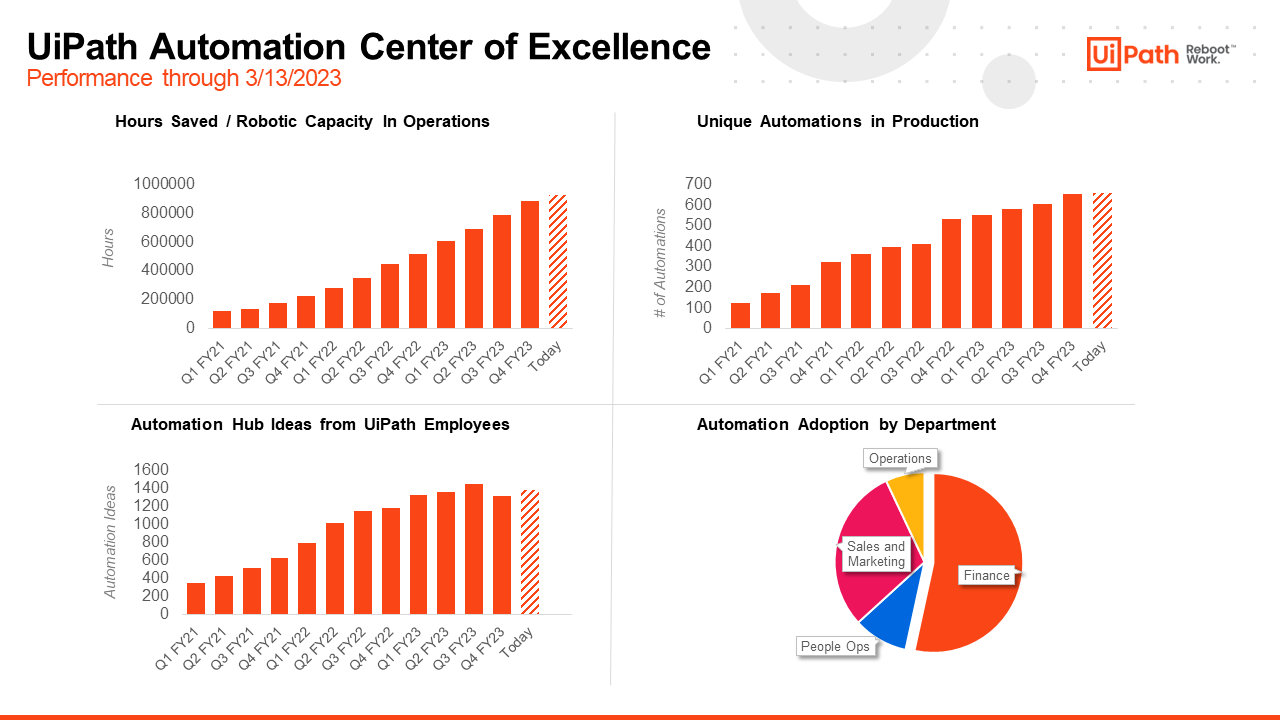 From seconds-saving keyboard shortcuts to week-saving automations
As UiPath employees we're hyper-focused on efficiency and speed. In fact, being fast is one of our core values. Even seemingly minute time-savings can make a big difference in employees' work experience.
You probably know the power of this, too. Perhaps you have colleagues who memorize every keyboard shortcut with ease. Maybe you are that colleague!
People like you don't stop at just using "CTRL C" and "CTRL V" to copy and paste. You can navigate your entire desktop with "ALT-TAB"-powered glee…no mouse required. And if you're not (yet) a keyboard shortcut wizard, give "ALT-TAB" a try, it's such a time saver.
Consider the power of keyboard shortcuts from Harvard Business Review:
"Most people lose an average of two seconds per minute of work by using their mouse instead of keyboard shortcuts. That's eight days a year! The benefits of learning keyboard shortcuts can be enormous for your productivity."
If you could save eight days a year with your keyboard alone, imagine what you could do with automation. At UiPath, we've given nearly one million hours back to our employees through our own technology.
Automation superpowers the efficacy offered by keyboard shortcuts.
Here are a few of my favorite time-saving, automation-powered initiatives from this last quarter.
1. Saving two weeks for you, Sales, and Deal Hub
Our Sales team works across a suite of applications like Salesforce and Clari. While they're super powerful on their own, automation helps us emulate the way work practically gets done across systems. That is, it emulates the "alt-tabbing" that we do every day, transferring info between various systems.
Last quarter, after spending a few weekends working through a cumbersome, manual quoting process, a member of the Sales team did a deep dive into the quote generation process. She saw several opportunities to make the process more efficient, and ultimately get customers their quotes faster.
Check out this video to learn how this automation-powered app is slated to save each member of our sales team more than two weeks a year: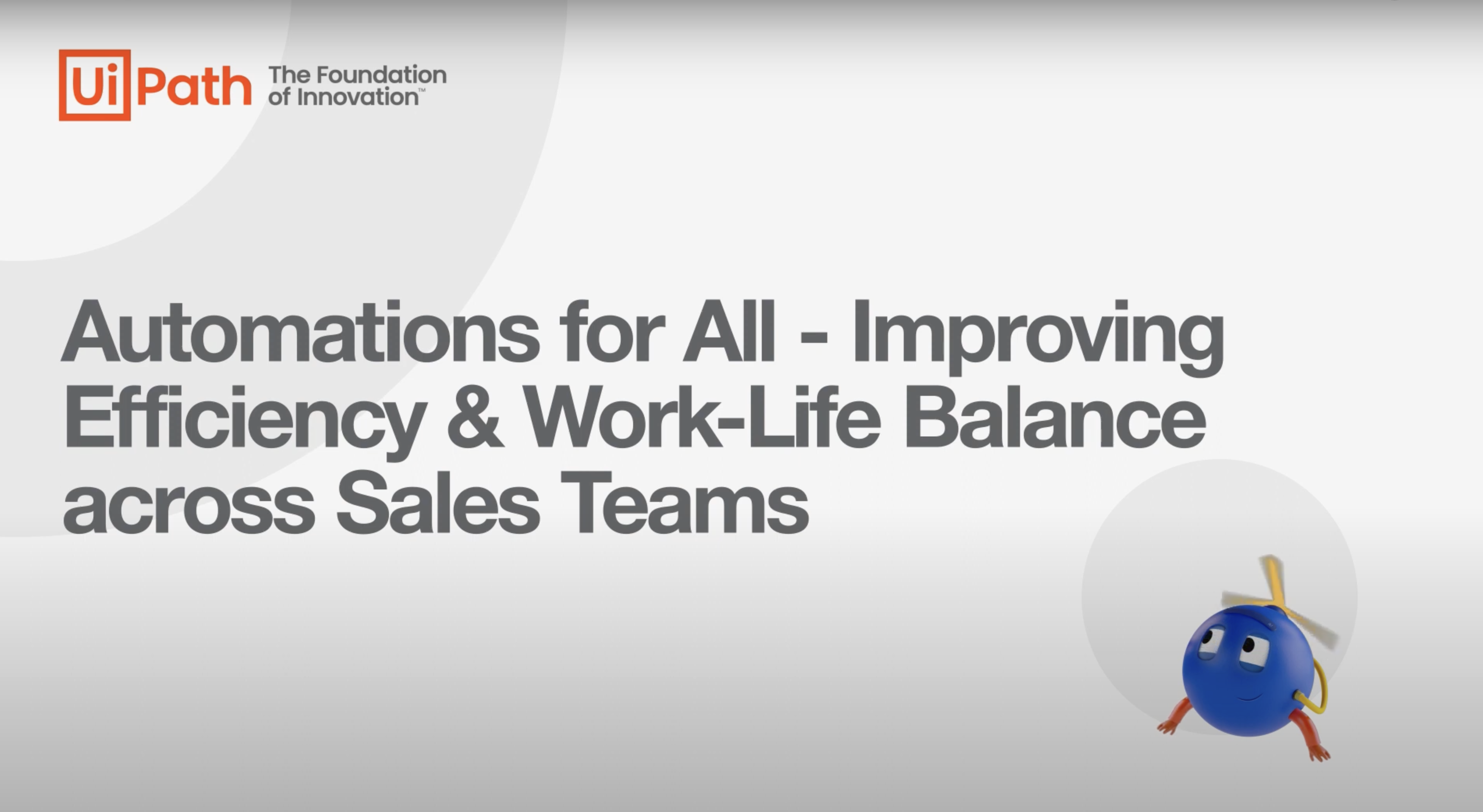 2. Sales team measures their automation progress with a UiPath Insights-powered dashboard

The new GTM Robots dashboard helps our go to market team zoom into automation trends across the business. How many jobs were kicked off yesterday? What about for the whole year?
It also helps team leads identify and recognize team members who create and run the most automations.
3. Networking at AWS re:Invent (and beyond) has never been easier
As Dhruv Patel, a Senior Sales Solution Architect at UiPath, was gearing up to attend AWS re:Invent late last year, he had a problem.
In past years, our booth was packed. There was so much energy and excitement around automation that every attendee couldn't get a personalized demo. Patel wanted to make sure that this year everyone could envision what automation could do for them.
Rather than procuring a new event application, Patel looked to our own UiPath Business Automation Platform to see what he could build. He leveraged UiPath Apps, Data Service, and AI Center™ to create a booth app.
It sent attendees the information they requested about our work with AWS, and even saved attendees time typing by letting them scan their badge to prefill their contact details.
Most impressive of all, Patel leveraged new public-facing capabilities in UiPath Apps to share the power of internal automation with attendees.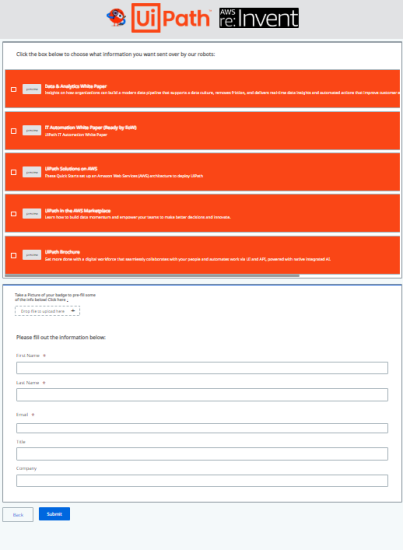 Check out the solution design for Patel's automation-powered app.
See other ways UiPath uses UiPath
Want to be the first to know when we hit one million hours (the equivalent of approximately 114 years) saved through automation?
As you can tell from our dashboard, we're getting close!
Subscribe to the UiPath blog at the bottom of this page (below the 'Related articles' section) to get updates from the blog, including when we've hit one million hours saved through our own technology.
And explore the UiPath automation CoE page for more examples of how an automation company automates itself.