COVID-19 transformed remote work from a trend into a norm, but data shows most people aren't ready to give up the office.
According to Salesforce research, 64% of workers want to spend at least some time at a workplace instead of working entirely remotely. And it's not just employees—according to PwC research, only 13% of business executives are ready to give up the office for good.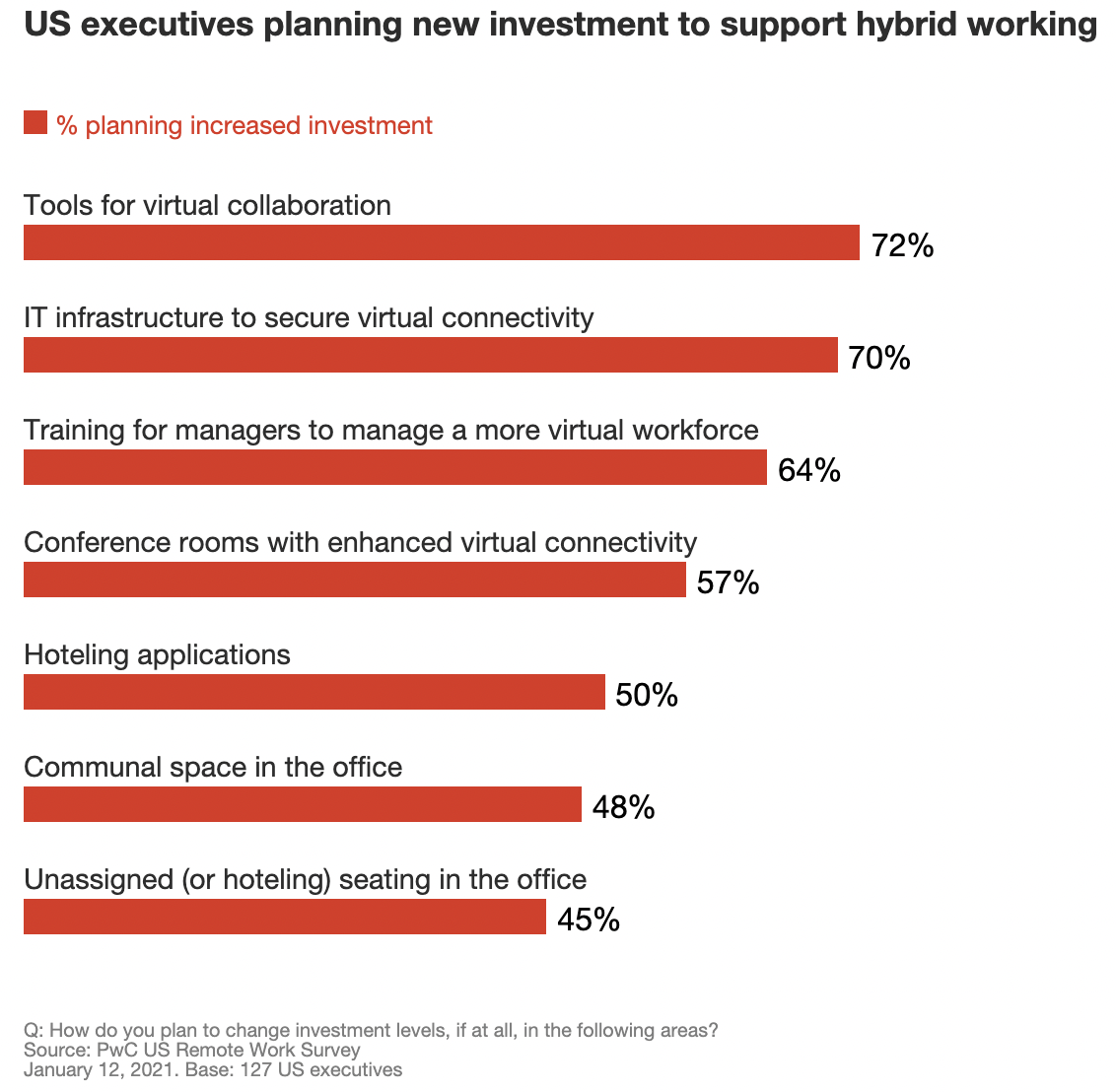 Hybrid work is the future. According to McKinsey & Company research, nine out of ten organizations will combine remote and onsite work.
That fact, however, doesn't illustrate what that future will need. A hybrid work model needs more than a desktop in the office, a laptop at home, and an internet connection in between. 
As organizations shift to hybrid work, forward-thinking executives will think, too, about shifting their technology investments.
And they won't be alone. According to The 2021 State of IT: The Annual Report on IT Budgets and Trends, 76% of businesses (across the United States and Europe) plan on making long-term IT changes. 
Though many organizations pivoted from in-office work to remote work to enable social distancing in 2020, that pivot didn't mean hybrid work is readymade. And your current tech stack isn't readymade for a hybrid workforce either.
To truly support a hybrid work model, executives will need to rethink their IT investments and transform their tech stacks.
Hybrid work requires new IT infrastructure
In 2020, enterprises rapidly evolved to adapt to the needs of social distancing. Most turned to remote work and enabled their employees to work from home.
As employees acclimate to remote work, companies are turning temporary investments into permanent ones. 
So far, cloud computing and managed services vendors have been prime beneficiaries of the shift to remote and hybrid work and the tech stack that shift required. Not only are more companies moving to the cloud, but many companies are making that move faster than they had previously imagined.
According to 2020 Radware research, "76% of companies adopted cloud services faster than they had planned." The 2021 State of IT research verifies this point and reveals that 35% of organizations have either already migrated to the cloud or plan to accelerate migration to the cloud due to the pandemic.
Many of these changes are due to reallocation, not to increasing budgets. According to the same 2021 State of IT report, money from hardware budgets has "slowly flowed into other areas." 
Twenty-four percent of IT spending in 2021 will go toward hosted/cloud services, and 16% in 2021 will go toward managed services: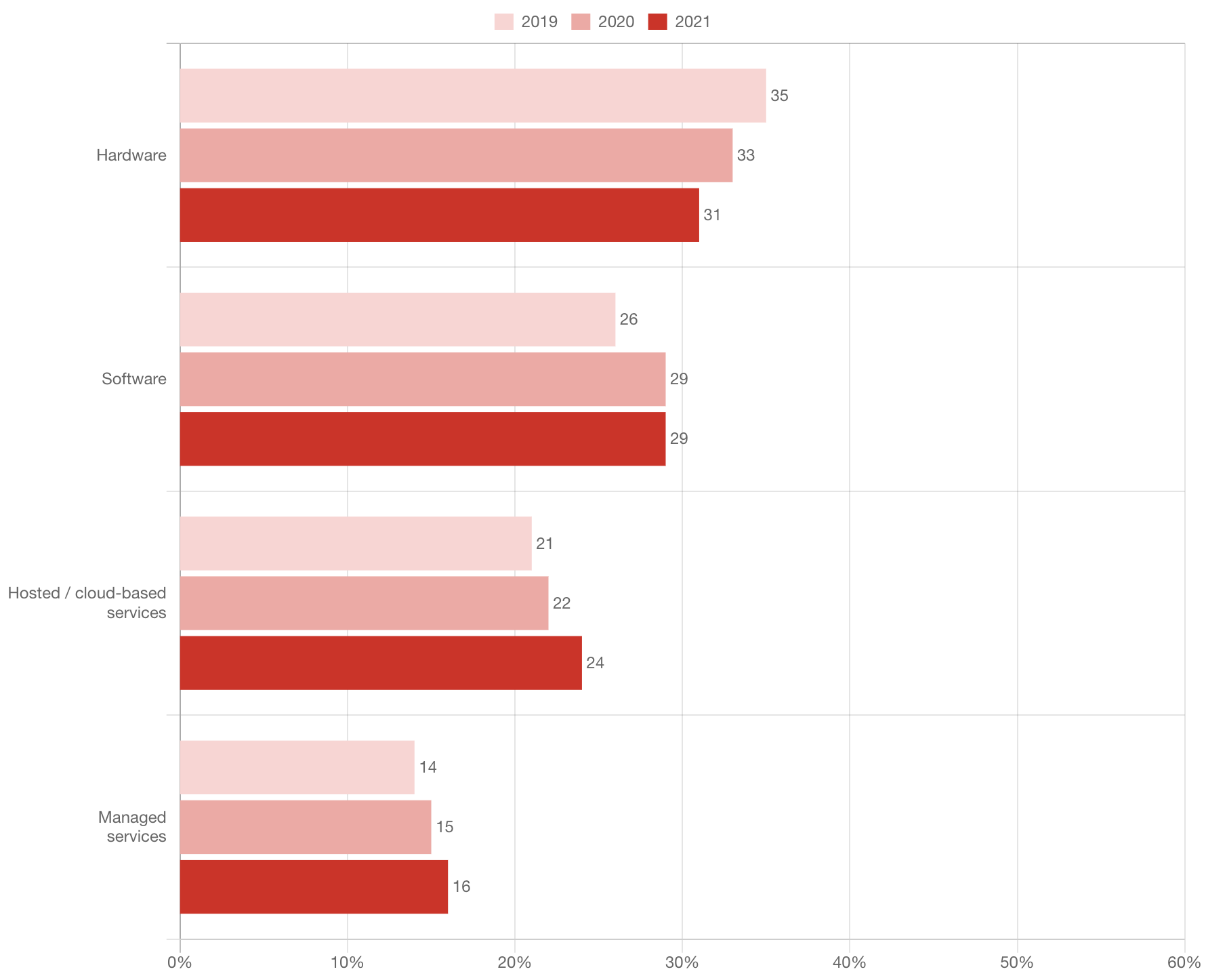 As organizations shift from a temporary remote work model to a permanent hybrid work model, expect this pattern to keep playing out. Organizations that had investments in hardware and physical offices in 2019 (and may have maintained some of those investments throughout 2020) will likely permanently shift investments toward software and hybrid work tech stacks.
According to a 451 Research study, 60% of enterprises agree that "inefficiencies exposed by the pandemic will drive their technology investments well into the future." According to Liam Eagle, Research Vice President for 451 Research, "COVID highlighted all the ways these companies were lagging behind in essential IT infrastructure, and as a result, will drive more investments into tech to help them avoid these issues in the future."
The shift to remote work in 2020 revealed just how much digital transformation remained to be done. As companies adopt the hybrid work model, hastily made changes in 2020 will have to be translated into stable strategies for 2021 and beyond.
Hybrid and remote work demands better security technologies
Hybrid work, as well as remote work, increases the surface area for cyber attacks. Enterprises who may have thought they could survive a year of temporary remote work with scant security tools will discover hybrid work commands the same kinds of risks. 
Fear of cyberattacks is not unfounded. Cybercrime spiked during the pandemic: the United States (U.S.) Federal Bureau of Investigation (FBI) Internet Crime Complaint Center (IC3) reports receiving between 3,000 and 4,000 cybersecurity complaints each day. Before the COVID-19 pandemic, it received about 1,000 complaints per day.
Technology buyers are concerned. According to the 2021 State of IT report research, which surveyed technology buyers, top areas of concern for the remote workforce include endpoint device security (55%), vulnerability management (44%), and detection/alerting of security events (38%). And according to the 451 Research study, information security was "the top technology objective for organizations in the wake of the pandemic, with about 45% of respondents saying it had become a higher priority."
Businesses are already in the process of adapting. According to the same 2021 State of IT report, businesses are investing more in cybersecurity. For instance, in 2019, 64% invested in employee security training tools; in 2021, 73% have invested in it or plan to invest.
Security spend includes hardware as well as software. According to the same research, spending on security appliances (such as firewalls, anti-virus scanning, and content-filtering devices) will account for 7% of hardware spend in 2021. In 2019, security appliance spend only accounted for 5%.
Enterprises of more than 1,000 employees will spend even more, with 9% of their hardware budgets focused on security appliances.
Security budgets will likely continue to increase as hybrid work grows, increasing the surface area for cyberattacks. As such, smart executives will proactively invest in security (rather than wait to react to a security issue). Network security, considering the variety of connections, will be especially important.
Co-located teams need new communication and collaboration tools
In a hybrid work model, some employees will be working from home (or coffee shops or libraries or co-working spaces) while other employees will be working in an office. For these employees to communicate and collaborate successfully, you need modern communication and collaboration tools.
The COVID-19 pandemic permanently changed productivity and collaboration tool spend (among many other things).
According to a survey report from 451 Research, about 40% of organizations said because of the pandemic, they now use workforce productivity and collaboration tools more. And according to Survey Monkey, 53% of remote workers say workplace collaboration tools have made their jobs easier over the past year.
Zoom provides an effective signal. According to Google Trends data, Zoom, despite being founded in 2011, saw its greatest amount of attention during the start of the pandemic.

Without effective collaboration tools, employees risk becoming siloed, disengaged, and unproductive. Many companies, as the data shows, have already invested in some existing collaboration tools, but startups are popping up all over that explicitly target the needs resulting from hybrid work. 
Owl Labs, for instance, offers a device that includes a 360-degree-video camera, microphone, and speaker that purports to give remote employees an equal presence alongside onsite employees. The device sits at the center of a conference table and automatically focuses on whoever is speaking at a given time.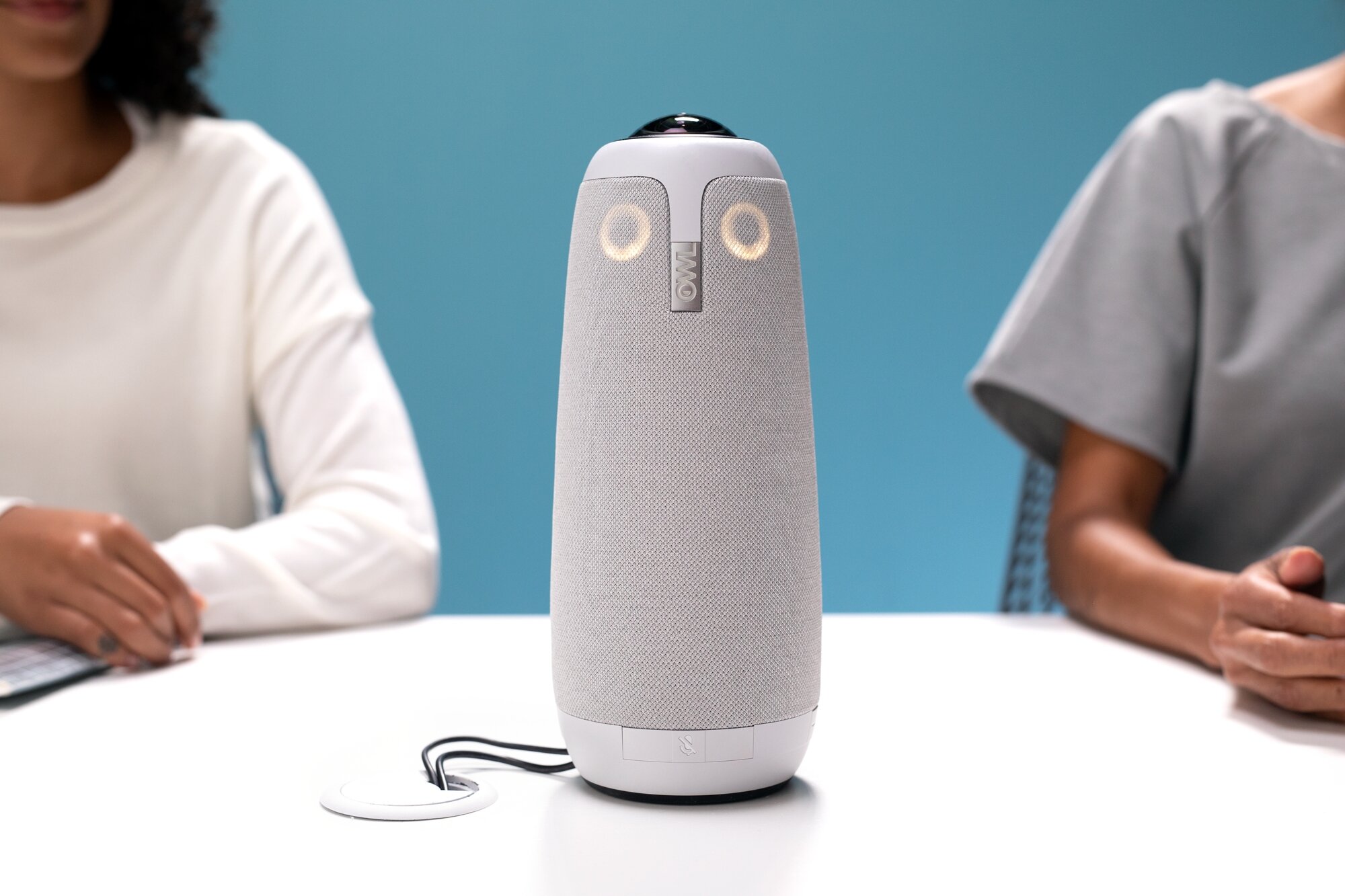 Other startups trying to make collaboration in hybrid work environments better include:
Envoy, which offers desk registration software for companies that have employees working remotely somedays and onsite other days.

Tandem, which offers software that shows employees what their teammates are working on so they know when they're available for a video call. 

Teamflow, which enables companies to design, operate, and work in a virtual office.
Companies have been primarily working out of physical offices for the past century. As such, enterprise technology stacks, as well as their cultures of collaboration, have been oriented around onsite, physical presence.
The era of hybrid work demands new ways of thinking, and new technologies will rush to fulfill that demand. 
Smart executives will maintain and increase their investments in current collaboration tools, but will also keep an eye on potential investments in new, ground-breaking hybrid work tools as well. 
Hybrid work requires automation for peak efficiency and engagement
Many executives worry that the shift to hybrid work will make their organizations less productive. As companies create a tech stack to support hybrid work, however, they can also make investments in automation to ensure workplace and workflow changes don't incur efficiency losses.
According to Forrester research commissioned by UiPath, "Automation will define the post-pandemic world of work."
Once the pandemic passes, which it eventually will, organizations will see structural changes to work. In fact, with so many people already working from home, employees and enterprises must reshape how they conduct themselves. Automation technologies have emerged as an invaluable asset for organizations to tackle this new world.

Forrester Consulting, "The Future of Work: A Pandemic Spotlight"
According to 2020 McKinsey & Company research, almost half of executives report that their adoption of automation has accelerated moderately, and about 20% report a significant increase in automation. The 2021 State of IT echoes this finding, showing that 61% of companies have implemented or plan to implement IT automation technology in the next two years.
For enterprise executives, it's especially worth noting that, according to the 2021 State of IT report, the larger the company, the more likely it already has or will adopt IT automation technology. At companies with more than 5,000 employees, 56% currently use IT automation technology, 17% plan to implement it within 12 months, and 8% plan to implement it in one to two years.
The bigger the company, the more it needs automation. As companies of this size shift to hybrid work models, the need for automation only becomes more urgent.
And if you're not sure you're ready to fully invest in a new tech stack, RPA is also an ideal tool to integrate your legacy systems.
Hybrid is here to stay—but not all hybrid workplaces will be the same
Dr. Peggie Rothe, Chief Insights and Research Officer (CIRO) at workplace experience firm Leesman, in a conversation with Bloomberg, warns:
"The worst thing an organization can do now is close your eyes, cover your ears and imagine you can try to go back to how it was before, because if you do that you're going to go backwards."
Now is not only your opportunity to rethink work and pursue a hybrid work model but also an opportunity to outpace your rivals doing the same by implementing cutting-edge technology.
This shift to hybrid work is the ideal opportunity for digital transformation. Research from The Economist Intelligence Unit shows that most executives agree automation has helped them kickstart digital transformation. Automation is a high-leverage opportunity, one that can deliver outsized returns for the investment you make in it.
Learn more about automation, RPA, artificial intelligence (AI), and the potential you can unleash as you shift to hybrid work, read Overview of RPA for the C-Suite: The Quick Guide to Getting Started.