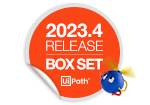 Robotic process automation (RPA) is great. It's changed the world. But we wanted to help our customers do more. To remove the friction between a good idea and its successful execution. To lower the barrier between vision and reality. To leverage the amazing new powers of artificial intelligence (AI) to discover automation opportunities, expand what can be automated, and make automation faster, easier, and more accessible to all.
That was the impetus that drove the creation of the AI-powered UiPath Business Automation Platform. It combines our industry-leading RPA with the power of AI and a full suite of capabilities for end-to-end enterprise automation.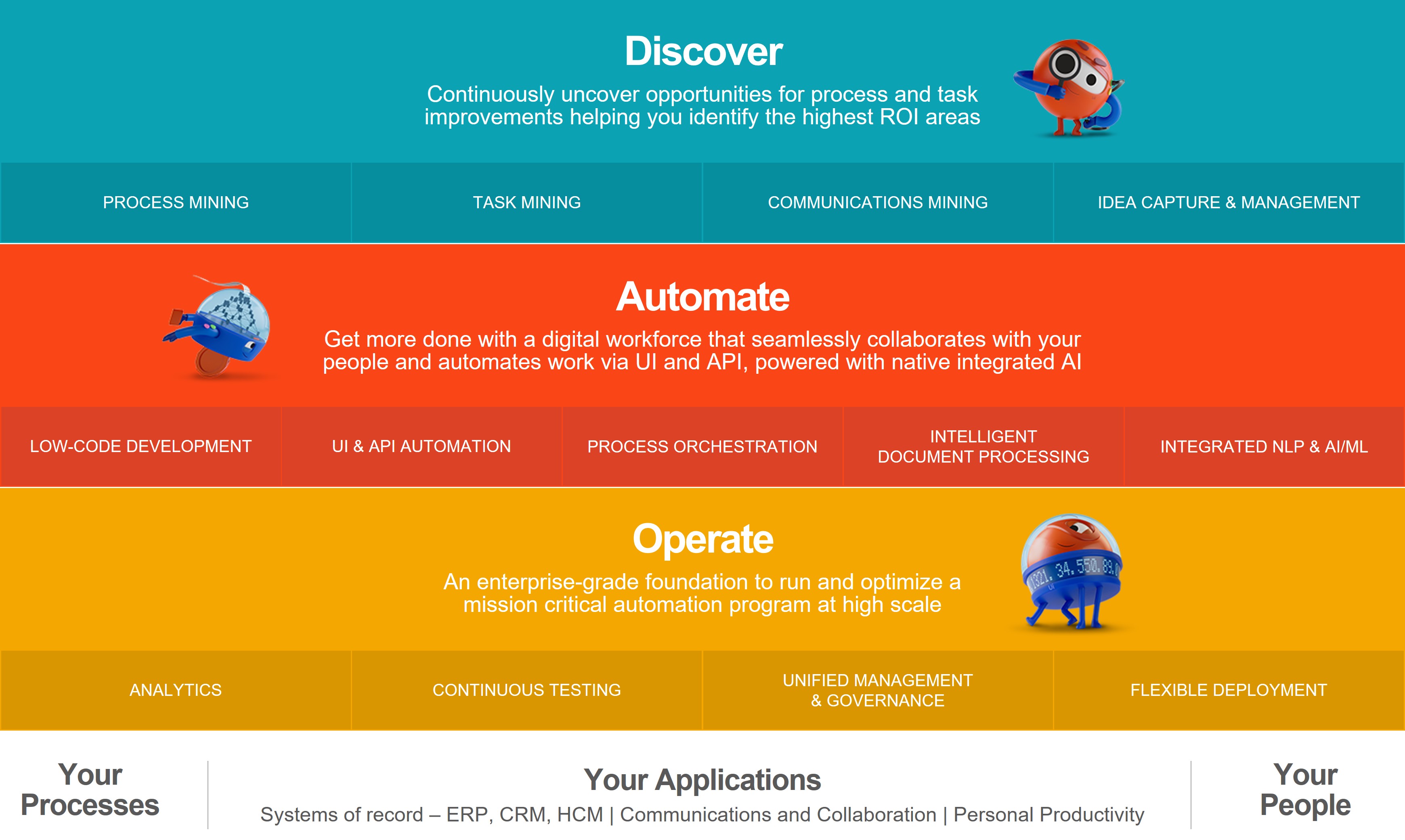 Figure 1—The UiPath Business Automation Platform
The UiPath Platform helps organizations automate tasks that span different databases, business units, technologies, apps, and functions. It expands the range of processes that can be automated, from simple to highly complex. It also expands who can build automations—from citizen developers to professional developers—because great ideas can come from anywhere. It accelerates development with low-code tools, Solution Accelerators, automated testing, and more.
The UiPath Business Automation Platform also helps in the discovery of new automation use cases. And it lets our customers do it all at enterprise scale, with the governance, management tools, security, analytics, and reporting that reduce risk, simplify compliance, and maximize productivity.
The UiPath Business Automation Platform delivers The Foundation of Innovation™ and 2023.4 is the best version yet with a focus on the following:
Delivering AI-powered automation
Our robots have always used AI—but now they can use generative AI to read, write, and easily learn new skills.
We believe the power of AI can make the potential of automation almost limitless. And so, we've built AI into every part of the UiPath Platform over many years. We've invested in-house for automation-related areas like understanding screens and documents. Our open, flexible, and enterprise-ready platform enables customers to harness the innovation of the AI ecosystem, including the newest foundational models and generative experiences. The availability of these technologies will accelerate adoption of automation even further.
In this release, we have enhanced the built-in AI capabilities of the UiPath Platform. First, we delivered UiPath Communications Mining based on our 2022 acquisition, Re:infer, natively into the platform. You can now mine, monitor, and automate every conversation (whether in emails, chat, etc.) to enhance efficiency, productivity, and customer experience.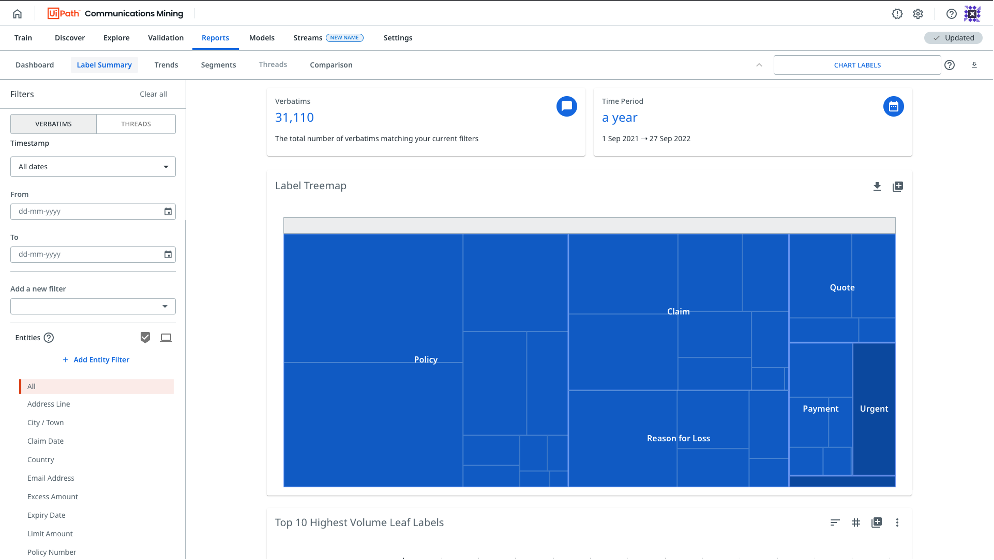 Figure 2—UiPath Communications Mining
We have also enhanced Document Understanding. We've added support for built-in business rules, helping with more accurate results and higher straight-through processing. Also, one-click machine learning (ML) extraction and classification allows you to train an ML model in a single click. There are also additional out-of-the-box models covering more automation use cases including supply chain and financials.
In the spirit of our open platform and making access to the ecosystem of AI innovation we have also delivered new connectors for leading services from Microsoft, Google, and AWS including SageMaker support for simple integration of custom models.
Last, but certainly not least, you have probably been playing with ChatGPT and the world of large language models (LLMs). We have a connector for OpenAI to support easily adding generative AI to your automations. We have seen customers using this for a wide variety of use cases, for example—extending an automated refund process to include an automated email reply. Another company is using it to summarize long document-based reports shared with stakeholders for internal compliance and reporting.
Faster time to automation value
Get faster ways to capture automation's value—and better ways to measure it.
We live in the acceleration economy. In every industry and geography, business cycles now spin faster, competitors take actions more rapidly, and customers demand more—right away. The UiPath Platform delivers a foundation that allows you to put great ideas into practice faster and understand the value it's driving to the top and bottom line.
New in this release, Solution Accelerators are the new foundation of fast. Prebuilt modularized automation frameworks for the most common, high-impact use cases through a bundle of packaged technical documentation, pre-designed templates, models, and reusable components, with connectors for the most widely used systems and applications. In the initial set we have delivered capabilities in IT Service Management (ITSM), Finance: Purchase to Pay, and Healthcare: Digital Intake Optimization. So far, the most popular one in terms of downloads is user provisioning in the ITSM space.
We know that expert advice, mission-critical support, and personalized guidance help with a fast time to automation value. In this release, we have delivered new support offerings to enable this including UiPath Activate Success and UiPath Enterprise Success.
We have also delivered faster robots—thanks to a lot of great performance work by the team, we have slashed the startup time of most automations in half.
Step-change improvements for developers
This release enables more productive experiences for everyone from citizen developers to advanced testers and automation developers.
We believe everyone should benefit from the power of automation and continue to deliver best-in-class experiences for developers of all kinds. Powerful tools for professional developers. Simple get-started-fast experiences for citizen developers. More coverage, easier integration with other technologies, and simplified migration from legacy systems to UiPath Test Manager for testers.
There are a huge number of improvements for developers of all types and also our friends in quality. The big news here is the enterprise preview of Studio Web. It gives cross-platform users browser-based access to a great low-code build platform. And simplified distribution—no software installation required—makes it fast and frictionless to expand access to every budding citizen developer. We can't wait to hear your feedback on this one.
Figure 3—UiPath Studio Web
We have also made some tremendous advances in our Test Suite offering. You will have seen our recent partnership with SAP® focused in the automation area. We also have incredible test support for SAP customers and the team added a new SAP Heatmap capability.
Figure 4—Test Manager SAP Heatmap
It allows you to instantly understand SAP health with an at-a-glance visualization that surfaces usage and test results.
The foundation of enterprise-grade automation
Even higher grades for enterprise grade
Automation is a serious business. A "can't-fail" part of your IT landscape. We continue to deliver on your requirements with an enterprise-grade foundation to run and optimize a mission-critical automation program at high scale with new improvements in manageability, governance, and security/compliance.
One real highlight this release is robot livestreaming, remote control, and video recording. It delivers maximum visibility into how unattended robots perform duties by livestreaming the execution, taking control remotely, and recording the last minutes of their sessions for later review or troubleshooting. This is an industry-first solution that results in better automations, with reliable and verifiable results, while also reducing total cost of ownership for customers that already use third-party tools for debugging.
Take a closer look at 2023.4
In addition to the blog posts, we invite you to join us for these virtual events for a deeper dive into what the 2023.4 means for your organization:
UiPath Live: the 2023.4 release show (a must-see broadcast event on May 10)

UiPath 2023.4: Platform Spotlight (get a breakdown of each new product and live demos)
New UiPath Academy course
Yes, there are so many updates in the release, it deserves its own UiPath Academy course.
The 2023.4 UiPath Business Automation Platform Updates Academy course is an introductory course highlighting the most important capabilities and enhancements brought by the 2023.4 release across the UiPath Platform.
If you're new to UiPath Academy, you can access the full catalog of courses by creating your free Academy account.
Share your feedback
Want to get early access to try out new products and features before they're available to the public? Join our Insider Program.