The industry's smartest robots just got smarter…to accomplish even more.
Businesses that don't use robots to automate processes involving unstructured data are missing out on a huge opportunity. Today, "a majority of data (80% to 90%, according to multiple analyst estimates) is unstructured information," making it difficult for companies to improve their business operations or outcomes. But with our latest platform enhancements, UiPath Robots can now understand unstructured data, in addition to their already powerful ability to understand structured data.
Communications mining with Re:infer
The artificial intelligence (AI) capabilities of the UiPath Business Automation Platform address a wider range of use cases with the latest enhancements from our Re:infer acquisition. Understanding unstructured data is important for many business processes that involve communications such as call centers and customer email responses.
Re:infer, a UiPath company, adds communications mining to the platform. It extends our semantic automation capabilities to unlock the value hidden in massive amounts of communications data in businesses each day—data previously lost or ignored due to processing limitations.
Now, you will be able to build automations that understand the content, context, and intent of emails, service tickets, documents, chat logs, social messages, and more. And use UiPath Robots to act on this information. This opens up many new processes for automation, such as processing millions of customer and supplier emails.
At Hiscox, we have a motto for how we want to do service: 'easy, simple and worry-free'. I like to use this to describe Re:infer - easy, simple and worry-free technology. If I want to launch a new model, I don't need to ask for a new use case or budget, I just ask my team to start model training. Re:infer has completely changed the way we see service. It used to take three weekdays for a broker to receive a response from our team. Now it takes less than three hours. Our brokers understand demand and value-add in a completely different way now.

Marco Rodrigues, Head of Service Center, Efficiency, and Automation, Hiscox
Re:infer is currently available in private preview. We are excited about the features that we will be adding in the coming months:
New communications mining capabilities will give platform users unprecedented insight into their communications and service channels.

Re:infer will enable communications automation, allowing UiPath Robots to perform some of the most time-consuming service tasks and requests from end to end.

Communications monitoring will give business leaders a complete, real-time overview of all communications and service channels for improved quality, performance, and analysis.
Read Ed Challis' recent blog post to see how businesses can boost efficiency, scale, and the customer experience with communications mining.
Enhanced Document Understanding capabilities
Despite advances in electronic document management systems, paper and electronic documents continue to pile up at an astonishing rate. A recent McKinsey study found that 2.8 trillion pages were printed in 2020. And an IDC report estimates that 21% of an organization's productivity is lost due to challenges associated with documents.
UiPath Document Understanding has come a long way since its first release in May 2020. The product has significantly improved since then to fulfill the vision inspired by our customers:
Handling any use case and any document

Democratizing the citizen developer experience

Flexible and scalable deployment
UiPath was ranked #1 for Automating Document Processing Use Case, receiving the highest product score 4.32/5 in the 2022 Gartner® RPA Critical Capabilities report.*
Document Understanding updates in the 2022.10 release are further evidence that we are delivering a valuable intelligent document processing solution. The updates include:
Field level validation business rules are available in public preview. Now you can start with simple (yet much needed) business validation rules to ensure more accurate data extraction and higher straight-through processing.

UiPath Insights dashboards for Document Understanding (in private preview) help you better understand robot performance and get faster ROI. If you are interested in early access, please sign up to be part of the Insider Program.

More pre-trained machine learning (ML) models—specifically more out-of-the-box models for document processing. There are new out-of-the-box ML models for bank statements, packing lists, financial statements, lending documents, and insurance claims.

Enhancements to extraction & classification capabilities—including one-click classification, a new feature that allows our users to set up document classifiers in the Document Understanding center in Automation Cloud. Now users can select a list of document types and a model to train and with the click of a button they can train a classification model. Once the model has been trained, it can be used within UiPath Studio workflows to classify documents into document types.
There are also multiple optical character recognition (OCR) enhancements included in the 2022.10 release:
Improved text reading accuracy along with enhancements for barcode detection

OCR language expansion for printed text—Chinese, Japanese, Korean languages on-premises

OCR language expansion for handwritten text—German and French
Re:infer and Document Understanding are a perfect match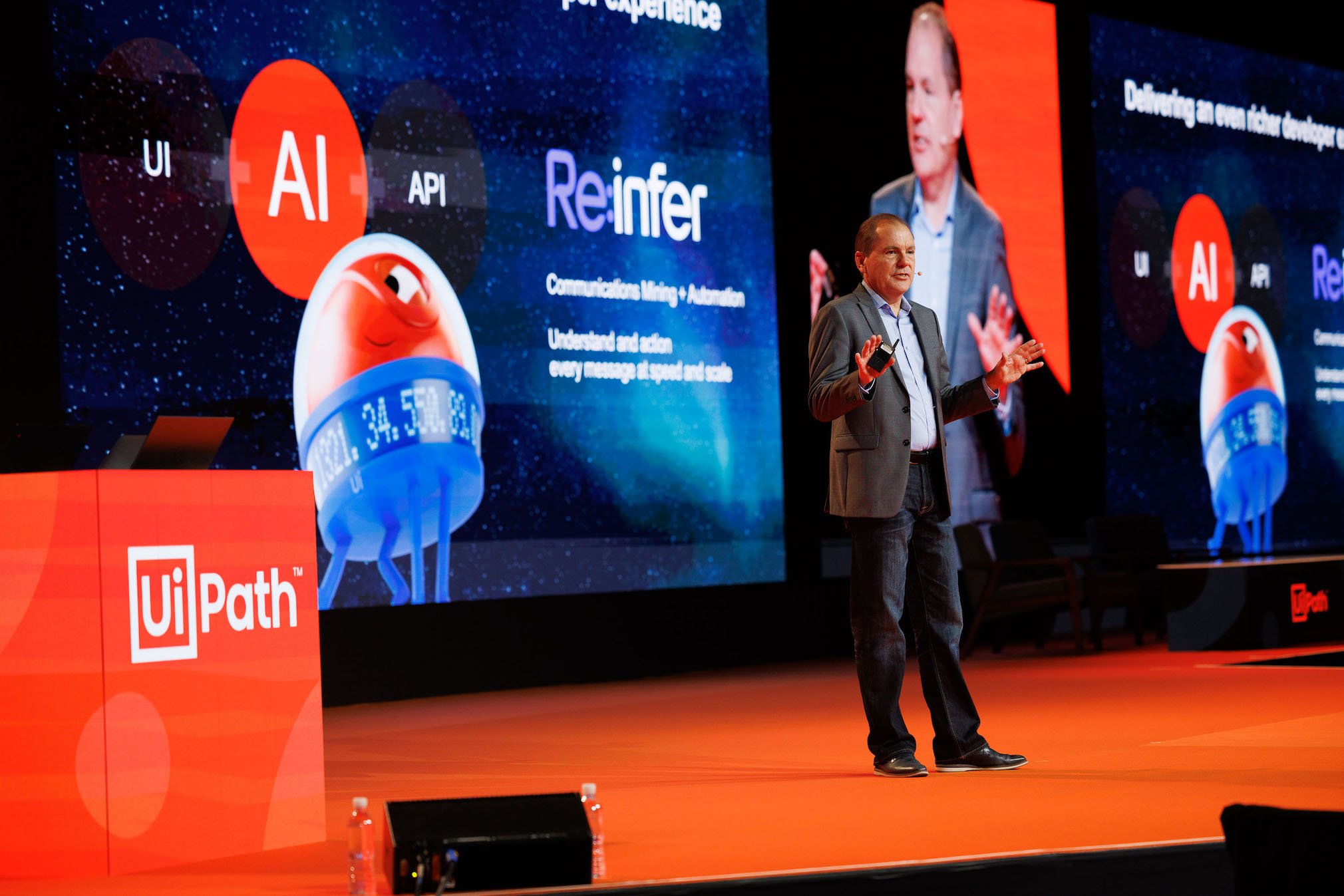 Ted Kummert, EVP of Products and Engineering at UiPath, on stage at FORWARD 5 discussing Re:infer. Watch the replay of the full keynote.
Communications mining processes unstructured communications, while Document Understanding does the same for different types of documents. Together, they close the loop on countless service processes where employees previously needed to read both messages and documents to get tasks done.
These technologies combine to create a whole new source of data for UiPath Robots. For the first time, businesses will be able to automate some of their most time-consuming and intensive service processes. High-volume, low-complexity requests like policy renewals, amendments, and cancellations can be automated from end to end.
Communications mining and intelligent document processing free people to focus on the most valuable, revenue-generating work. By combining communications mining capabilities and UiPath Document Understanding, businesses get more work done, achieve faster customer responses, and improve employee experience.
More upgrades to AI product functionalities
In addition to communications mining and intelligent document processing, we have made additional improvements to our other AI products in this release that will benefit many of you.
UiPath AI Center
The Image Classification ML Package has been released in public preview. This new out-of-the-box ML package was designed to classify images and can be found under UiPath Image Analysis.

The data labeling page enables you to view all data labeling sessions within a project, along with their name, dataset, status, and creation time. The data uploaded for labeling can be stored in an existing dataset or into a new dataset. Data labels can be deployed or deleted.
AI Computer Vision
Our robots have always been able to read static screens like people do. But now, enhancements to AI Computer Vision activities also let them automate scrollable content much easier, including tables on the web and in apps.
We've also deployed a new iteration of our Computer Vision AI Model for the cloud and on-premises, providing significantly better performance when working with tables, OCR data, and input boxes, due to an improvement in the internal neural net architecture.
As part of the 2022.10 release, the local server is now on par feature wise and can be used to extract tables and to output auto anchors with the cloud and on-premises model. Detection accuracy has also improved, with 1.5x faster speeds.
Register for our upcoming virtual event to get an in-depth look at the 2022.10 release. During the webinar, you'll also have the opportunity to see product updates in action and hear from UiPath product experts.
Available now: explore the entire 2022.10 release 'box set'.
*Gartner, "Critical Capabilities for Robotic Process Automation", August 22, 2022.
GARTNER is a registered trademark and service mark of Gartner, Inc. and/or its affiliates in the U.S. and internationally and is used herein with permission. All rights reserved. Gartner does not endorse any vendor, product or service depicted in its research publications and does not advise technology users to select only those vendors with the highest ratings or other designation. Gartner research publications consist of the opinions of Gartner's Research & Advisory organization and should not be construed as statements of fact. Gartner disclaims all warranties, expressed or implied, with respect to this research, including any warranties of merchantability or fitness for a particular purpose.