Every release, we put a lot of work into our cloud-first, customer choice delivery strategy. We want to make sure that you can take advantage of the full UiPath Business Automation Platform, either software as a service (SaaS) or self-hosted, with the lowest time to value and operating costs. We offer three ways to do this:
Automation Cloud™ (cloud native platform, SaaS)

Automation Suite (cloud native platform, self-hosted)

Individual server installation (self-hosted)
With flex licensing, you can take advantage of any of those three options, or sometimes even a hybrid. But before we even get to the new features of the 2022.10 release, we have a recommendation. As the UiPath Platform evolves, you'll find more and more value in our integrated platform offers: Automation Cloud (SaaS) and Automation Suite (self-hosting). So, as you plan your migration to the 2022.10 release, also consider whether this is the moment to move to Automation Cloud (the last version migration you'll need to do!). If Automation Cloud isn't a fit, consider implementing Automation Suite. Both offer you:
The widest range of UiPath capabilities

The fastest time to value when you want to add services

Management from one place with an integrated portal

Centralized compliance and governance, including Automation Ops for enterprise policy enforcement
With that, let's look at some of the newest features included in the 2022.10 release.
UiPath Automation Cloud™
Saas with Automation Cloud is the best and fastest way to focus on automation, with immediate access to the full UiPath Business Automation Platform, and UiPath taking care of the infrastructure for you. Updates are released every two weeks, but we want to highlight new capabilities since the 2022.4 release.
Customer managed keys*
Customers can now use their own encryption key to encrypt Orchestrator and Platform data in Automation Cloud.
IP range restrictions*
Responding to a much-requested feature from IT and security teams, we've enabled IP range restrictions. Customers can now limit inbound connections to their Automation Cloud organization to certain IP ranges.
Canary tenant
Automation Cloud Enterprise customers who want to try out updates before they are deployed to production will soon be able to add a "canary tenant" to their organization as one of their five tenants. Orchestrator in this tenant will be updated with the community ring release, typically three to seven days before the rest of the tenants are updated, giving advance access to new features (additional services may be added in the future). Canary tenant will be available in all regions at no extra cost (please note that canary tenant data is hosted in the Europe region).
Delayed Update*
Offers an additional United States region production organization which is updated at least two weeks after United States region updates are deployed. Customers who opt for Delayed Update can therefore validate and test Automation Cloud platform changes for at least two weeks in a standard organization provisioned for testing before the new release is deployed into their Delayed Update production environment.
Originally designed to support "good practice" (GxP) compliance scenarios in life sciences, it's available to any enterprise customers who need this capability and have production tenants in the United States (support for other regions is being considered). Delayed Update is an additional, paid service that covers all Automation Cloud features, not just Orchestrator, and offers a longer (and guaranteed) pre-release validation period than the free canary tenant update above.
Automation Cloud Robot enhancements
Both VM and Serverless Automation Cloud Robots become even more valuable with several new capabilities including site-to-site VPN support, support for running test automations, and multiple robot sizes at different price points. VM Automation Cloud Robots additionally get automatically managed VMs which automate provisioning and updates, and machine availability profiles which can extend automatic idle shutdown time.
UiPath Automation Suite
If you want to move to an integrated platform delivery, but have policy or other reasons not to move to Automation Cloud, we hope these enhancements in 2022.10 help persuade you to make this your self-hosting suite spot.
Easier deployment
Lower hardware requirements and cost optimization
Thanks to significant architecture enhancements, you can now run Automation Suite on a reduced number of nodes with, at minimum, 8 virtual central processing units (vCPU) and 16GB per node. This lowers the overall cost of running one or just a few products in Automation Suite.
Interactive installation guide
You now have an interactive Automation Suite deployment assistant that evolves with your choices and environments. You can plan your installation based on a specific flow for the scenario you are implementing. Currently, the Deployment Assistant supports single-node installation, with other scenarios coming soon!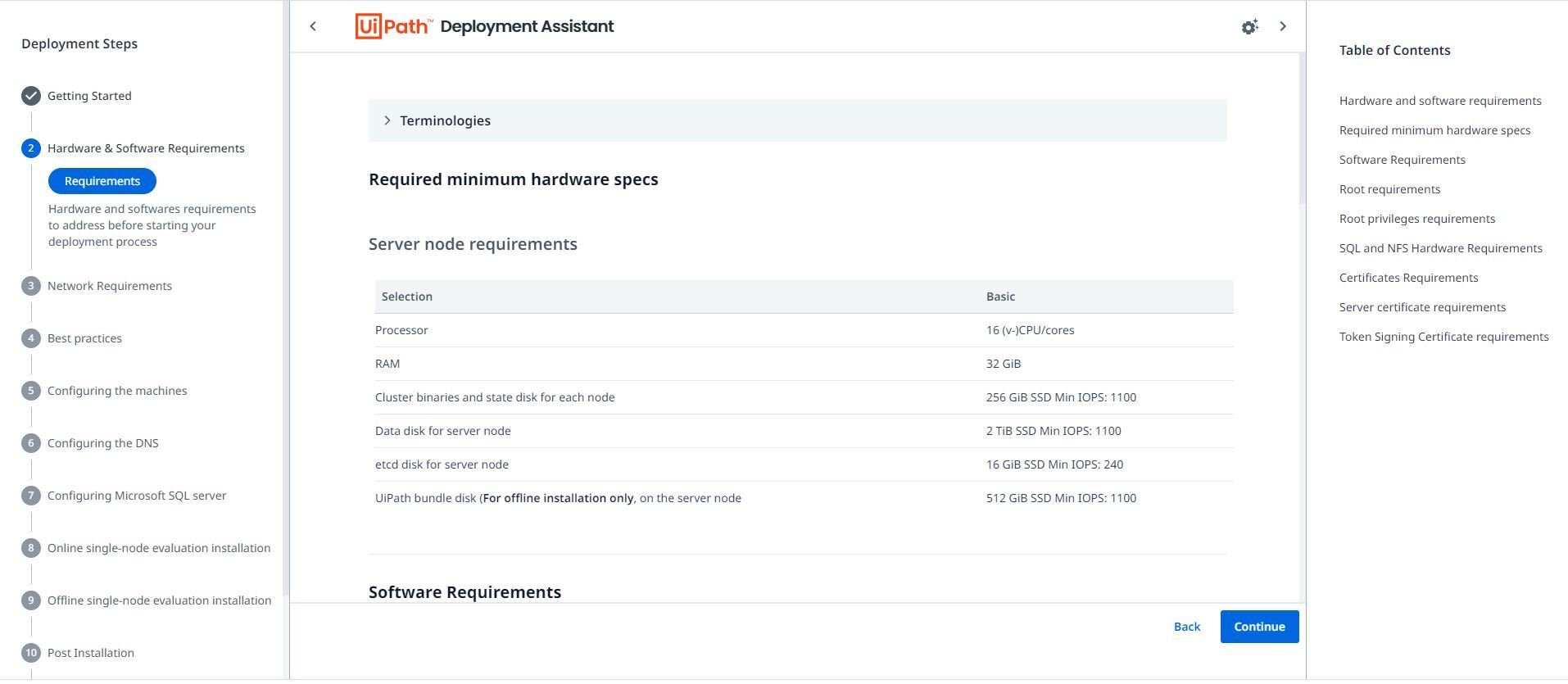 A la carte product selection (CLI)
You can now choose only the specific products that you want to install and use in Automation Suite, with the ability to add new products as and when you need them.  Select the products you want to install with the interactive command line installer.
Standalone AI Center option
Automation Suite now includes a standalone AI Center option, so you can maintain an existing AI Center installation while implementing the rest of Automation Suite. AI Center running in Automation Suite can also now be connected to a standalone Orchestrator.
Platform parity
UiPath Process Mining
Transform data from your IT systems into interactive visual dashboards with Process Mining (now available in Automation Suite).
Automation Suite Robots
Now you can run unattended automations without worrying about specific infrastructure for each robot. Automation Suite Robots scale automatically and securely as workloads increase—without the need for manual provisioning, maintenance, and management.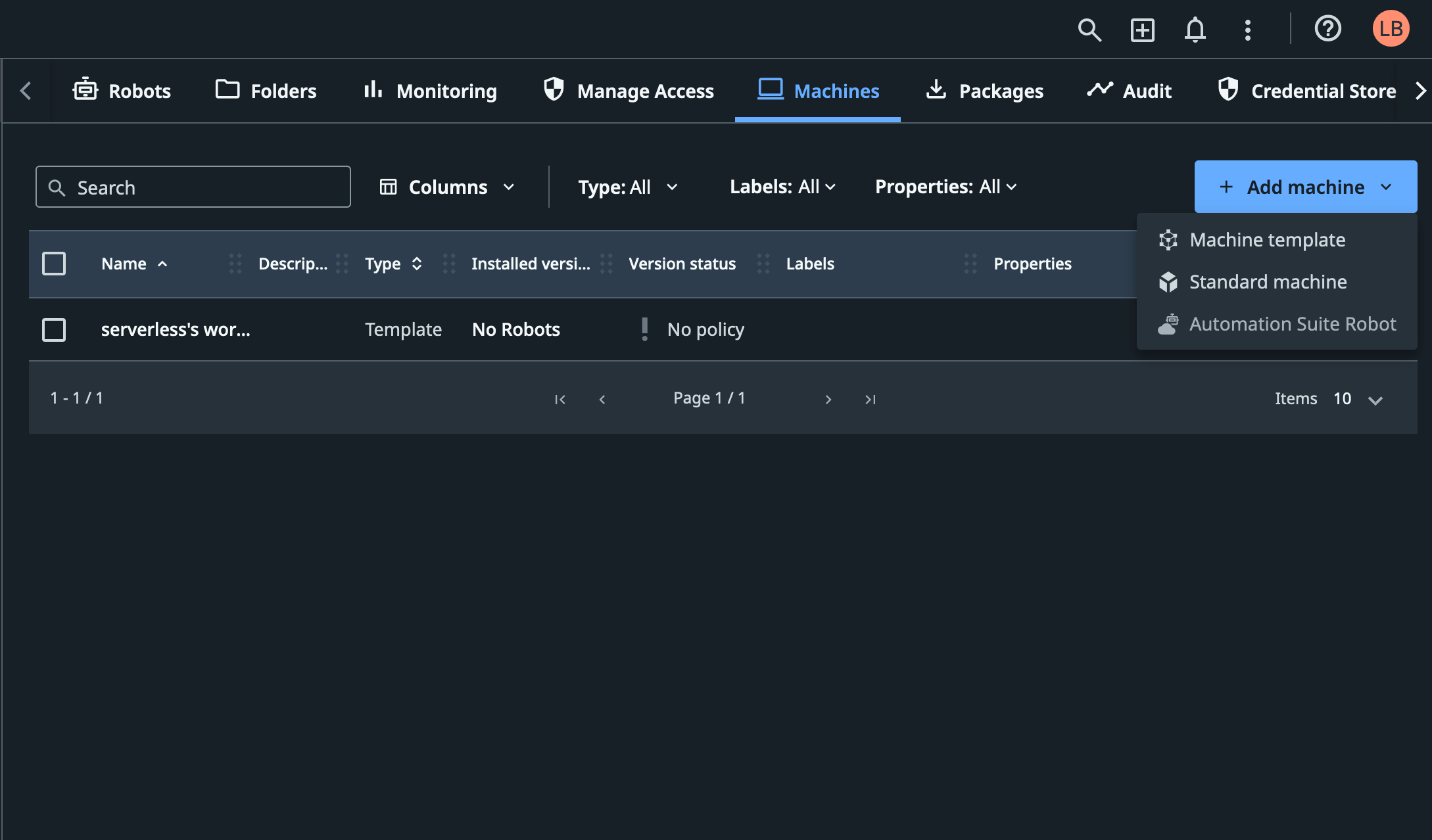 More efficient operations
Active-Active and Active-Passive High Availability (HA) across regions*
Orchestrator running on Automation Suite can be configured in multi-region or multi-datacenter to run in active-active or active-passive mode to ensure HA and uninterrupted performance. Other products in Automation Suite will also get high availability capability in the future.
External object storage
Leverage existing storage investments using external object stores in public cloud providers (AWS, Azure). This feature makes the Automation Suite cluster significantly lighter, while also allowing you to store the objects/files used in any product in an external object store like Azure Blob, AWS S3, or any S3-compatible stores such as MinIO and Ceph for on-prem. This has multiple advantages, including improved data integrity, faster node repaving, and improved RPO.
Backup and restore improvements
You now have the capability to capture snapshot backups and configure desired backup schedules, with the option to restore at any point in time.
Cloud template improvements and Marketplace offering in AWS
The cloud templates have many improvements in this release. You can upgrade, backup and restore with just a single click. With this release, you can also auto-scale your deployments.
The latest features, security, and authentication updates
Platform updates
The 2022.10 release brings the latest versions of the products included in Automation Suite, the latest improvements to the platform components of Automation Suite, and security updates where applicable.
Cluster management SSO
The 2022.10 release of Automation Suite includes a new single sign-on option for more integrated access to the cluster management tools.
UiPath Orchestrator
Orchestrator continues to be at the heart of true enterprise-scale automation management. Here's a look at the key new Orchestrator features (available in all delivery modes unless otherwise stated):
Classic to Modern Folders migration tool
Modern Folders come with a whole range of advantages such as:
Easy management of large-scale attended automation with Active Directory integration

Role inheritance and custom roles

A hierarchical subfolders structure
If you haven't switched from classic to modern functionalities yet, we're launching a migration tool to help make the process as seamless as possible for you.
Alerts overhaul
Orchestrator alerts allow you to keep track of (and act faster on) important notifications. Thanks to deep linking, you can get more details on a specific alert directly from the newly redesigned email notifications or from within Orchestrator with just one click. Revised behavior allows you to differentiate between Attended and Unattended Robot alerts, and you have more control with granular alerts subscriptions based on component, event, and severity, as well as a per-user alerts toggle at the Folder level.
Robot protection status
If you are a CrowdStrike Falcon customer, we've offered integration between UiPath robots and the CrowdStrike Falcon agent since last year's 2021.10 release. Now, in 2022.10, you can also easily check whether your robots are benefiting from CrowdStrike Falcon protection right from within the Orchestrator dashboard.
Connected time and queue triggers
Create and associate time-based or queue-based triggers to your processes and streamline your automations with connected triggers from Orchestrator.
Integration with an additional Credential Store (Thycotic)
With the 2022.10 release, we've expanded your options for native credential stores you can use in Orchestrator with the addition of Thycotic.
Improved job priorities
Better organize your business processes with more granular priorities for processes, jobs, and triggers. Orchestrator admins and robotic process automation (RPA) developers are now able to choose between 10 levels in the interface or 100 levels through the API.
Scalable Job Scheduler
The previous Quartz Scheduler in Orchestrator has been replaced with a custom, high-performance, and high-throughput implementation named Scalable Job Scheduler. The Scalable Job Scheduler enables system and time trigger-based job executions, as well as underlying recurrent jobs associated with queue triggers.
Queue item retention and archiving (Automation Cloud only)
Processing queue items generates a large number of transactions, which may crowd your Orchestrator database. Thanks to configurable queue item retention and archiving policies, you can free up your database in a controlled manner. A retention policy is an agreement to ensure built-in data off-loading capabilities by removing or archiving data from your database after a period of time. With a lighter database, Orchestrator in Automation Cloud will perform better.
UiPath Integration Service
Integration Service is popular because it enables easy automation via API on the same platform as our leading UI automation. Which means you can combine UI and API integration, as you need, to automate at enterprise scale. A highlight of the 2022.10 release is the new Connector Builder feature, which changes the game of API integration by making it possible to create and share custom connectors between your applications and the UiPath Platform—even if no Integration Service connector is available out of the box.
Connector Builder for Integration Service
Connector Builder provides a low-code/no-code way of adding native API integrations between application workflows. These custom connectors can eliminate integration bottlenecks when a prebuilt application connector isn't available. New custom connectors are immediately added to the Integration Service connector catalog. You can also share new custom connectors via UiPath Marketplace.
Find out more about Connector Builder in our recent blog post and join the public preview (information about how to join are available in the blog post).
New Integration Service connectors
We've added several prebuilt API-based connectors to the Integration Service Connector Catalog:
Adobe PDF Services

Box Sign

Campaign Monitor

Constant Contact

GitHub

Gmail

Snowflake

Zendesk

Add-in for Workday
Enriched developer experience for event triggers
Event triggers play an essential role in both integration and automation. Triggers empower robots to work automatically across dozens of applications, based on events in connected systems.
As part of Integration Service connectivity to Studio Web, we released an improved developer experience for working with event triggers. The enhancement provides developers with added support for testing, simulating, and debugging event triggers. That is in addition to the recently released trigger data filtering capability, which enables triggers to automatically take the next step within a workflow based on specific data changes and user conditions. For example, when generating emails based on opportunity changes in Salesforce or an update to SAP.
Attended automation
Delivering attended automation at scale is one of the highest value outcomes of implementing the UiPath Business Automation Platform! So, to close out the blog post, here are some new features that make it easier for users to take advantage of the advanced capabilities delivered:
1. Assistant and Action Center integration. The new integration makes it easy for business users to access and manage Action Center tasks directly in their desktop Assistant.
2. Picture-in-Picture Virtual Desktop. Picture-in-Picture mode provides a dual desktop experience which lets users run automations in the background while continuing to use their computer for other tasks. In this release, we add a new version that does this by launching a virtual desktop instead of an additional user session. As a result, Picture-in-Picture can be used in scenarios that require support for VPN environments, Smart Card login, and Windows Server (enabling multiple concurrent users to use Picture-in-Picture).
In summary, thank you for reading this long list! We've made hundreds of improvements across the UiPath Business Automation Platform in this release. You'll notice that we've also updated some migration tools to help you move to this latest and best platform release of the UiPath Business Automation Platform as smoothly as possible. Happy automating!
Discover more improvements from this release by exploring the entire 2022.10 release 'box set'.
*These features of Automation Cloud and/or Automation Suite are considered advanced enterprise platform features and will require an appropriate licensing plan.