This series will give you the opportunity to get to know some of the Leaders at UiPath. They are the ones who carry a lot of extra responsibilities on top of overseeing projects and processes. They make sure to hire the right people for their teams. They act like coaches and they support you to become the best version of yourself. 
We have some talented colleagues in UiPath. They are passionate, they are resourceful and they're willing to create something that's never been created before. 
We are pleased to introduce Sumeet Sangawar. He's been with UiPath for over 1 year and a half in the Customer Success function for Middle East and Africa. His team's main goal is to support the customer in achieving their business goals using the UiPath technology.
Tell us a bit about your career journey so far. How did you get to where you are today?
Since my university days I have had several jobs and experiences... DJ, Tutor, Telemarketer, selling flashy lights and toys at events, Events Manager and I even started a Marketing firm at one point.
However, my career really began when I joined General Electric (GE) as an IT Helpdesk agent. Since then I have had the opportunity to work in IT Operations, Information Security, CTO, Audit and Advisory (Finance, Operations and IT), Digital Hub leader, Global Supplier Master Data Management across several industry like Financial Services, Aviation, Energy, Corporate Functions, Healthcare and Shared Service Organisations.
I ended my time at GE as the CIO for Global Operations Middle East Africa and Turkey and a Digital Hub Leader. As CIO, I was part of a group that introduced Robotic Process Automation (RPA) to GE and selected the platform. We chose UiPath amongst several other platforms that were evaluated.
After I witnessed the potential of UiPath, I decided to join the company as a Customer Success Director in Middle East and Africa. I have been extremely fortunate to have lived and worked in different parts of the world like Australia, US, Singapore, China, UAE, and a few more.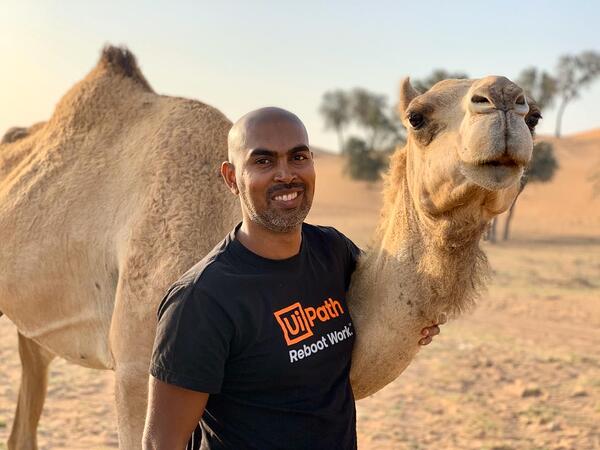 What was one of the most important turning points of your career? What did you learn from that experience?
The biggest leap of faith was quitting the marketing start-up and joining GE as an IT Helpdesk agent. This was financially a difficult move, but I grew up with a passion for technology and wanted to pursue it professionally. I learned a lot in my IT Helpdesk role and it really was the foundation for my growth within GE.
An IT Helpdesk agent hears and deals with all sorts of employee pain points. You learn about the entire Enterprise IT landscape of your company. It also gives you the opportunity to build a network and learn about different technology areas. All my learning from that role helped me be a better CIO. Empathize with employees and apply technology where it matters. Even to this day I reference my IT Helpdesk experience. It was perhaps one of the most memorable learning experiences. I highly recommend an IT helpdesk role for anyone starting out in the IT industry.
What made you choose UiPath out of all the other tech companies out there?
I was blown away by the pace at which UiPath allowed us to transform processes. My experience with UiPath's product as well as encouragement from friends that had been working for UiPath, helped me make the decision.
How would you describe your team? Think of people, projects, mission, anything that somebody looking to join your team should know.
Customer obsessed, strategy and technical consultants that help our customers unlock business value. 
What's important for you when choosing a new employee? What would you advise candidates who want to interview for a job in your team?
I look for Skill/Will. 'Will' being the attitude towards work, team, life, etc. And 'skill' being the actual competency to do the job. Anyone with a good mix of Skill/Will is a perfect combo. I personally prefer people with will since they have the "can-do" attitude and are willing to learn whatever they don't know. They pick up skills as they go since they have the will to learn, grow and be successful. Skill is essential. However, without the will and drive, the skill has little value.