This series will give you the opportunity to get to know some of the Leaders at UiPath. They are the ones who carry a lot of extra responsibilities on top of overseeing projects and processes. They make sure to hire the right people for their teams. They act like coaches and they support you to become the best version of yourself. 
We have 3 major development centers at UiPath based in Seattle, Bucharest and Bangalore and 4 smaller ones in Vienna, Lviv, Cluj-Napoca and Eindhoven. Although our teams take care of different parts of our automation platform, they all have the same goal: deliver the best automation product out there. 
We have some talented colleagues in R&D. They are passionate, they are resourceful and they're willing to create something that's never been created before. We are pleased to introduce Sunil Ajjampur. He's been with UiPath pretty much from the beginning of the R&D team's journey in Bangalore, India. He works alongside his team on the Business Application charter, which is a world class application development and integration platform. This platform will revolutionize the way our customers leverage RPA.
Tell us a bit about your career journey so far. How did you get to where you are today?
I am from Bangalore, India. I grew up here before Bangalore was known for having the worst traffic in India. By the time I was ready to go to college, Bangalore had already started being considered the Silicon Valley of India. The computer science bug truly bit me, and I ended up obtaining a bachelor's degree in Computer Science from BMS College of Engineering in Bangalore.
I started my career at Siemens Communication Software, which was a wonderful place for a young professional to join and find their way in professional software engineering. While working there, I learned the importance of having a people-oriented culture and how it can help shape the organization. Siemens had a bunch of extremely down to earth, humble people who always put the team and their colleagues ahead of themselves. They went out of their way to help everyone succeed. This experience ingrained the right ideals that I still carry with me after all these years.
The eagerness to learn more, specialize and explore a new culture made me take the next step in my career journey. I went to the United States to obtain a master's degree in Computer Science from Syracuse University. 
I got the opportunity to work at Microsoft, initially as part of the summer internship program and then eventually as a full-time employee at Microsoft's HQ in Redmond. I stayed at Microsoft HQ for 8+ years working on a bunch of different products including PowerShell, Server Manager, Dynamics Online and Dynamics Retail. Having always had the intention of moving back to Bangalore someday, I jumped at the opportunity to join the R&D team in Bangalore when the Dynamics 365 CRM team was setting up a new team here. The rest of my time at Microsoft was spent building great things for Dynamics 365. Microsoft was such an amazing place to be at. It shaped me to be the engineer and leader I am today. It taught me the importance of basics in building software, problem solving, critical thinking, ownership and accountability, the ability to let people take risks, fail fast and improve. It really helps when you are surrounded by some of the smartest engineers on the planet. You can't help but become better yourself :) 
And that brings us to the current leg of my career, at UiPath!
What was one of the most important turning points of your career? What did you learn from that experience?
There have been a few critical junctures, but my initial few months at Microsoft in Bangalore stand above the rest. I was an engineering manager prior to moving back to Bangalore but all my teams up to that point were relatively small. Here my team grew quite a bit in size, my product responsibilities were significantly bigger, more complex and we were on a mission to deliver great value to our customers in a short period of time. This period taught me resilience, flexibility, adaptability, collaborating with remote teams on a day to day basis. It helped me become better at architectural thinking, project management and several notches better at managing people's careers.
What made you choose UiPath out of all the other tech companies out there?
UiPath presented a unique combination of an organization that was right on the cusp of a blowout growth. It was building a technology that everyone in the industry was starting to notice and was just starting their R&D center in India. I had the intention of working at a smaller startup organization at some point in my career and UiPath seemed like the perfect place to bring my skills in building enterprise business applications and do something magical for the organization and our customers.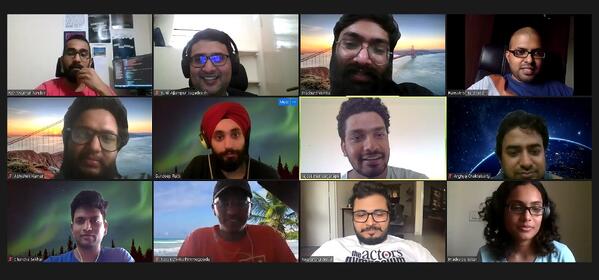 How would you describe your team? Think of people, projects, mission, anything that somebody looking to join your team should know.
I would describe my team as a group of diverse people who have come together with a singular passion of building a great business applications platform. Here you will find people who will drop whatever they are doing to come help each other, will passionately but objectively debate about the pros and cons of code, design and architecture choices, will seemingly randomly decide to step out and have fun together and ultimately deliver great results to the organization.
What's important for you when choosing a new employee? What would you advise candidates who want to interview for a job in your team?
The top values I look for in candidates are humbleness, ownership, accountability and flexibility. Of course, that is in additional to being great at technology, design, coding, and testing. I believe that someone who has these traits can be successful no matter where they are and what they do. I tend to talk to prospective candidates about personal experiences across these dimensions that clearly demonstrate their ability to live these values on a day to day basis.