Welcome to the Women in Automation series, an initiative that strives to unite females through conversation about technology and automation. This series is about celebrating accomplishments, having conversations about change, and building a path towards a more inclusive and diverse future. Also, to encourage our customers and partners to establish their own Women in Automation councils, therefore fostering collaboration and partnerships, and making meaningful progress together.
During the Women in Automation panel discussion organized by Laura Matthews and Marion Stenzel, co-leads of the EMEA Women in Automation UiPath Council, at the UiPath TOGETHER event held in London on June 27, we had the chance to listen to hear from a number of industry professionals. The panel included Paula Hughes, Senior Manager Automation & Insight at Tarmac, Laura Atkinson, Partner, Alliances Lead UK at EY, Brigette McInnis-Day, Chief People Officer at UiPath, and Siobhan Ryan, Senior Sales Director, Enterprise Sales at UiPath. In this blog post, we'll share the story of Siobhan and her remarkable journey as a woman in automation.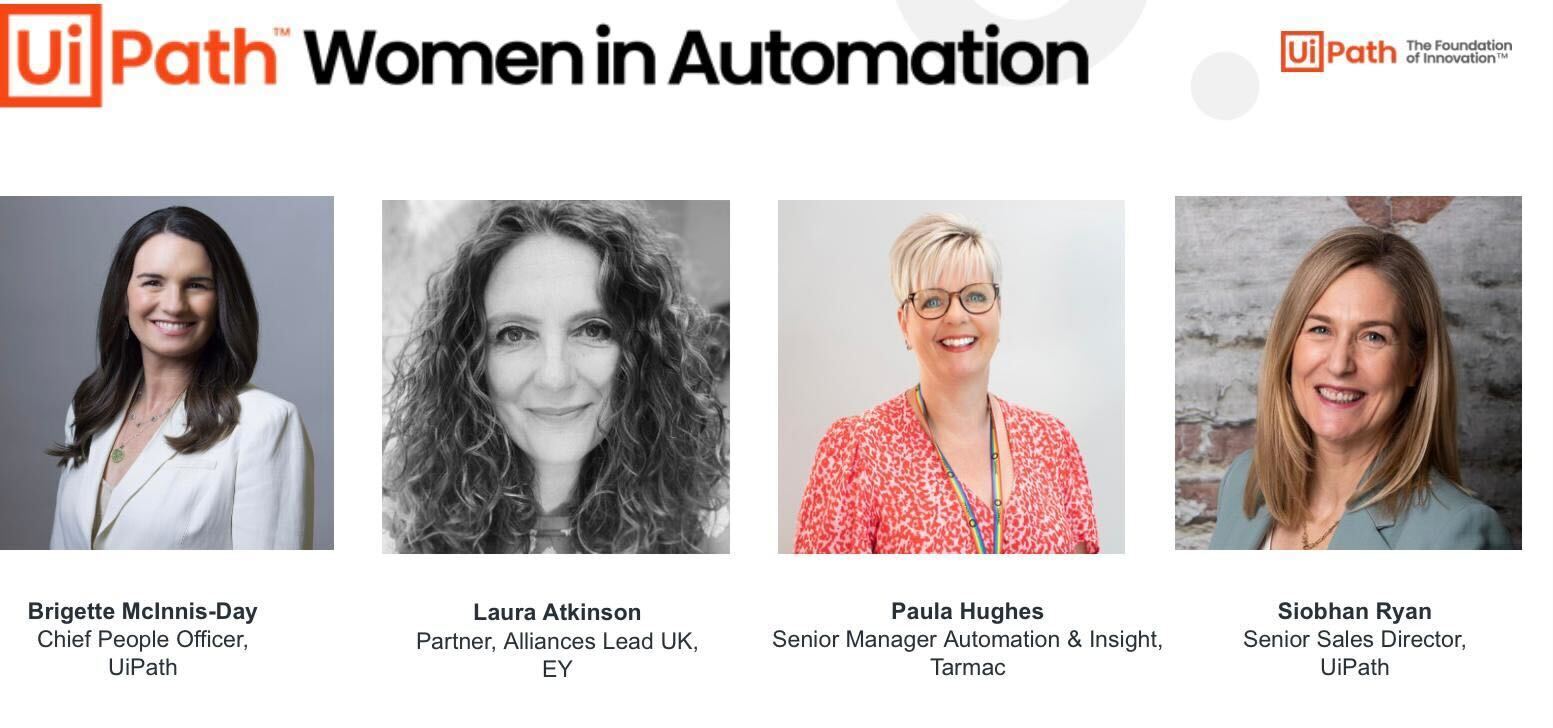 Siobhan Ryan has worked in the IT industry for over twenty years. Throughout her work experience she has also gained knowledge in the big data and analytics field. Currently, Siobhan leads the Enterprise Sales team at UiPath, where she focuses on the Go-To-Market strategy for the UK and Ireland region. Her focus is on the transformative value and potential of Intelligent Automation. Siobhan's career path is characterized by three key themes: perseverance and adaptability, the importance of mentors and support systems, and the value of embracing nonlinear career paths. These insights offer valuable lessons for individuals interested in navigating the tech industry, and we invite you to further gain a deeper understanding of the key principles that guided her career trajectory.
Can you share insights about your journey into the automation ecosystem?
"For that I need to get back in time. I have been a woman in tech since 1994, when I completed my Bachelor of Business Studies and started my career with Dell Computers in Inside Sales. Since then, I have remained committed to the field of technology. Interestingly, I made a significant move to California, initially intending it to be a short holiday. However, I fell in love with San Francisco and decided to stay. To establish myself there, I pursued a graduate program in Information Systems, which coincided with the early stages of the internet boom."
Upon graduation, Siobhan joined Oracle, where she experienced a great growth journey. She then moved to ‌Field in Southern California, where she was initially the only woman on her immediate team and the youngest in terms of age. She describes that period as a very fulfilling and challenging period in her career. Having ambassadors and mentors at work was crucial for Siobhan and her success, especially during times of significant career advancements or when she had to combat certain perceptions and overcome obstacles.
"After 10 great years at Oracle, personal circumstances led me down the path of making significant life decisions. After our little girl turned two and a half years old, my husband and I agreed that moving back home to Ireland was our best option as parents. This pivotal choice holds great meaning not only for myself but also for many women who face challenges with managing their careers alongside parenting duties. Finding balance between family responsibilities and career growth is a challenge many women navigate. For me, the absence of a support structure in California and the desire to be closer to my family influenced my decision to take a career break. And so, I returned to my home country, thus beginning my six-year break," Siobhan shared.
Re-entering the workforce after taking personal time out can make even the strongest person feel anxious sometimes. To rebuild her confidence, Siobhan decided to pursue a full-time, two-year MBA, which proved transformative for her career path. It reaffirmed the value of the twelve years she had already dedicated to her career, while refreshing and improving her skills. With renewed confidence, she demonstrated her commitment to reentering the workforce.
Reflecting on her journey, Siobhan recognizes the importance of perseverance and adaptability in the face of various challenges.
It's my belief that these experiences have shaped me into a well-rounded professional, capable of navigating the dynamic world of technology with resilience and determination."
During Siobhan's interviews to get back to work, one particular piece of advice stood out. The interviewer advised her to stop apologizing for taking a career break and instead embrace the decision she made as a valuable one. They further pointed out that those who have had nonlinear career breaks bring interesting perspectives to the workplace. This advice stayed with Siobhan and influenced her mindset during the job search process and even further.
After spending a couple of years in the field of big data and analytics, Siobhan was offered the opportunity to return to a previous employer. However, it was at this pivotal moment that the guidance of a mentor steered her towards an alternative path.
"He told me 'your career needs to tell a good story' and the offer to go to UiPath caught my attention thanks to his advice. RPA was a technology at the forefront of innovation, and after thorough research, I was captivated by its potential." Through networking and reaching out to Maria Tennare, a former colleague of hers, and currently Area Vice President, Enterprise Sales Nordics at UiPath, Siobhan secured an interview.
"Joining UiPath was a strategic decision that resonates with me to this day. What truly energizes me is the tremendous potential our automation stack has. This enthusiasm translates into my interactions with customers and partners, where I hope to inspire and demonstrate the immense value UiPath brings. On a personal note, contributing towards building the future of work holds significant importance for me, and I often find myself discussing it passionately."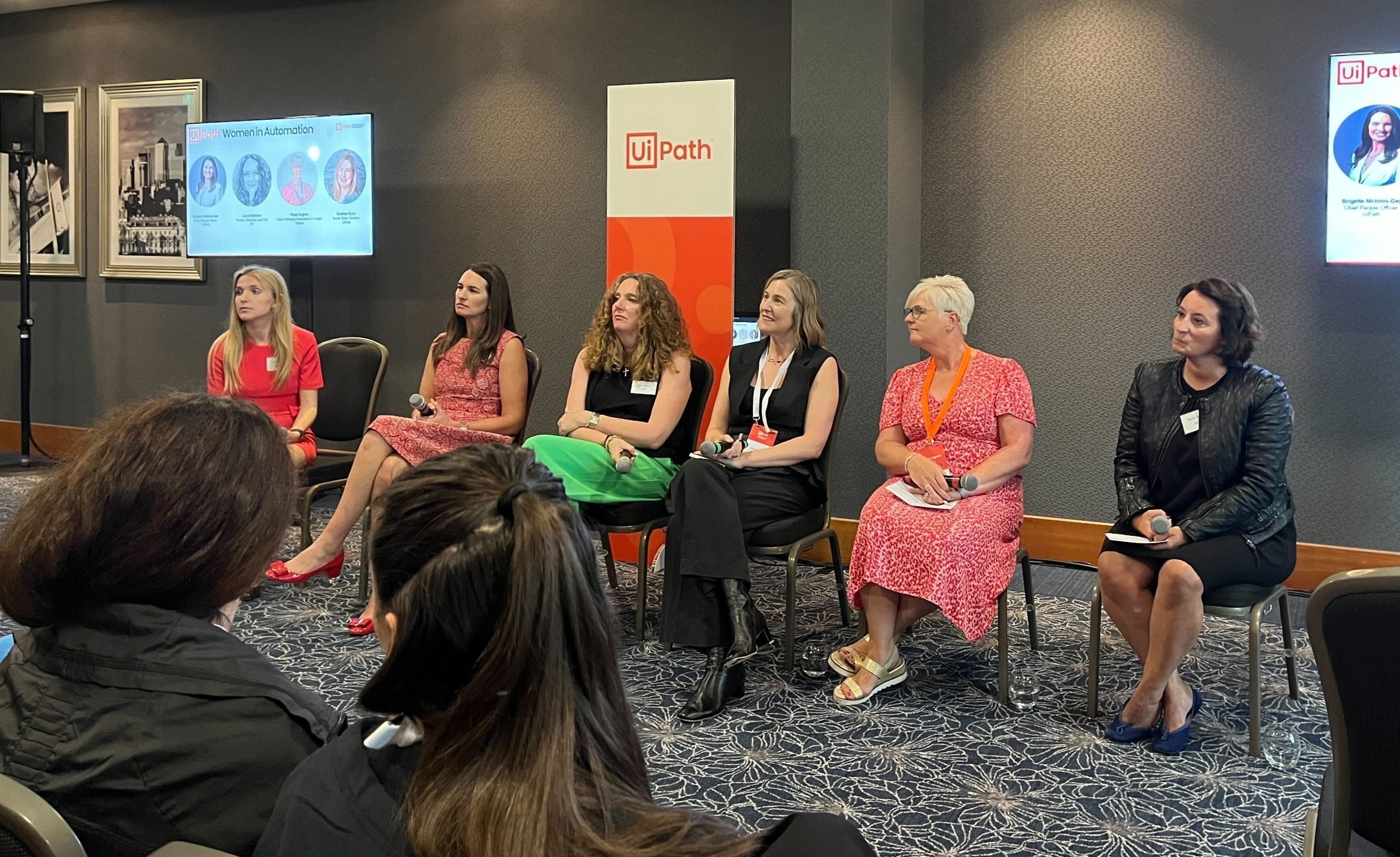 What specific actions can women in tech take to contribute to the attraction or promotion of more women in the tech industry?
"As we continue to discuss women in tech and the importance of diversity, it's crucial to acknowledge that we're still significantly underrepresented in the industry. The statistics show that women occupy only 22% of all tech roles across European companies. This fact raises questions about why many qualified women in the UK leave the field by the age of 35, highlighting the need for more inclusive career paths and ongoing conversations."
An aspect Siobhan appreciates is the positive impact of having female managers on her team. She values and encourages the psychological safety and unique understanding that comes with having discussions about challenges specific to women. "Whether it's planning for life events or balancing careers, these conversations are vital. We need more women in leadership roles whom others can relate to, as they provide guidance and mentorship. Mentorship, whether formal or informal, plays an essential role in supporting career trajectories. Effective mentors lend their influence to amplify ideas and advocate for the mentees when not present."
To support the lifelong learning journeys of our colleagues, we focus on mentorship at all levels within UiPath. Our Automation Center of Excellence team has crafted a solution called Athena—an effective Slack app that serves as the foundation for our mentoring network. Through this internal app, employees at every level can find mentors from various functions across the company. The process is simple: all they need do is express interest in being a mentor or mentee through Athenas' intuitive interface—which will pair them based on selected topic preferences.
To truly drive change, Siobhan encourages the idea that we must embody the change we seek, and the ideals we wish to see implemented in society.
In summary, it's essential for us all to foster a collaborative environment and actively engage in practical initiatives that promote diversity and inclusivity. By continuing the discussion, we can make meaningful progress in attracting and supporting a more diverse talent pool, ultimately enriching our organization and the tech industry as a whole. We invite you to take part in this journey by following our Women in Automation series for more inspiring stories.