What is Business Process Automation?
Today, when organizations look for ways to optimize their business processes and achieve greater operational efficiency, automation is where the conversation starts.
Enterprises of all sizes turn to Business Process Automation (BPA) for a results-oriented solution to automating repetitive, rote activities and streamlining process workflows that involve integration and communication between multiple business and IT environments.
Where Does it Apply?
BPA is applicable to virtually any aspect of a business, from data entry and data extraction, file transfer and content migration to enterprise application integration and reporting. Depending on the level and speed of automation that an organization needs to absorb, BPA can be both a single shot initiative to automate key processes and deliver immediate results, as well as part of a wider, systematic strategy for Business Process Management (BPM) improvement.
Challenges to BPA
Evaluating and selecting the right BPA software solution can in itself define the success of an automation initiative. The reason why many organizations haven't already reached their ideally automated stage is simply because traditional solutions have kept coming up short on fulfilling their critical business processing needs. They are tough to integrate with the legacy architecture and third party systems and demand both excessive cost and implementation time. They also do not respond fluently to regulatory changes and, most importantly, they are hard if not impossible to scale.

Business Process Automation with UiPath
Enterprises and BPOs need a Business Process Automation solution that is fast and easy to deploy, scales rapidly, and integrates without business disruption. With UiPath, you get that and more. UiPath is favored by global clients for its highly responsive and visually intuitive software that is built on an
industry standard technology stack perfectly geared to automate at enterprise level. It is equipped with advanced capabilities for integration and analytics that are essential to a successful BPA implementation requiring support for collaborative systems and flexible human machine interaction.
A Fully-Fledged Digital Workforce
Our scalable Back Office Robotic Automation platform offers a complete solution for enterprise class management, reporting, security, and back office integration capabilities. It orchestrates and manages thousands of robots from a single command center. The Back Office Robots run unattended and process large volumes of work around the clock, with remarkable speed and precision.
The Front Office Robotic Automation is the scalable platform for your organization's front office activities that allows you to deploy Agent Assistant Robots to the workstations of your employees, where they will run under their full control and supervision.
Human - Robot Collaboration
UiPath technology was built on a vision of a smooth collaboration between humans and robots. In a typical business process, once the unstructured input data is transformed through digitisation into structured content, it is sent to a work queue from where
digital robots read it and manipulate the user interface in order to process what is required. When they encounter a business exception, they flag it for a human user to review it.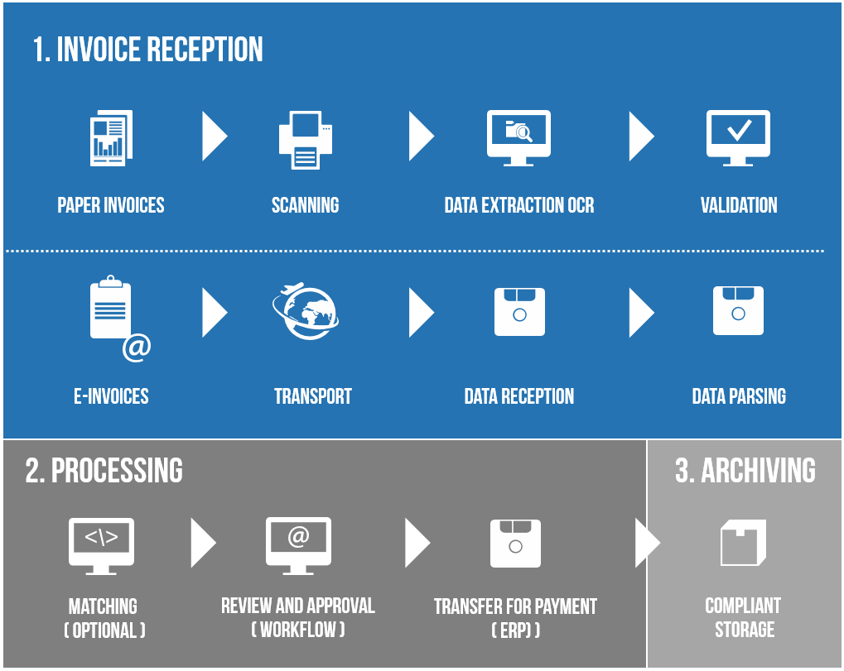 Enterprise Grade Scalability
It deploys and runs the digital workforce across systems and geographies throughout your business, dramatically increasing the digital workforce as your business needs dictate, at minimal expenditure, and decreasing the numbers when things get slower.
Recorder - The Productivity Tool
Recording is a highly efficient, error-free alternative to manually diagramming process steps and user actions (e.g. copy/pasting text or selecting checkboxes).
Centralised Management with UiPath Control Centre
Centralized instrumentality with UiPath's web-based Control Center is ideal for deploying, scheduling, and executing the process. Server level management, using a unique console built on Cloud technology, can create a red thread throughout the processes that require interaction with disparate applications and business units. Using a system of centralized work queues, the UiPath enterprise solution facilitates both human-robot collaboration and business exception management.
Seamless Integration Without Disruption
Based on industry standard technology, UiPath supports a dynamic business environment of integration with legacy and future applications, without either compromising performance or impacting costs. Our software works with all major desktop, web, ERP suite, and Citrix (virtual desktops) applications in minutes. UiPath also comes with a powerful image recognition technology, and it can recognize controls and text, too. It 'sees' the user interface like a human, even in those Citrix enabled virtualized environments.
Highly Intuitive Process Designer with UiPath Studio
This open, extensible and industry standard Visio-like designer gives you both faster robot training time and the ability to design and run complex processes. It has a highly visual process modelling environment that is supported by an integrated framework of tools, wizards, templates and pre-built actions for process automation.
Dashboard and Analytics
Equipped with live monitoring capabilities and built-in memory logs, the Control Center provides full auditability for your business processes and user activities, allowing you to identify bottleneck areas and optimize performance as you go.
Business Process Automation with All the Benefits

Speed and Accuracy
UiPath's Business Process Automation software eliminates redundancies by automating repetitive tasks and enforcing fluid, repeatable workflows that are free from human error. Time value is increased with robots working 24/7, holidays and weekends included.
Elevated User Experience, Higher Morale
Non-technical business users can create workflows and train robots with speed and reliability, without writing a single line of code. With automation running smoothly, your employees are free to focus on higher-value activities.
Compliant with Industry Global Standards
You can rely on an integrated platform that ensures enterprise security, compatibility, support, and auditability.
Operational Consistency
UiPath technology ensures that business rules and steps are followed and applied comprehensively, so that you can keep your teams and processes in tune across multiple business units.
UiPath – RPA Designed for the Needs of Global Enterprises and BPOs
UiPath RPA is an enterprise computing platform dedicated to automate business processes. It provides process modelling, change management, deployment management,
access control, remote execution and scheduling, execution monitoring, auditing, and analytics in full compliance with the enterprise security and governance best practices.
UiPath Studio is the highly visual productivity environment where business users can model end-to-end business processes into a process diagram with simple drag-and-drop functionality.
Advanced error checking and history visibility ensure flawless execution and detailed project monitoring.
UiPath Orchestrator is a scalable RPA server, fully integrated and equipped with centralized instrumentality for enterprise class management, security, compliance, support, and auditability.
Our Orchestrator records everything the robots do through log files and transforms them into advanced analytics.
UiPath Front Office Robot is the agent-assisted robot that shares the same workstation with human employees and assists them to automatically execute business activities.
UiPath Back Office Robot is the autonomous software robot programmed to run unattended, independent from human interaction.