For many businesses and business leaders, the past two years have been both challenging and transformational. After two decades working in Asia Pacific, I've been encouraged to see how companies in-region have responded in these trying times—building long-term resilience and accelerating digital transformation to meet the needs of their customers and organizations.
Automation is a key technology enabling that accelerated transformation. According to McKinsey, software automation is a top trend in tech. It has grown quickly in Asia Pacific, with the region catching up to Europe and North America. However, significant differences exist between countries across the region. A recent report by Deloitte shows a mixed report card for markets preparing to take advantage of workplace automation.
Being home to 60% of the global workforce, we believe that it is imperative that Asia Pacific companies act fast, or they will be left behind in the automation era. The workplace is undergoing a tectonic shift. Within the next five years, hybrid human-digital workforces will be commonplace. People will work side-by-side with their virtual software assistants, sharing tasks, handing work off, and taking it back dozens of times a day.
Unlocking the value of enterprise automation
While over 70% of enterprises have started on their automation journey, many have yet to realize the full benefit of automation due to organization silos, talent shortages, and a lack of automation operating model to scale or govern. As a leader in enterprise automation, we work with executives and department leaders to establish the automation vision, strategy, use cases, metrics, and enabling technology that ultimately delivers value for them. Benchmark and calculator tools can demonstrate what best-in-class organizations automate and the value derived from these automations. We recently introduced the 'honeycomb' approach to help organizations break down silos and look at processes that move across lines of business and the corresponding systems in the IT landscape that go underneath.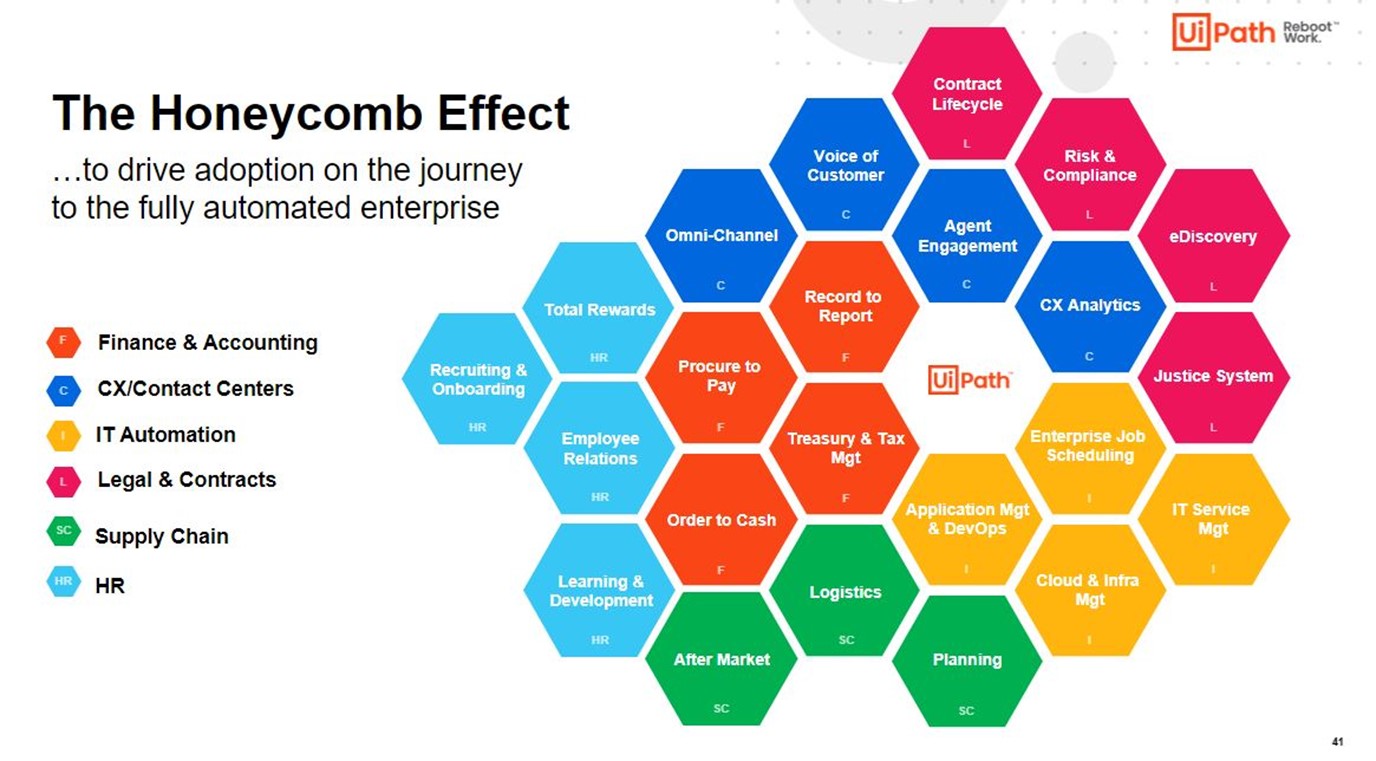 Transitioning to and managing a human-digital workforce
Beyond realizing the business value of automation, how can you ensure employees embrace automation and learn to work effectively with automated processes and digital assistants? And as robots take on lower-skilled jobs, how can organizations best redeploy workers and prepare them to take on new, higher-skilled jobs?
These are the kinds of critical questions that forward-thinking chief human resource officers (CHROs) and their teams will be focusing on next year. They'll be developing multi-year plans to predict where jobs will be lost—and where they'll emerge. CHROs will address job re-design, redeployment plans, and building out upskilling, reskilling, and hiring for the future. And they'll be training everyday workers on how to work effectively with automation and desktop assistants.
In a world where business leaders predict they're going to have to retrain a third of their workforce over the next few years because of new automation technologies, HR will need to play a pivotal role in managing the changes. They'll be stepping up to the plate in 2022 to get it done.
Preparing for the automation era
As governments, IT, and HR prioritize automation, there's a rising demand for skilled professionals.
Skill-building remains the single most important challenge for Asia Pacific. Education and training policies must nurture in-demand automation skills as well as focus on retraining the workforce. Workers must develop the mindset of continuous learning to face rapid technical change and job changes.
Some governments in Asia have been vital catalysts in driving the adoption and growth of automation. For example, Singapore is leading the way in the region and has launched initiatives to encourage industries to adopt automation and support the underpinning of the government's industry transformation plan.
We are doing our bit to help build the next-gen workforce. The UiPath Academic Alliance program provides significant opportunities for students and professionals to educate and upskill themselves in automation, equipping them with the skill sets to take on more creative, strategic and fulfilling work in the future.
Globally, the program reaches more than 1,000 institutions including universities, colleges, government bodies, professional workforce organizations, and nonprofits. In its first two years, more than 245,000 students and professionals have received education on automation across 63 countries and have influenced more than 30,000 of these individuals in gaining employment. In the APAC region, UiPath Academic Alliance has added institutions across China, New Zealand, India, Singapore, Malaysia, Vietnam, Indonesia, Thailand, Australia, and the Philippines.
It's time to automate
We see automation cementing its position as an essential enterprise technology tool—with RPA at its core. We see it expanding its role in the technology stack. Finding new champions across the C-suite. Embarking on innovations to transform the lives of business and its employees. And building a booming ecosystem.
That said, managing the transition to a workforce where robots and humans can work together well will be critical to its success.
Learn about five ways robots and humans can collaborate in our recent e-book. Download your complimentary copy of the e-book.
In 2022, in every way that matters, automation accelerates human achievement.