UiPath New York HQ office kitchen (and beyond) - photo courtesy of Will Redmond
As the UiPath Automation Center of Excellence (CoE) celebrates over $50 million of cumulative cost avoidance via the AI-powered UiPath Business Automation Platform, and more than one million hours of time given back to the business, we're excited to share our top lessons learned along the way.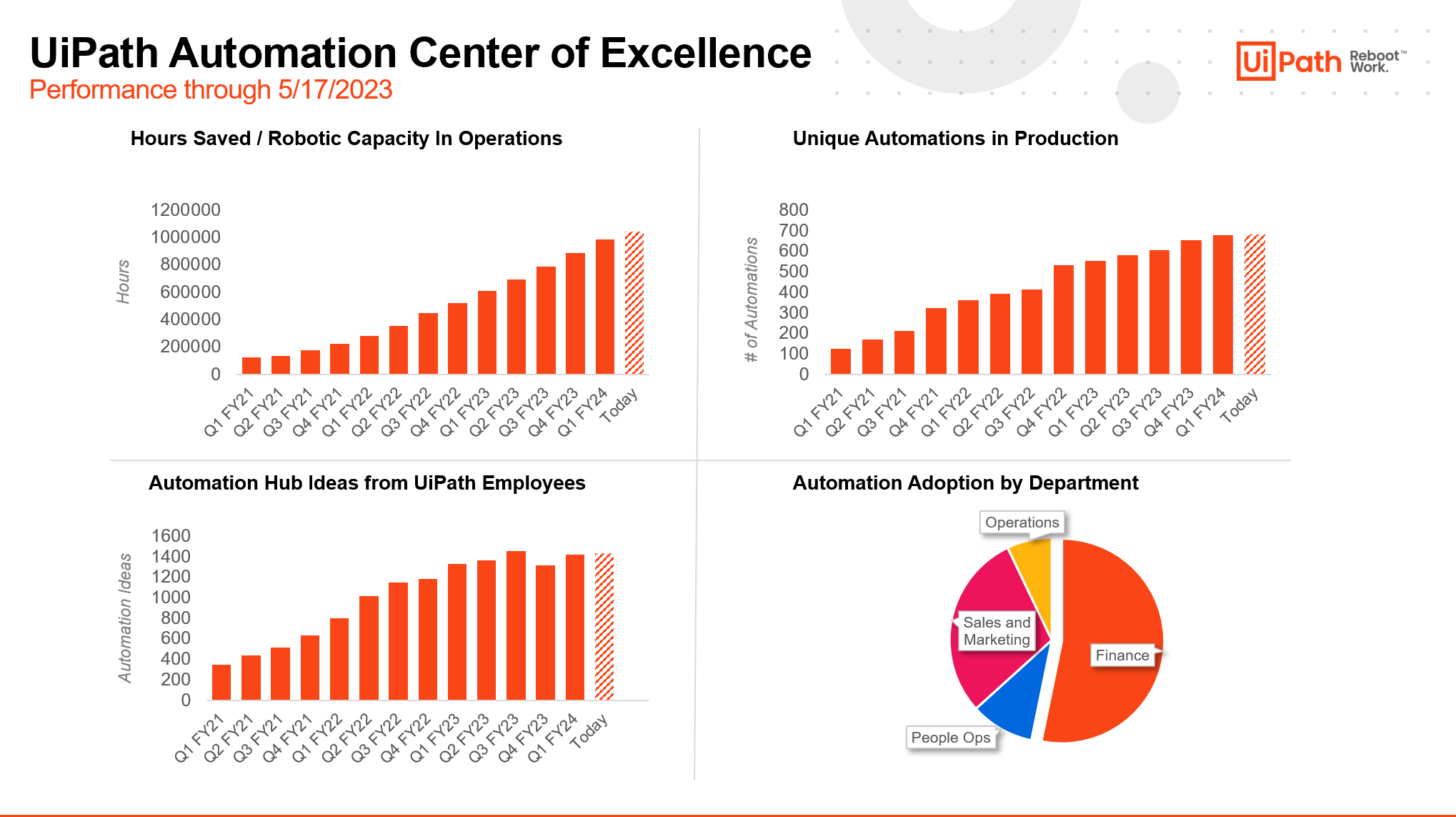 If you're new to this series, every quarter we update our community on our internal automation progress.
Bookmark this page to keep up with how UiPath Uses UiPath

Explore this encyclopedia of center of excellence (CoE) automations, where we add new automation entries regularly
The humans of UiPath who make automations possible
You might notice that this quarterly blog has a different author. Normally, our brilliant CoE Lead, Razvan, writes these updates.
As the Chief Financial Officer at UiPath, I've seen firsthand just how diligently Razvan and the CoE have helped the company traverse down an incredibly winding, forgive the pun, path.
I asked to write this update to give kudos to Razvan and his tremendous team for all they enable.
Razvan started as our CoE Leader in 2019. His team of more than 20 developers, business analysts, and solution architects has made an indelible impact for every UiPath employee, customer, and partner.
They've built hundreds of AI-powered automations leveraging all facets of our platform, including:
Using algorithms in UiPath Task Mining, Process Mining, and Automation Hub to discover automation opportunities

Leveraging AI Computer Vision to build robust, resilient automations

Building results-oriented dashboards in UiPath Insights
Razvan, a sincere thank you to your team for bringing the company to this fantastic milestone.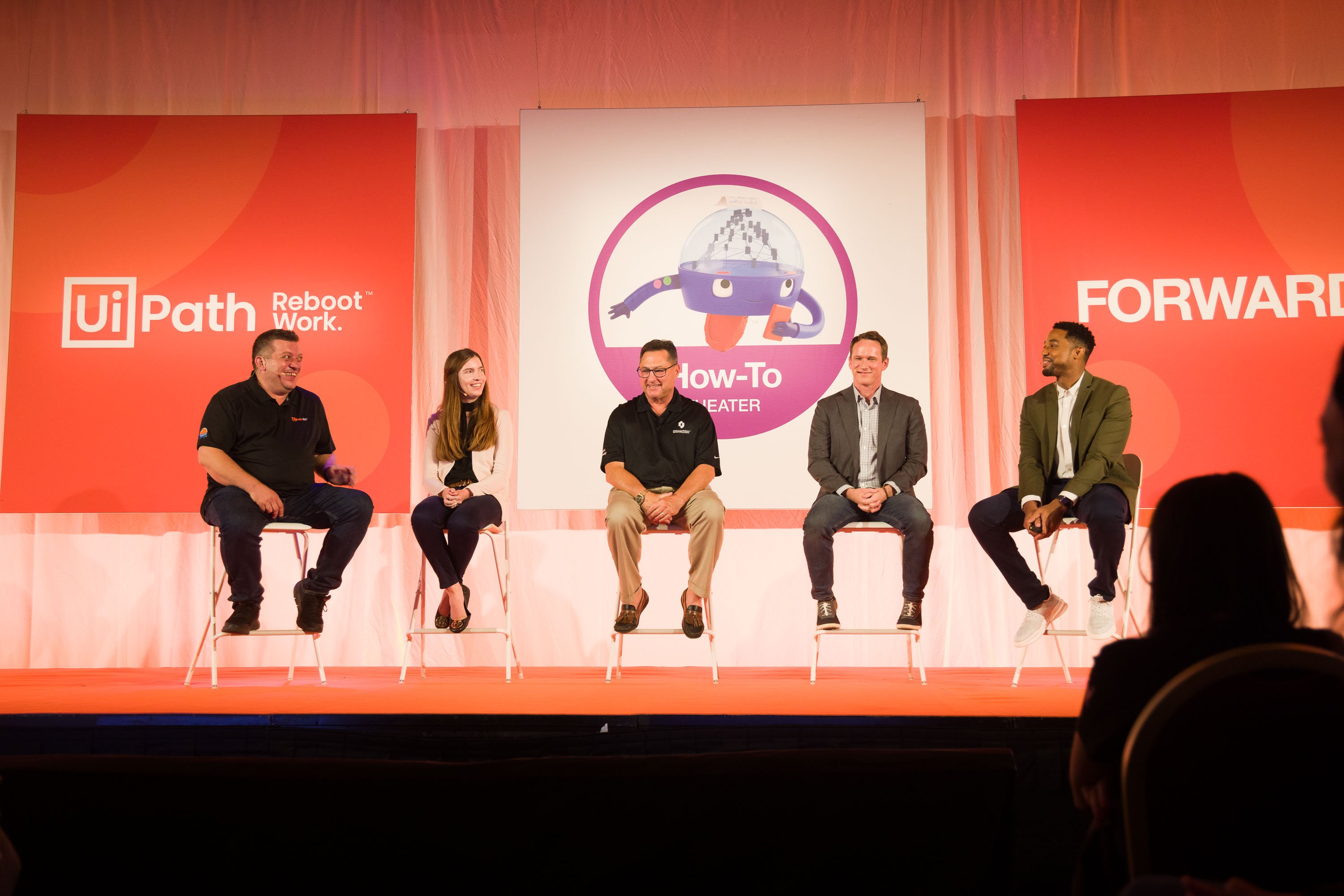 UiPath FORWARD 5 - UiPath CoE Lead Razvan Nutica (left), in conversation with CoE leaders from Indeed, Oshkosh, and Meta. The FORWARD 5 panel was moderated by Joe Edwards (right), Senior Product Marketing Manager for Apps at UiPath.
Speaking of the "humans in the loop" of our automations, I'd like to recognize:
The UiPath Finance team: you all continue to lead the way. Most recently you shared in a webinar how you've saved hundreds of thousands of hours with our own automations. Your willingness to drive change internally and share knowledge with customers externally makes me proud to work at UiPath.

Citizen developers like Ovidiu. Despite not having a traditional programming background, Ovidiu learned UiPath StudioX over a few months and has been extraordinarily active in helping colleagues in Finance automate boring, repetitive tasks. I also hear his documentation skills are unmatched!

Leaders like Elena, on our HR team, who drive automation in business areas outside Finance. Elena's team delivers automations that save time, yes, but also improve the employee experience. One of my favorites is Avokudos, an automation-powered chatbot that colleagues use to share positive feedback. Elena's story was recently featured in Comparably!
Lesson learned: Empower employees
As you evolve your automation journey, take notice of employees who aren't happy with the status quo: the ones who believe there's a better way to operate, and ultimately innovate.
When you empower employees with resources and trust, they will deliver magnificent automations.
Automations won't be adopted without a great UX
As you might expect, automation has been in our DNA since our founding team, led by co-CEO Daniel Dines, worked out of a cramped apartment in Bucharest in 2005.
As the company grew, we realized that it's not enough to supply users with automation superpowers; we must provide a path to accelerate that engine of progress. Even the Batmobile needs keys.
Tools like UiPath Apps have helped us make automation more approachable.
With UiPath Apps, we're able to provide an engaging end user experience that looks just like other websites and applications employees use daily.
One of my favorite use cases is UiPath Approver, an app the CoE built to make managing approvals across four different systems (Coupa, Salesforce, Workday, and Concur) more seamless. Rather than having to navigate through these systems individually, I can process all my approvals from one place.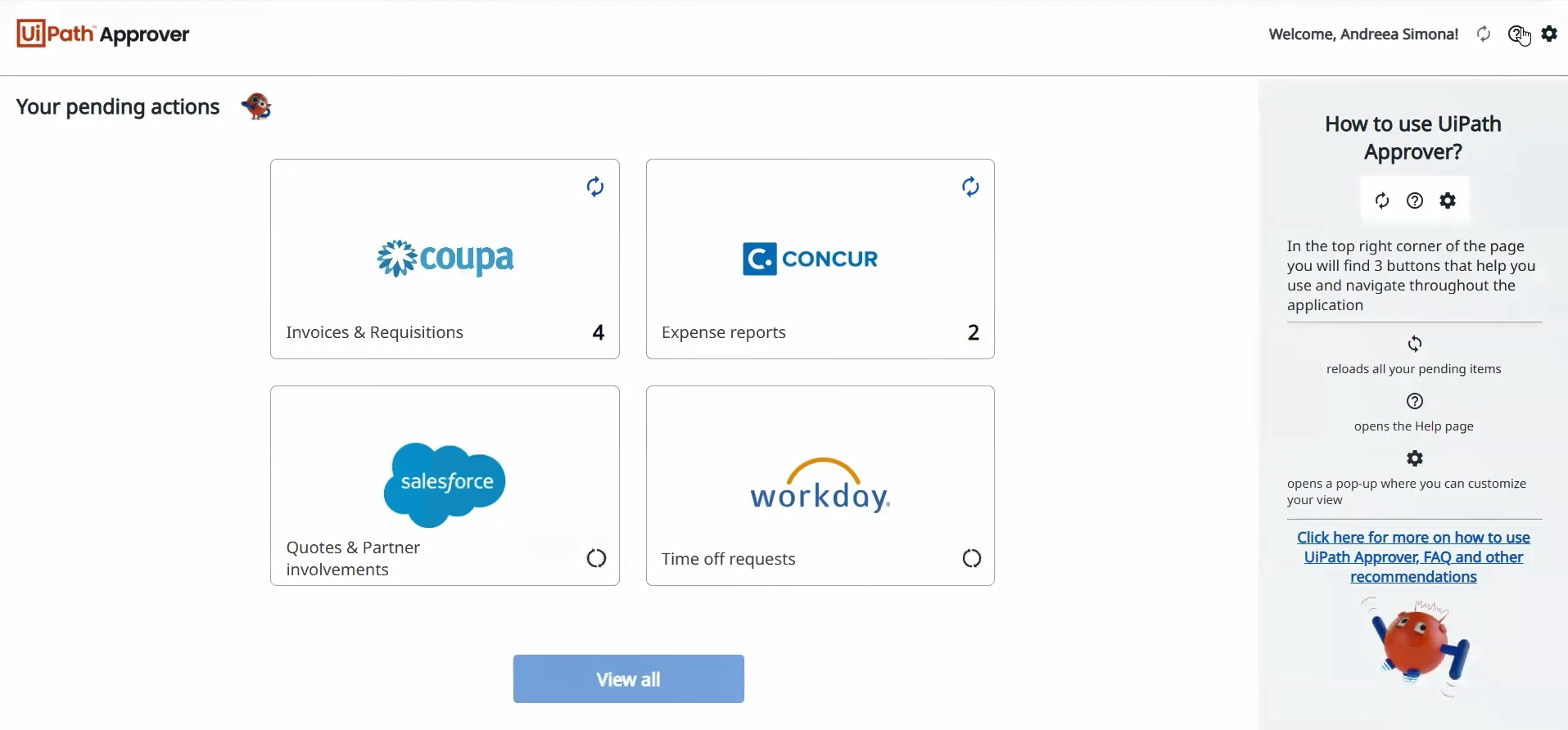 Teams within UiPath rely on UiPath Apps for a host of use cases:
Company wide
Deploy CoE automations

Run hackathons

Validate parking for employees

Build a community of citizen developers (Automation Launchpad)
Sales, Marketing, and Customer Success
Prepare for quarter close with Sales Dashboards

Send out customer satisfaction surveys

Follow up with event leads

Host our pricebook

Give away an Xbox at UiPath FORWARD 5
Presales
Build and host bespoke industry demos
This summer, I'm looking forward to running our internal hackathon (Hackweek) on top of UiPath Apps for the second year in a row!
Lesson learned: Build friendly interfaces
Building friendly interfaces for your automations in UiPath Apps is just as important as building the actual automations in UiPath Studio.
How many millions could automation save you?
Join UiPath customers, partners, and the world's leading AI and automation experts at FORWARD VI in Las Vegas. Register now to take advantage of early-bird pricing.