How can you scale automation across the enterprise and save over $53 million? 
The UiPath Automation Center of Excellence (CoE) is uniquely positioned to answer that question. In this blog post, we'll share insights and lessons learned in our own journey successfully scaling automation across the company. But first, let's check our quarterly progress of automating UiPath using UiPath.
During the last quarter (Q2 of fiscal year 2024), UiPath Robots freed up more than 88,800 hours for UiPathers, contributing to over 1.07 million hours of extra capacity added for the company.
Additionally, we just surpassed $53 million in cumulative cost avoidance using the AI-powered UiPath Business Automation Platform.
If you're new to this series, every quarter we update our community on our internal automation progress.
Bookmark this page to keep up with how UiPath uses UiPath.
Based on our experience, we believe there are several key components that enable CoEs to successfully scale automation across the company:
Using the full power of our AI-powered automation platform—beyond traditional robotic process automation (RPA) use cases—to identify and deliver automation solutions across different departments.

Supporting and growing a community of citizen developers through internal programs.

Encouraging employees to think 'automation first' and embrace innovation in their day-to-day work.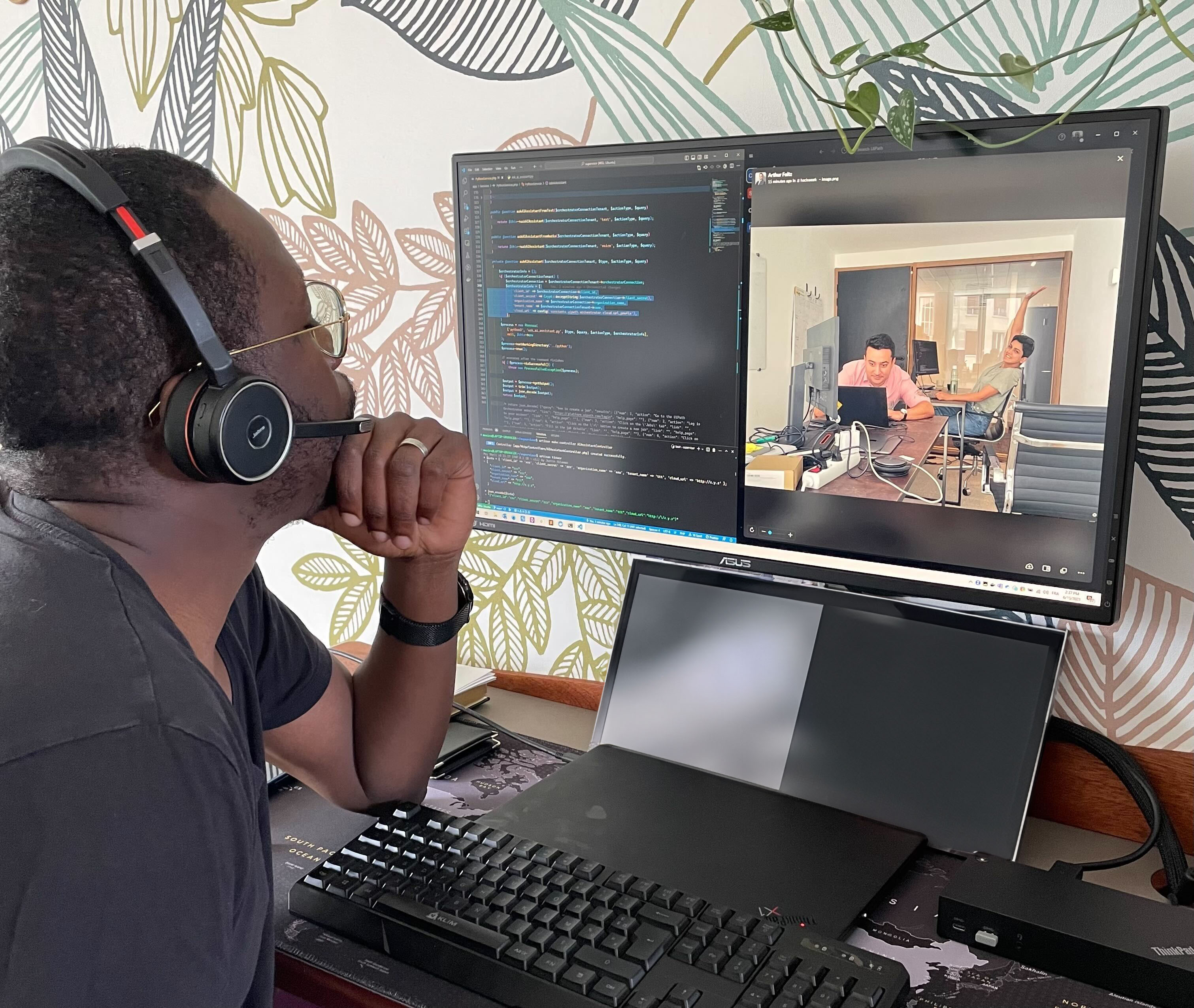 UiPath employees Masire Fofana, Rafik DJENAOUI, and Siwar Mezghani work together on their Hackweek idea
One way we empower UiPath employees to embrace automation is through our internal hackathon, Hackweek. UiPathers are invited to unleash their creativity and harness our technology to ignite innovation, with prizes for winning hackathon ideas. Stay tuned—in the future, we'll reveal the winning automation ideas from our most recent Hackweek.
In addition to Hackweek, the last quarter was packed with implementing and updating exciting automations across the organization. We've picked a few examples to inspire you and your team.
1. Saving over 30,000 hours and unlocking creativity with HR automations
UiPath Robots gave us back more than 30,000 hours, thanks to the automations initiated by our People team (many of the automations were created by citizen developers). Beyond improving efficiency, the real 'magic' lies in the renewed spark of creativity and employee engagement that automation ignites. 
A standout recent example is the advancement of Athena, our automated learning assistant. Athena facilitates UiPathers' development by allowing them to enroll as mentors and mentees on different learning topics. Athena helps match mentors and mentees on Slack, based on users' time zones and mentees' responses to a survey.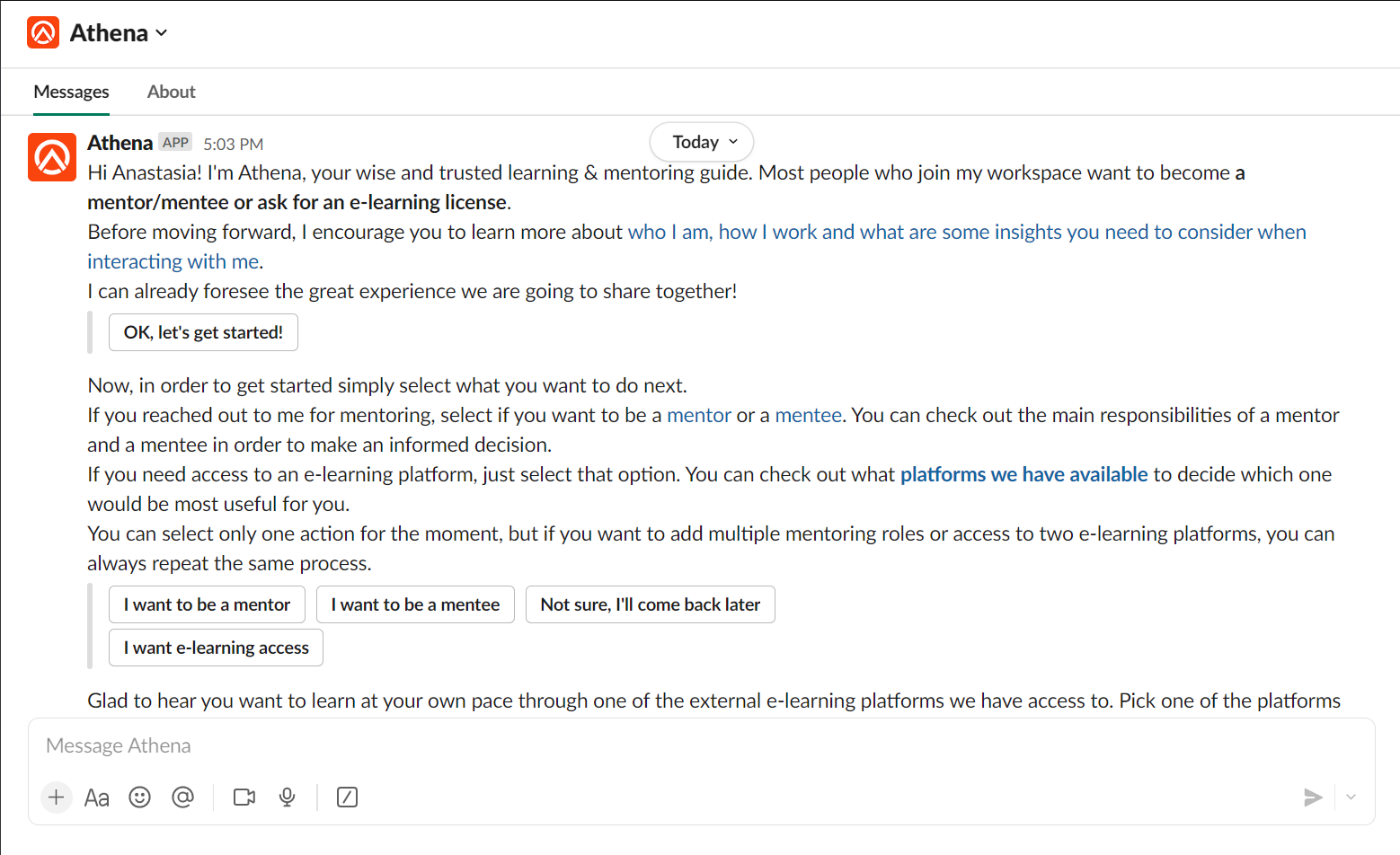 Last quarter, the UiPath CoE enabled Athena with the capabilities to follow-up, track progress, and generate insightful reports. With this update, according to Elena Mega, HR Transformation and Automation Director at UiPath, the Talent Development team has a better overview of the program and is able to elevate the learning experience. The mentorship program provides long term benefits by supporting UiPath employees as they grow their knowledge and competencies.
Athena is one example of dozens of automations the People team utilizes. The department has consistently scaled automations to different functions by working alongside its own citizen developers and the UiPath Automation CoE team. From Talent Acquisition's streamlined onboarding to the Benefits team's liberation from manual invoice handling, the impact is tangible.
Citizen developers are key contributors to automation in human resources (HR). Thirty-five percent of the People team are certified citizen developers. They are consistently providing automation ideas and implementing them. Guided by the UiPath CoE, citizen developers on the People team are the architects of transformation, turning ideas into reality. Through a series of training sessions (part of the UiPath internal citizen development training program), citizen developers are empowered to weave automation seamlessly into their daily activities.
"The level of understanding and appetite for automation has increased, because these people automate for themselves, and have an active contribution to what can be automated and how," explained Mega.
For Elena Mega, the surge of creativity and employees' engagement really fuel HR's mission to scale automation into departments and across the enterprise. In giving UiPathers their own robots to delegate tasks to, employees are more engaged in their work. They're also more process oriented and analytical when identifying automation opportunities that will improve their daily activities.
The boost in creativity is one of the key benefits of automation. It showed people that the sky is the limit. Once we started the engines of ideation, thinking of different ideas for automation and turning these into reality, this has generated a positive snowball effect.

Elena Mega, HR Transformation & Automation Director, UiPath
Mega shared more useful tactics to engage employees and revolutionize the workplace during the UiPath Web Automation Summit. For a limited time, you can access Mega's session "Revolutionize the workplace: Automate web work and transform employee experience" to hear why automation isn't just a tool, but a catalyst for transformation and a more engaged workplace.
2. Elevating productivity and team morale in Sales
Deal Hub is another team intensively embracing automation at UiPath. 
Gayatri Nanda, a wonderful champion of automation, and her colleagues have engineered PO Forward Bot. The robot is designed to seamlessly manage and streamline the processing of purchase orders (POs). First, the bot monitors incoming POs sent directly by customers via email. Once a PO is detected, the bot springs into action, efficiently routing the PO to the appropriate Sales team member through our internal chat system, aligned with the relevant opportunity. 
The robot's capabilities extend beyond routine, as it engages the Deal Hub team to address exceptional cases that may arise.
Leveraging a combination of UiPath Document Understanding and unattended automation, PO Forward Bot solves several challenges for the team. With a diverse array of customers sending POs in varying formats, the task of manually sifting through emails to identify the corresponding account, opportunity, and deal owner proved to be a time-consuming and less-than-thrilling endeavor. PO Forward Bot now executes the entire process seamlessly, adding at least 670 hours of additional capacity per year for the team.
More than that, the bot eradicates the joyless task of email vigilance and routing. It's a true testament to elevating both productivity and team morale.
3. Saying goodbye to manual SEO tasks in Marketing
The Redirect app emerged as a brainchild of our Marketing team, made possible by the CoE. Previously, the Search Engine Optimization (SEO) team grappled with a manual process that gobbled up hours of their time, especially during content migrations. By leveraging automation, the team streamlined communication and simplified the process. 
Whether it's a single URL redirect or a bulk of them, the app has us covered. No more scattering requests across different platforms—now the SEO team has everything in one place. 
Instead of a highly manual process with conversations on different platforms, adding, copying, pasting URLs, and notifying requesters; now it's done in a few clicks.
Quantifying the saved hours depends on request volume, yet the app's impact on quality is undeniable. Errors are minimized, standardization is ensured, and a cleaner system prevails. "The quest for concise, memorable, and shareable URLs is also fulfilled by enabling users to request vanity URLs effortlessly," explained Bogdan Niculi, Senior Digital Brand Experience and SEO Manager at UiPath.
If you want to explore other ways UiPath uses UiPath and get ideas to scale automation enterprise-wise, UiPath CoE experts are waiting for you at FORWARD VI + TechEd Day. We'll share the story behind saving $53 million with our own tech along with our best practices and lessons learned. Our automation experts will also host a hands-on workshop on how to deploy attended automations. Better yet, you can join us for an open Q&A session and get answers to all your burning questions—from building the automation pipeline to measuring your program success and scaling citizen development initiatives. Check out the full agenda.