December is one of my favorite months of the year for many reasons. We have holidays, my birthday, snowstorms, and New Year's resolutions. Growing up, my family always made a big deal about my birthday because it falls right on the last day of the year (December 31). I never really got excited about having a birthday party but this year I feel a lot differently because I am happy that I have the privilege to be able to celebrate my birthday while being a part of UiPath.
Another reason December is one of my favorite months is because it is Universal Human Rights month and Human Rights Day is December 10. Human rights issues are a cause that I care greatly about. We're all human and should do what we can to help each other.
I am asking everyone to join in on my New Year's resolution this year, which is to change the lives of over one million people in 2022. I personally am committed to helping the lives of over one million people through implementing automation.
Working in government, I've seen how government processes have inefficiencies that can prolong neglect and abuse. Every person has the right to live a life free from neglect and abuse and we all can help fix our government processes that are slow at investigating these claims. Right now, we allow people to continue to be harmed while they wait for poor government processes. And as civil servants, we're expected to fix these processes by our citizens. As a civil servant, I've fixed many issues like this in state government, so why don't we fix it together?
What needs to be fixed?
Let's start one process at a time. The neglect or abuse reporting/complaint process is currently plagued with issues and needs to be fixed.
The reporting process is extremely important because it is how government agencies learn about neglect and abuse complaints. The biggest issues with the complaint process (and subsequent review) are the potential for errors and the amount of time it takes to end the abuse by bringing about a criminal or administrative proceeding.

Problems
Let's look at some of the current problems related to channels for reporting alleged abuse and neglect:
Forms: data quality issues, no case management system(CMS) integration, potential for incorrect triaging

Email: non-standardized information, lack of information, not sent to correct person, often lacks integration with CMS, potential for error related to triage, employee responsiveness may be slow due to a variety of factors

Call center: long wait times, not always available 24/7, verbal evidence from calls cannot be submitted or attached to case file

Mail: slow, unable to read complaint forms if handwriting is illegible, missing information, employees must manually type information from mailed forms into CMS
Those are issues related to the initial intake of possible abuse and neglect reported to government agencies by citizens. Following the diagram above, once the complaint has been submitted, there are still issues related to the remaining steps in the process. Employees often need to:
Reach out for missing information

Clarify/fix incorrect or questionable data

Type info into CMS

Collect information from other parties involved in the reported abuse or neglect

Access other systems

Scan and upload evidence related to the abuse/neglect allegation
And those are employee specific. Additional issues include:
Legacy CMS tools

Compassion fatigue / employee burnout

Multiple reviews may be required

Information entered into a CMS incorrectly due to human error

Case backlogs
I do not accept that victimization be allowed to continue while someone trying to report it is waiting on hold because a call center is too busy, or waiting while information is manually typed into a system, or waiting for their turn in line because of backlogs!
How can we fix those issues with automation?
Through the UiPath Platform, we can use software automation to make our government processes better, which in turn can help neglect and abuse victims. We can decrease the time it takes to process complaints, complete investigations, and speed up the court processes to get justice for victims.
What are the steps to end neglect and abuse?
The first step is to fix call centers and how people can contact government agencies to report abuse or neglect. With the ability to integrate different technologies via UiPath, the possibilities are endless. UiPath has completed a bunch of contact center projects that have drastically increased the volume of calls that can be successfully answered. I have personally seen this success and the impact it had on helping people by increasing a state agency's ability to answer calls from three calls per hour to thirty calls answered per hour after the agency implemented automation. Read more about contact center automation.

Use process mining to look at the entire process to find opportunities to implement robotic process automation (RPA). Then use task mining to find opportunities for attended and unattended automations at each step of a process. Every person that works for you in this process should have a digital assistant!

Quickly adopt document understanding to help process paper forms, forms submitted via email, or electronic forms being submitted to quickly get the information needed into your systems.

Implement attended and unattended automations to speed up processing. (More on that below)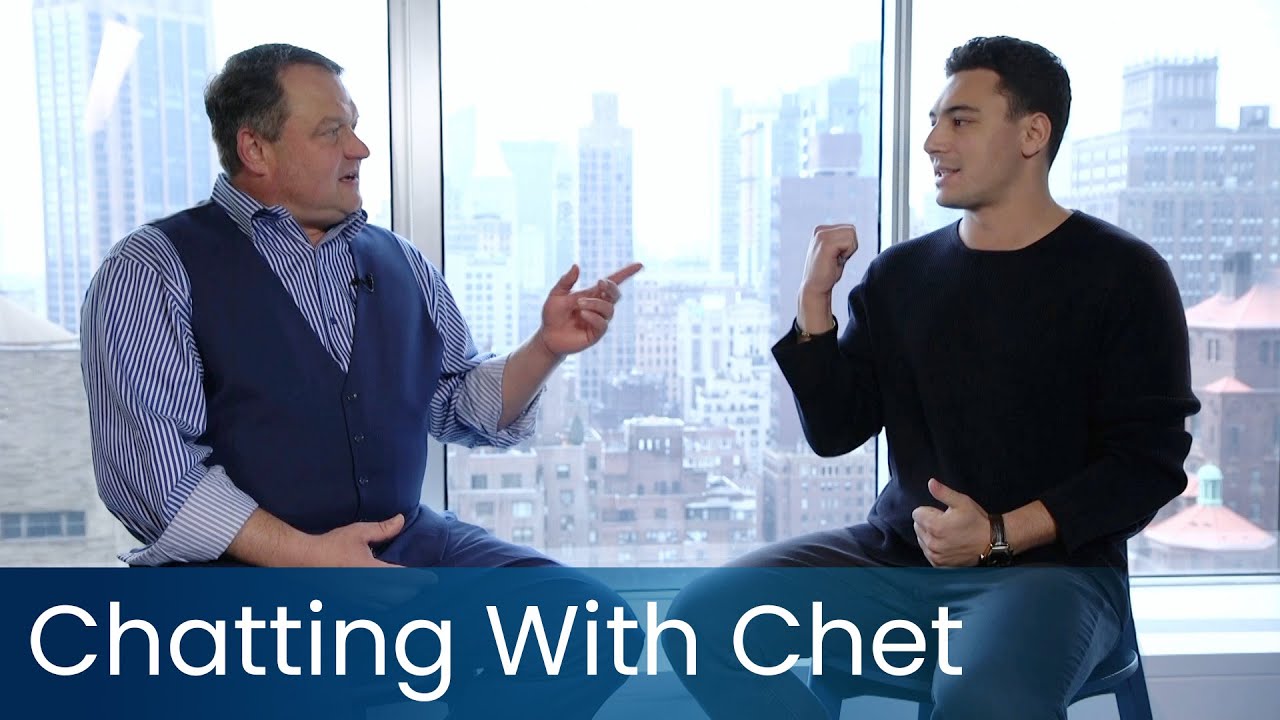 I would use software robots to help employees with case reviews, easily implement integration with all other state systems needed, along with upgrading the CMS without the cost of a full modernization project. Rather than upgrading the entire CMS, you can use automation to better integrate the existing CMS with your existing technologies.
You could also use automation as a data analytics tool. For example, you could deploy RPA and artificial intelligence (AI) to build better predictive models to help answer why abuse and neglect is happening and drive improvements into other processes to prevent or detect abuse and neglect.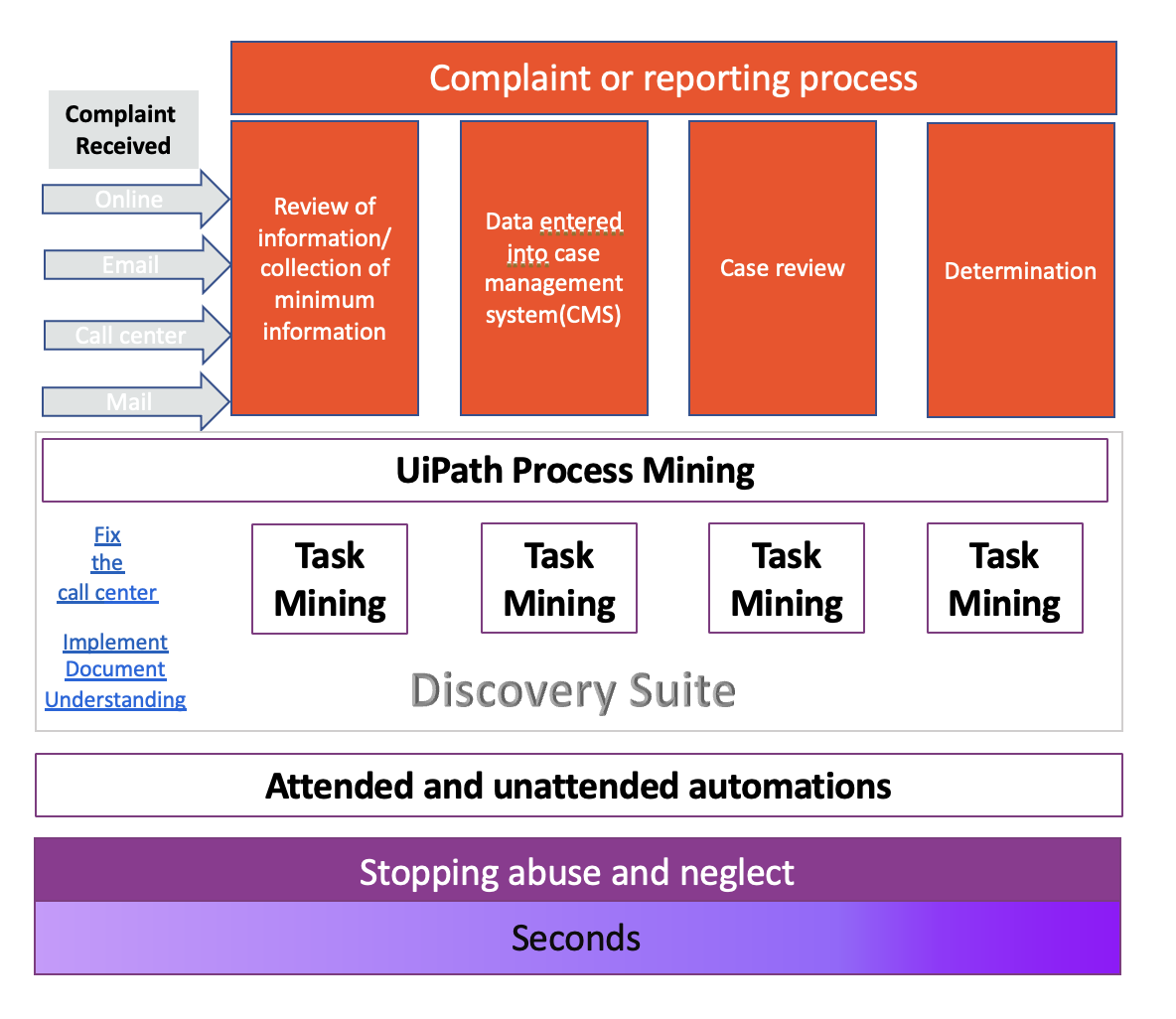 UiPath Platform has several products to help you discover your automation opportunities (especially those with the largest ROI). Learn more about the 'discovery' suite of products on the UiPath Automation Hub, Task Capture, Process Mining, and Task Mining web pages.
What is possible with an automated citizen experience?

Don't work in government but want to do your part to help?
Talk to your government agencies that have these processes and let's start fixing this.

Call your legislators or government officials and tell them that we can reduce suffering of people by (easily and quickly) removing these inefficiencies.

Spread the word on social media and tag advocacy groups that care about this. Or email or call them to let them know that government can do better.

Be vocal about the need for funding for implementing software automation to improve inefficient government processes and legacy technologies.