Editor's note: Some of the UiPath product names in this article have evolved to reflect the continued evolution of the automation market. For up-to-date information on the UiPath product suite check out the UiPath Platform page.
I am delighted to announce the latest Long Term Support (LTS) release of the UiPath Enterprise RPA Platform. We embrace customer-driven innovation and have worked closely with customers in our Insider Preview program over the past six months to ensure the new capabilities enable an 'automation first' mindset. One of our Insiders, Ahmed, had this to share about the release:
We are excited to see so many features coming in the 2019 release. At the product level we see computer vision, document processing framework, and monitoring as unrivaled game changers, and our RPA developers love the numerous developer-focused improvements and new features, particularly workflow diff, Regex builder, and global settings, which will accelerate collaboration and efficiency when building automations.

- Ahmed Zaidi, Chief Automation Officer, Accelirate Inc.
Thanks to you, Ahmed, and all the other Insiders for your feedback and partnership! The 2019 LTS release has been designed to empower you across the entire automation lifecycle.
What is the automation lifecycle?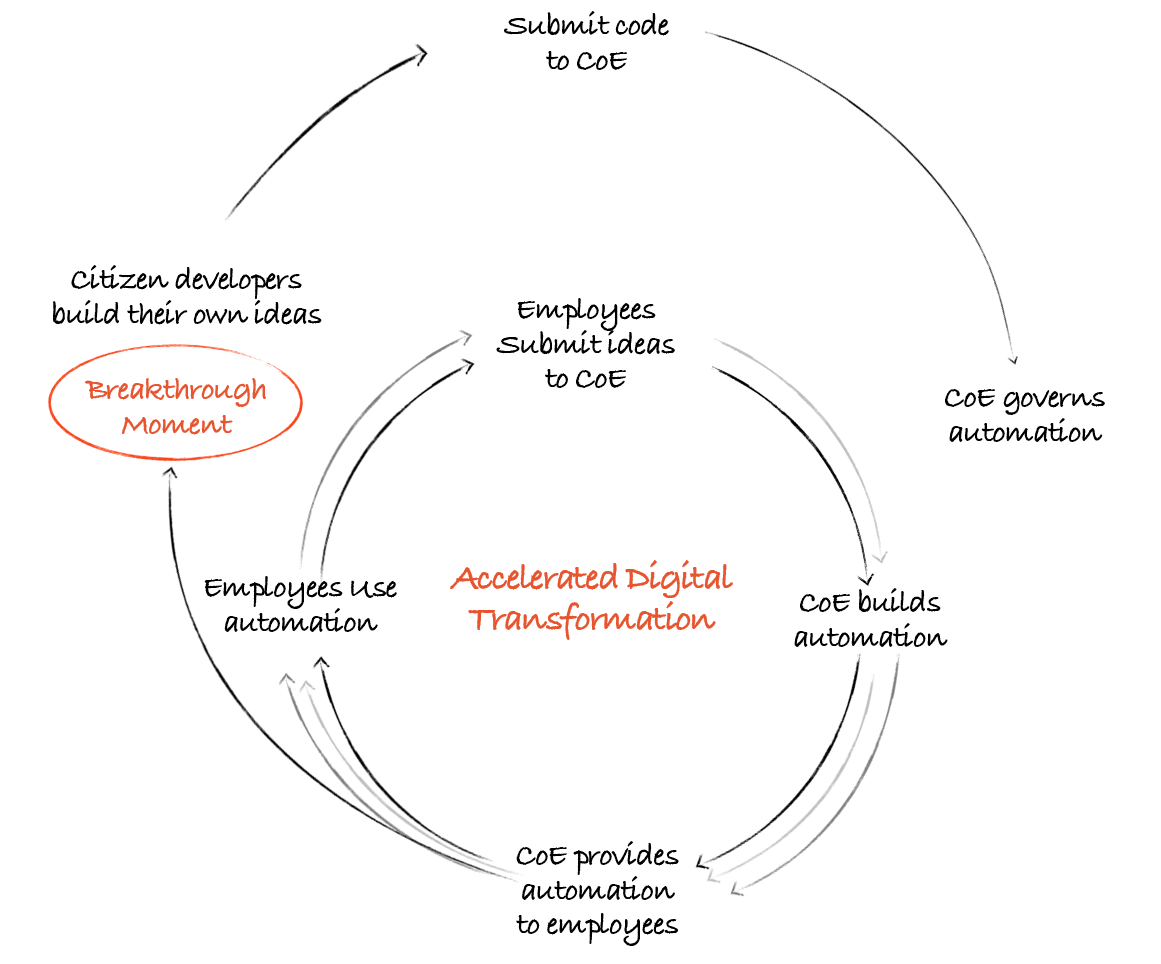 The automation lifecycle is a phased approach to implement and scale automation in your enterprise. It includes the following stages:
Plan: Discover the best business processes to automate with the combination of data-driven products powered by artificial intelligence (AI) and crowd-sourced suggestions from your employees.

Build: Develop automations for the selected processes ranging from the simple to the complex.

Manage: Centrally deploy, schedule, and scale your automations underpinned with defense-grade security.

Run: Your digital workforce of robots works with your business applications to complete your automations.

Engage: Bring humans into the process as needed to collaborate seamlessly with robots.

Measure: Insights into the operational and business outcomes of your automations.
UiPath 2019 LTS updates
With this release, we have delivered innovation across every phase to accelerate your return on automation (ROA). There's a lot to cover, so in this blog I'll highlight some of the most important investments. For each phase (below), there are detailed blogs for you to discover more.
Plan
The automation lifecycle begins with the Plan phase. We have introduced several new products to the UiPath Platform that work together to enable you to plan what to automate. You can work top-down and scientifically plan enterprise-wide using the AI-powered Explorer Enterprise. You can also crowdsource automation ideas directly from your employees using Connect Enterprise Hub. Or you can combine approaches for the best of both worlds. All your automation ideas are captured in Connect Enterprise Hub where you can prioritize which automation opportunities to go after first. When you are ready, delve deeper into the selected processes with Explorer Expert by enabling the experts that work on a process to easily capture insights for the implementation team. We also announced the acquisition of ProcessGold to further accelerate our Process Understanding capabilities.
Discover more about planning with Connect Enterprise Hub and the Explorer family of products.
Build
Next, you Build your automations and UiPath Studio is where developers make it all happen. For core Robotic Process Automation (RPA) developers, in this release we have delivered many enhancements to improve team development and collaboration, boost developer productivity, and speed the debugging process, all combining to deliver the rapid results you expect. At our FORWARD III event (happening today and tomorrow), we also showed the preview release of our new StudioX product targeting citizen developers and power users. StudioX enables rapid automation without the need for developer resources or coding—making automation accessible to all.
Discover more about building with the Studio family of products.
Manage
In the Manage phase, you deploy, schedule, and monitor your automations. In this release, we introduce new capabilities that dramatically simplify the deployment, ongoing management, and compliance of your robot workforce in even the largest enterprise environments. These capabilities are built around Active Directory Integration and new Modern Folders that make implementing your precise governance model a snap. We have doubled down on new service level agreement (SLA) and queue management features to optimize how your robot workforce delivers on-time results against your changing business priorities. We also announced the High Availability add-on for UiPath Orchestrator - a high availability solution that offers full support from UiPath across your highly available Orchestrator environment.
Discover more about managing with the Orchestrator family of products.
Run
In the Run phase, your robots get work done with attended and unattended automations. We have made many improvements to our robots, especially in attended use cases. Your personal robot can now use forms to display and collect information, thus enabled to better collaborate with you. We have also added native support for popular applications you use in your daily work, including Slack and Salesforce.
Discover more about running your automations with robots.
Engage
In the Engage phase, humans and robots work together to get complex work done. In the previous section, I talked about enhanced collaboration with personal robots. We have also added another new product called UiPath Apps that delivers the ability for robots and humans to easily work together on end-to-end unattended processes. This allows you to automate more work from start to finish bringing humans into the loop to handle exceptions, validations, escalations, and approvals.
Discover more about engaging humans and robots to work together with UiPath Apps.
Measure
Finally, there is the Measure phase. Here, you assess the impact of automation in your organization and feed the learnings back into the Plan phase to make your automation program better over time. We support this phase with the new UiPath Insights*. Insights provide embedded analytics with details such as health and performance monitoring of robots and other strategic metrics. Insights help you align your RPA operations with strategic business outcomes.
Discover more about measuring the impact of your automations with UiPath Insights.
*coming soon
Availability
The 2019 release will be available through a phased rollout starting in late October with UiPath Cloud Platform and fully available for on-premises customers in November 2019. UiPath Insights will be available in Q1 2020.