2018 has been a wild ride for all of us here at UiPath.
We are continually humbled by the enthusiasm around our products, which has been the engine behind our company's unprecedented growth. Every single day, we find new opportunities to liberate people from the mundane tasks that eat up too much of their time, and people in our community find novel ways to improve their lives using our products.
2017 was a year of astronomic growth—we landed a $40 million Series-A round of investment, and opened offices in Tokyo, Singapore, Australia, and Paris—but looking back, that was all stage-setting for this year. When 2018 began, we had about 400 employees around the world, and now we're at more than 2,000. This year was marked by our Series-B and Series-C rounds, putting us at more than $400 million in funding from amazing investors like Sequoia, Capital G, and Accel, who have valued the company at $3 billion.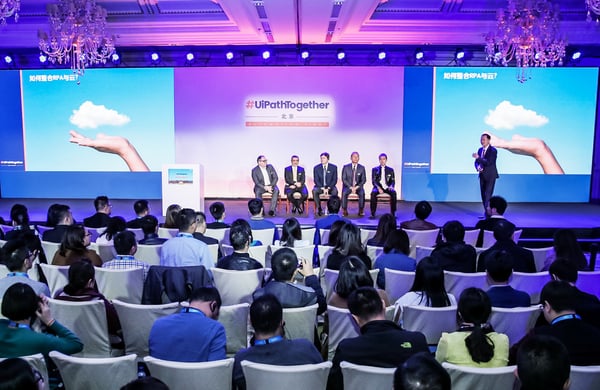 Panel discussion at UiPath Together in China
These numbers are staggering, and as a young company, it is not easy to keep pace with the kind of demand that we face in the RPA market. In 2018, we struggled with the typical challenges faced by hyper-growth startups: how do we balance the desire to preserve our culture and continue to hire great people with the need to build a larger, more strategic organization that can meet the impossible market demand for RPA?
There's no straightforward answer to that question, but we've worked hard to find the balance. Our founders started UiPath with the simple goal of building a company where they would like to work, and keeping that culture intact remains a top priority as we continue to grow.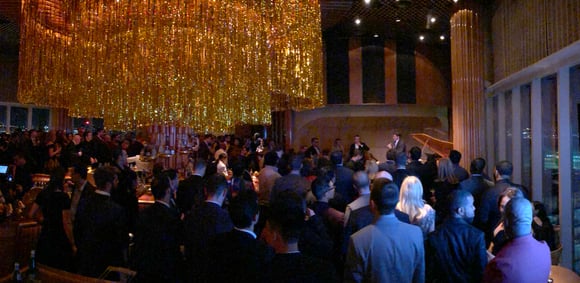 UiPath Holiday Party in New York
Some of our proudest moments this year came from the six awards we won from Comparably in the US, based on feedback and reviews from our employees. We were ranked among the top companies for Women, Diversity, Culture, Happiness, Compensation, and Perks & Benefits, alongside giants like Facebook, LinkedIn, Salesforce, and Microsoft. It is truly special to get such high marks from the people that make UiPath up. On the workplace culture front, Built In also named us the best place to work in both New York and Austin.
In addition to the validation from inside the company, there was no shortage of honors from outside. Forrester Wave ranked us at #1 in the RPA space, Everest Group called us an RPA Technology Leader and the Star Performer in the space for the second consecutive year, Forbes put as at 14th on their Cloud 100 (the top new company on the list), and Deloitte ranked us the 26th fastest growing company in North America. Our customer base quadrupled this year, and we are now surpassing $160 million in recurring revenue.
Some of us still remember when UiPath was ten people in an apartment in Bucharest that played poker together on Friday nights, or four people in Bangalore with a space so small that they couldn't take simultaneous phone calls, or 20 developers in New York drinking WeWork's beer and playing board games like Coup (and working sometimes, too).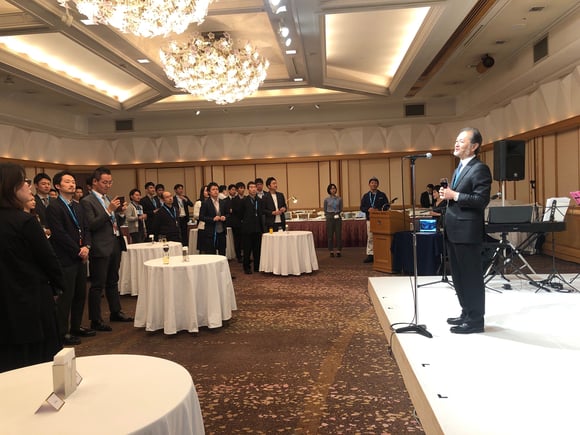 Japan CEO Koichi Hasegawa addresses his team at the Year End Party
Aside from our own growth, the booming of RPA as an industry has been incredible to behold. We are all believers in a vision of the future where this technology is firmly ingrained into society, and to us, widespread education is the key to bringing that vision to life as quickly as possible. The free UiPath Community Edition has reached hundreds of thousands of people, as has our Academy.
In 2018, we launched both UiPath Go! and our Academic Alliance, with the aim of taking RPA education and development to an even wider audience. See VP of Enabling Technologies Ana Cinca's summary of our community-focused initiatives for Techonomy for a deeper dive.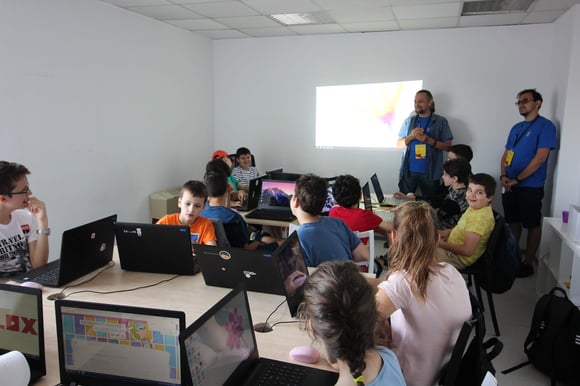 UiPath employees in Romania volunteering their time to teach children about RPA
Going into 2019, we expect a fresh set of challenges as our team continues to multiply in size. There is much on the horizon to be excited about, and we are honored to continue to shape the workplace of the future as we explore the possibilities offered by automation.
---
Looking for a job?
We're hiring for just about everything, all over the world.
---