April is Autism Awareness Month, and at UiPath we are expanding it to celebrate all types of neurodiversity. It's an opportunity to recognize the 15-20% of the world population who are neurodivergent (an umbrella term for variations in mental functions including autism, ADHD, dyslexia, and more). UiPather Cecile Arsan was diagnosed with dyslexia at age 10 and mastered her sixth language by age 22. Read the story of her journey with neurodiversity.
Tough love
When Cecile was 8 years old, her dad gave her some tough love-advice: "In the family, we're not that smart, so we must work twice as hard."
Cecile was diagnosed at 10 years old with dyslexia, a language-based learning disability. According to the International Dyslexia Association, dyslexia refers to a cluster of symptoms, which result in people having difficulties with specific language skills, particularly reading.
"When I got diagnosed, I didn't know what it meant," Cecile said. "All I knew is that I had to spend my lunch breaks with a new teacher, doing something I hated—reading. The hope that my condition would improve felt pointless as I didn't know anyone else like me."
Creating new pathways to learn
After her diagnosis, Cecile met with a dyslexia specialist for two years and gradually mastered alternative approaches to learning. For example, she'd listen to audiotapes from the library, and her mom would read Cecile's homework aloud to her.
"I felt like a failure at everything because even math, biology and history require reading," Cecile shared. "I wasn't the 'academic' type, and school wasn't where I belonged."
Over time, these efforts paid off. After two years, she felt her language processing skills starting to click. By 6th grade (age 12), she was reading 2nd grade books. She continued to improve her reading abilities, sticking to school-assigned books. The first time she completed a book she chose on her own, she was 17—it was Guns, Germs, and Steel by Jared Diamond.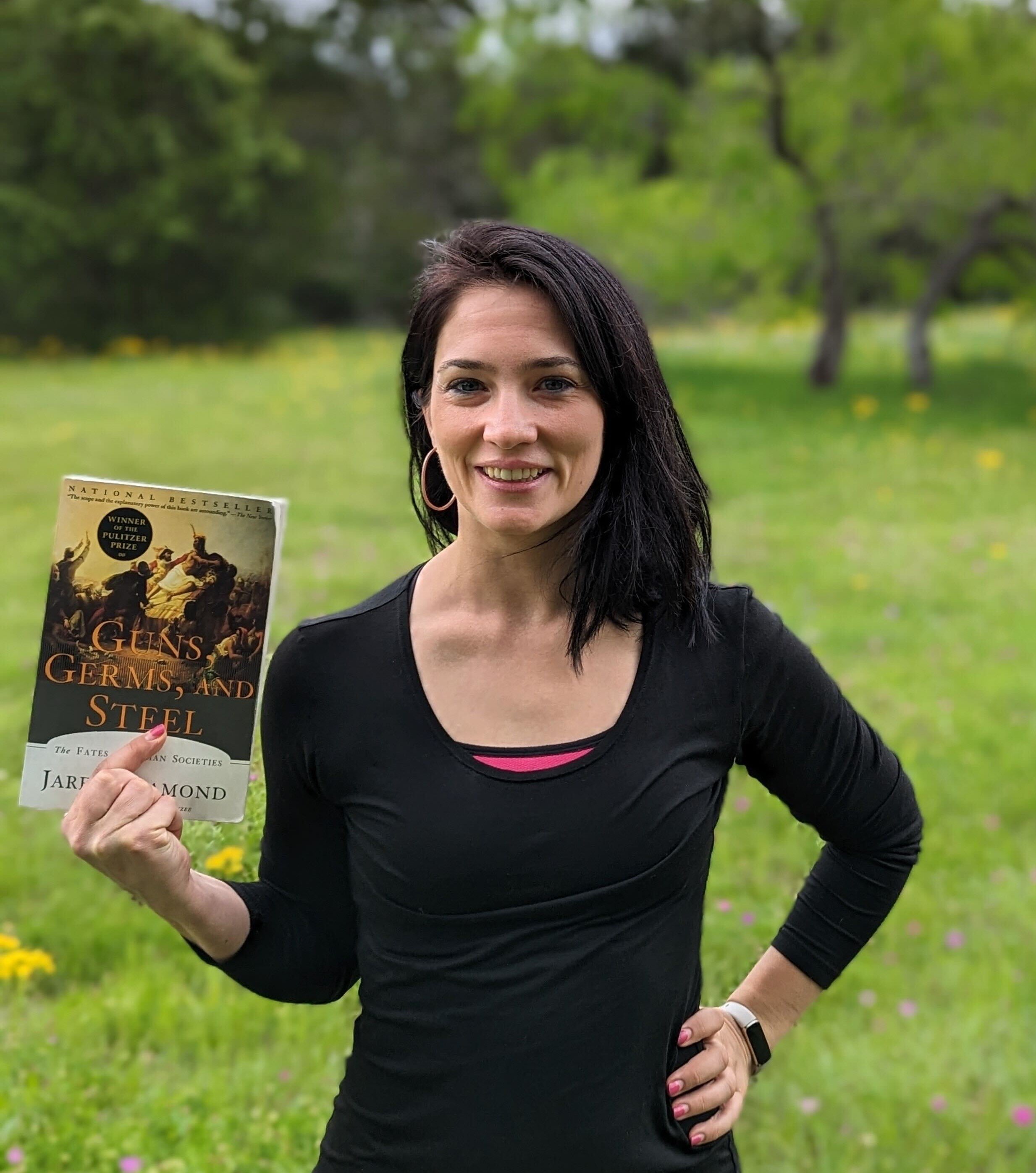 "It took me a whole summer. But my passion for world history kept me going. And when I closed that book, I laid on my bed, looked up at the ceiling and realized anything was possible; the library was my ocean," Cecile said. "Since then, I have become an avid reader and take up a new book every month or so."
Becoming a dyslexic linguist
Dyslexia can make learning one language alone difficult. Rather than shying away from the challenge, Cecile faced it head on, and learned six languages—English, French, Latin, German, Mandarin, and Arabic—and earned distinctions in many of them.
"Interesting enough, my dyslexic brain had a much easier time learning Mandarin – with its distinctive characters and musical tones – than Arabic which has an entirely different alphabet and decoding pattern," Cecile shared. "If you want to learn a language, it takes more than theory; you must immerse yourself. For example, I worked as an au pair for a summer in Austria; participated in a televised international speech contest in China; and still practice daily with my Arabic-speaking mother-in-law."
At age 22, I was called a 'linguist'. My eyebrows perked up in disbelief. I had come a long way!"
Differences are our superpowers
Coming back to the words her dad shared years ago, Cecile has an updated reflection. "We are smart, a different kind of smart," Cecile shared. "So, to all the parents out there who have kids with learning difficulties or who think and act differently, love them! Find them the right support. Their unique brain is a gift."
For Cecile, she knows she has strengths and a unique skillset she brings to work. For example, dyslexics rely more on the right side of their brain, which is responsible for holistic thinking, imagination, fluid reasoning, auditory processing, spatial awareness, and empathy.
"So, our strengths lie in big-picture reasoning, creative problem-solving and relating to others," Cecile said. "Several entrepreneurs, entertainers, and artists are dyslexic -- Richard Branson, Whoopi Goldberg, Jennifer Aniston, Keira Knightley, and Steven Spielberg to name a few. Our differences are catalysts for new ideas and innovations, which are essential assets for any team."
Cecile's manager at UiPath, Tejas Saraiya, recognizes the unique value she brings in her role leading operations for the Americas Sales Engineering team. "Each person's strengths stem from their distinct differences. Cecile is an example of that. Her superpower is her ability to identify critical initiatives and execute across many teams with high quality and velocity. She gets it done and up-levels the entire team in the process," Tejas shared.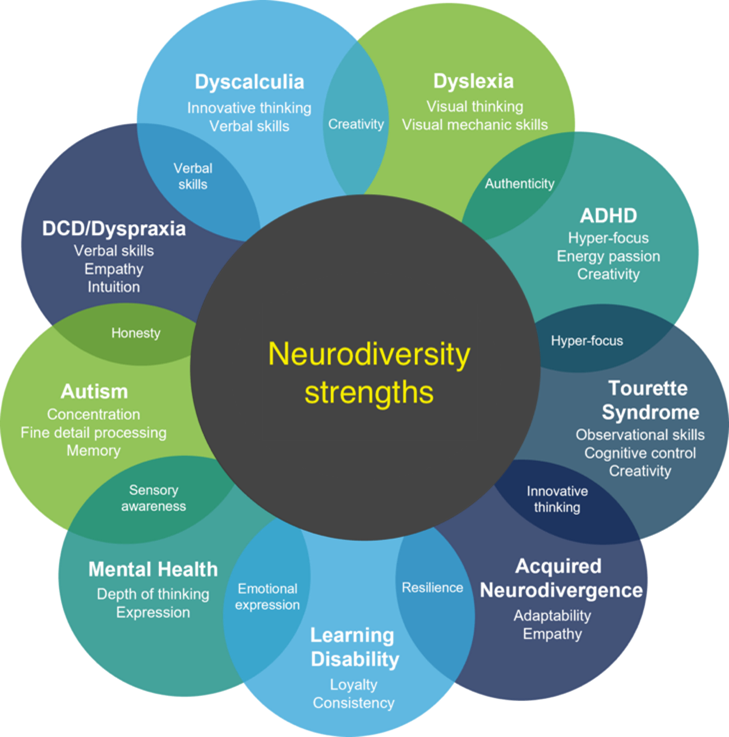 Source: Genius Within
This diagram offers common examples of Neurodiversity strengths. Please note that it is a simplification and doesn't represent any one individual.
Creating a neuroinclusive workspace
With 15-20% of the global population being neurodivergent, it's critical to create a workplace that embraces all the ways a brain can think.
That's what Neurodiversity at UiPath is about. We believe all neurological differences—like autism, ADHD, dyslexia, dyscalculia, and others—are the result of normal, natural variations in the human genome and that celebrating neurodiversity contributes to greater psychological safety, collaboration, and creativity. "There's so much work to do in this space, and we're just getting started!" Cecile shared.
Our UiPath People Unity Councils (PUCs) are voluntary, people-led councils that provide a safe space where members can have open conversations, network, and find camaraderie in community. PUCs are open to everyone, no matter if you self-identify or are a supporter of that community. Stay tuned for more updates from our PUCs!