It's no secret that Seattle has a thriving tech community. When UiPath decided to build a Product team in the US, to complement the established teams in Bucharest and Bangalore, the decision to center that team in the greater Seattle area was a no-brainer.
This series of articles aims to put a spotlight on our US Product team, and dive into their wildly ambitious projects and growth goals.
—
In the last article in this series, we laid out our vision of the future, and how RPA is going to change the world. In this installment, we're going to dig a little deeper into what UiPath is actually doing and our Product team's goals for this year.
RPA, like many technologies, began as something difficult to use, which required specialized knowledge and had limited applications in the real world. Ever since, it has been on a trajectory towards greater ease of use and wider applications. UiPath's products are driving that curve forward every day, and everything we're working on can be boiled down to serving one or both of these goals: to make RPA easier to deploy and more accessible to non-developers, and to make RPA smarter and useful for more things.
---
There's a podcast version of this story!
---
"The hardest part of RPA is getting the software up and running," says Munil Shah, SVP of Engineering. "Once our software is deployed, it's easy to add AI capabilities, because the robots can learn new skills very easily. Let's say you have a business workflow that is 80% rule-based and deterministic, but 20% of the last mile is not rule-based. With the AI Fabric we are building, you can easily use our activity model, and suddenly you can finish that entire 100% of the workflow."
We have several ongoing initiatives in the machine learning space, and AI Fabric is the glue holding them all together.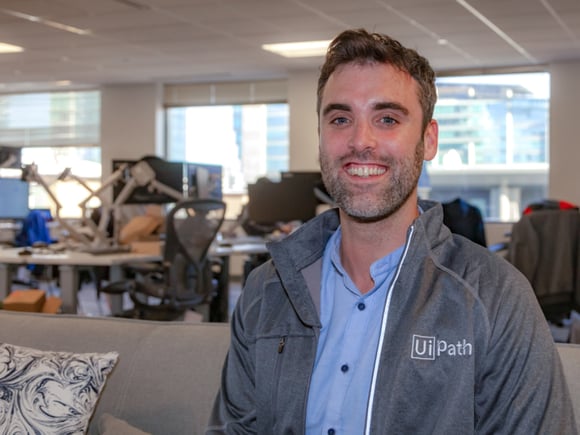 "AI Fabric," says Anton McGonnell, Director of Product Management, Machine Learning (pictured above), who is a part of the team bringing the concept to reality, "is our platform capability to eventually build, manage, and deploy all of our machine learning capabilities as seamlessly as we build, manage, and deploy RPA workflows today. Just like with RPA, there are potentially infinite use cases.
"Machine learning is a different paradigm from traditional enterprise software, in that you basically need a new product for every customer, because these models need to be trained on their data. What the AI Fabric will eventually allow us and our customers to do is create a machine learning model on their data, upload that model, and deploy it in the exact same context as we use RPA today. You'll be able to use that model within a workflow and build the rest of your process around it as seamlessly as RPA, and within the same user experience."
As AI Fabric develops, we have teams working on several related initiatives, that will eventually populate it. One is document extraction, or the ability to intelligently interpret data from a document, without the painstaking pre-work and rigid template adherence that is currently required for any RPA workflow that involves documents.
"There are a number of business processes in any given organization that are still paper-based," says Chief Product Officer Param Kahlon. "We are creating an AI that can ingest a large amount of paper documents, extract relevant information from them, and classify them, so we can create a document understanding model that can be used to automate more and more of those processes."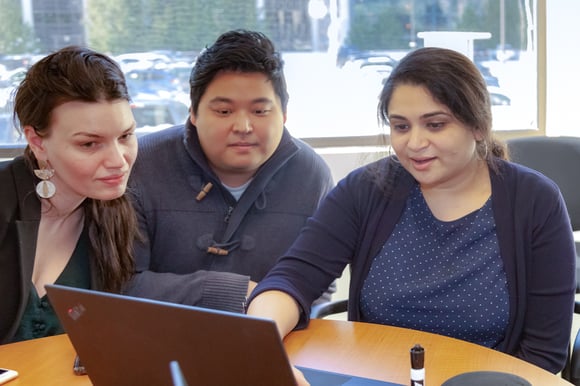 Another area of focus is process mining, or the ability to analyze the outputs of a business process, and then produce a model of that process. "Given a set of logs and different outputs that come from a product," says Senior Software Engineer Charles Park (pictured above, center) of his work in this area, "can you put it together so that it represents how the person behind the computer acts? Can you replicate that given just the outputs? It's definitely exciting for me because my background isn't actually in machine learning or data science. It's a new area that I am exploring, so it's stretching me a lot."
These issues are on the forefront of modern technology, and our engineers have to approach solving these problems with a mindset that embraces new challenges and the possibility for failure, and also always take the customer experience into consideration.
"We're building an end-to-end automation platform," says Anton, "so it needs to be totally integrated and all considered within a single user experience. At the same time, we do need to read a lot, form our own views on things, and then take a position and try to execute. We may not be right the first time—we learn and regroup and try things again—but we do feel really confident about our strategy."
As Charles puts it, "it's nice to face a challenging problem as an engineer, but at the end of the day, the things I'm reading and researching have to be seen through the lens of bringing value to our customers. Sometimes there are too many things that we could try, and it creates a dilemma of choice. Also, feasibility of an idea in reality is not always simple, and with these complex problems, the amount of variation at each step—the problem explodes into like, one in a number I don't even know the name for."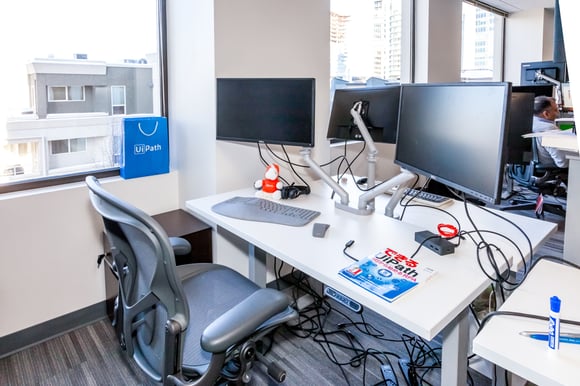 Outside of the technical challenges, we also face the challenge of mind-shift, or getting people more broadly to understand and be comfortable with the possibilities offered by automation; people have a much higher tolerance for human error than they do for the possibility of robots making errors.
"We're trying to get more comfortable with robots making decisions, and maybe errors," says Param. "Once a decision is made by one of our machine learning algorithms, we assign it a confidence level. If confidence falls below the user's set threshold, then we pass the decision to a human for validation. The decision is then sent back to the machine learning algorithm, so it can learn and have a higher confidence for making the same decision again."
In a similar vein, the bulk of our success so far has been in the unattended automation space, where automations are triggered automatically and work without any human intervention. Unattended automation, where processes are split between a person and a robot and involve some manual triggers, is a part of our current product offering with a ton of untapped potential.
"We're working on front office, or attended, automation," says Palak Kadakia, VP of Product Management (pictured below, second from left). "What I'm trying to drive more is, how do we get all users to use our robots effectively, and how do we build products that cater to the specific industries where attended automation is the most impactful? It can really help anywhere that users perform repetitive tasks that are triggered by human interaction. We're trying to drive more focus towards it and make it a lot more friendly to use."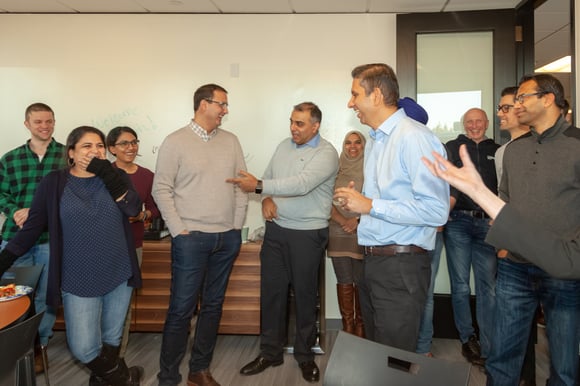 When most people think of automation, their minds go right to the possibilities offered by unattended robots. Attended solutions can take a little more imagination, but they are equally disruptive. We see a ton of potential in industries like call centers, where agents can trigger data entry in multiple applications at the click of a button, and finance, where people can work in tandem with robots to handle fraud detection and claims processing.
Palak's team, who handle user experience, are working on driving focus in this direction, and see it as integral to achieving UiPath's stated goal of one robot for every human.
Imagine what we as a society could accomplish if every person had a robot at their disposal, with a clear understanding of its capabilities and a set of intuitive tools to create automations. That bright vision of the future is what keeps us all aligned here, and our Product team is building it piece by piece, every single day.
—
Interested in working alongside all the people quoted above? Our Bellevue Product team is hiring!
---