It's no secret that Seattle has a thriving tech community. When UiPath decided to build a Product team in the US, to complement the established teams in Bucharest and Bangalore, the decision to center that team in the greater Seattle area was a no-brainer.
This series of articles aims to put a spotlight on our US Product team, and dive into their wildly ambitious projects and growth goals.
---
So far in this series, we've covered our vision for the future, and what our Product team is building to help us get there. Technical challenges and societal change are all well and good, but they are only possible because of the people building them. In this article, we're going to dig into company culture.
How do you build a team that can tackle wildly ambitious goals like changing the future of work? If there's anyone with a solid answer to that question and the credentials to back it up, it's our SVP of Engineering, Munil Shah.
---
There's a podcast version of this story!
---
"In my last job at Microsoft," says Munil, "I was responsible for driving a company-wide initiative to create a shared engineering system and culture for high-performing teams. It's rooted in the idea that teams produce incredible results when engineers feel they have great autonomy to do their work, that they are mastering new skills every day, and they understand the clear purpose of the work they are doing. You combine that with a friction-free execution environment, and the magic happens."
"We set a very high bar for hiring," adds Param Kahlon, our Chief Product Officer (pictured below, bottom-right), "but once we hire the right talent, we give them clear goals and guidelines, and then we let them loose. We give them the autonomy and empowerment to go execute, so that they feel like they own something. The growth of the company is front and center to what they are driving every single day."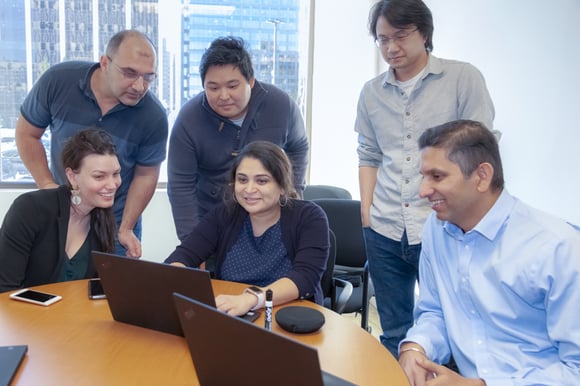 At our current stage of development, UiPath is the perfect blend of the culture of a startup and the resources of an enterprise-grade software company. "We have all the fun perks like company-provided lunches and free membership to high-end gyms and Thursday happy hours," says Munil, "but when it come to writing code, I expect the highest rigor and quality, and pride in craftsmanship."
Our culture revolves around four core values: Being humble, bold, immersed, and fast. Much like the duality of being a startup growing to the point where we have large pools of funding and thousands of employees around the world, there is a natural tension between the first two core values, humility and boldness. "Our CEO," says Munil, "constantly talks about being bold in our ambition but also very humble in interaction, and I think that in a nutshell is UiPath's culture."
This isn't a company where we put some nice words on the wall to use as values, and never talk or think about them. They play out in our interactions every day. Let's dive into each of the values one by one, and explore what they mean to our product team in Bellevue.
Humility
Humility comes first for a reason: it's the most important thing here. Our CEO, Daniel Dines, talks about this all the time. "It's the natural evolution of a human being, to reach humility," he says. "Ego is the worst enemy in one's life. What can make us successful is really the desire to do something better. To become better. And only people who think within the humility framework can improve. Because otherwise you think you are good enough. And humility helps you overcome this type of barrier."
Being humble doesn't mean being meek or timid, it means listening to others and being open to learning in everything you do, even that at which you already excel. Everyone who is successful at UiPath thinks this way, and the philosophy of our leaders stems from openness and listening to everyone.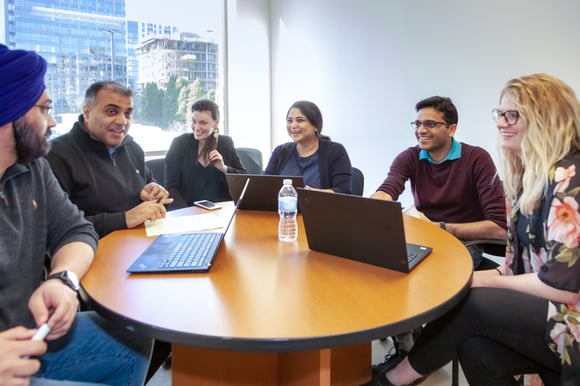 "I genuinely do think people here are incredibly humble and approachable," says Anton McGonnell, Director of Product Management, Machine Learning, "despite a lot of accomplished, smart people. People say things like that [at other companies], and they pay lip service to it, but it's 100% the case at UiPath."
Boldness
The idea of being bold may seem at odds with humility, but when we say bold, we don't mean loud, or arrogant. To be bold, you need to passionately believe in what you are doing, and act with conviction and intent. We have, big, ambitious dreams for this company and the future of work, and achieving those dreams requires risk-taking. UiPath is set up in such a way that everyone here is encouraged to take risks, even when those risks end in failure.

"I'm not locked down by people saying 'No, you can't do that,'" says Senior Software Engineer Charles Park. "Everybody's attitude is, 'Yeah, you should try that for sure. And let us know how it goes, and if it's great, share it with us so we also learn from and iterate on it.' I definitely think that's an amazing part of our culture."
Immersion
Whatever you are doing for UiPath, we want you to fully immerse yourself in it. You will be given ownership of your work and challenged to take it to new heights. This requires total engagement, and leaders who are in tune with your strengths and your interests.
"If you want a 9-5 job where you switch your brain off at five o'clock," says Anton, "you definitely shouldn't work here, because it's very difficult to switch off. It's just so immersive and so interesting. I go home in the evening and I don't really want to watch TV, because I'm still thinking about the stuff that we're doing here and I want to continue thinking about it."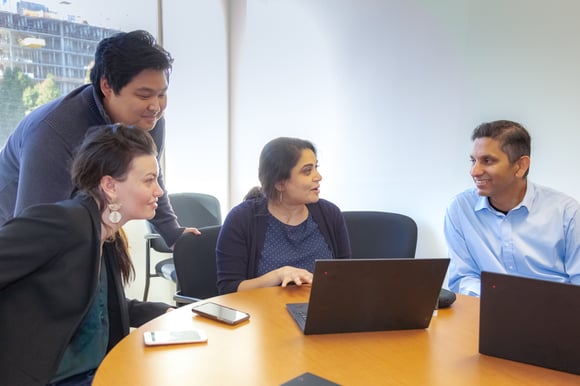 "It's not just about delivering feature X because that is what the director wants," adds Charles. "I need to figure out for myself how I'm going to break these things down, and at the end of the day I kind of report to myself more than anyone else, knowing that whatever I decide will go to the customer. I am so much more invested and so much more passionate about my work because it's not just for an unknown entity."

Fast
This one's pretty straightforward. We're a tech company in a burgeoning, lucrative field. Moving quickly is at the core of everything we do. "We want to keep the startup mentality in this company forever," says Param. "Once we go after something, we want to achieve it really fast." Encouraging speed goes back to Munil's idea of giving engineers autonomy and a friction-free execution environment.
"I feel like the safety nets are there to give me the opportunity to explore," says Charles, "and as long as I'm moving quickly, the company supports me. At my previous job, if I wanted something to be done, it had to be passed on to at least three other teams, and they had to come to a consensus. Sometimes after like two weeks, they would disagree, and we'd have to start all over again."
"Working at a big company," says Anton, "it's already built, and you're just keeping the lights on, in many respects. It's pretty rare to have a tangible impact that you can measure. Maybe you do over a five-year period, but certainly not in two months or five months or six months. UiPath has achieved a lot in a short space of time, but there's still a massive blank canvas to contribute to."
---
Interested in working alongside all the people quoted above? Our Bellevue Product team is hiring!
---