If there is one technology that most organizations include in their strategic roadmap, it has to be artificial intelligence (AI). According to Gartner, "70% of organizations will have operationalized AI architectures due to the rapid maturity of AI orchestration initiatives" by 2025. On similar lines, Forrester predicts "one in five organizations is going to double down on AI" investments.
What does that mean for business leaders? I'll cover that in this blog post, along with common business scenarios for AI applications.
Multiple factors in the current business environment are driving organizations to expedite their plans with AI:
Business applications are migrating towards cloud, allowing businesses to seamlessly access requisite data

Ready-made machine learning (ML) models are being leveraged through low-code/no-code platforms, creating a surge in democratization
There are also advancements in complementary technologies across industries where AI promises significant benefits:
Internet of things (IoT) is influencing manufacturing, automobile, and oil and gas spaces

Omnichannel experiences are driving the retail and e-commerce segment

Blockchain is influencing financial services, procurement, logistics, etc.
AI isn't a magic solution that can be deployed in the same way across businesses. Organizations need to understand the core functional underlying capabilities AI can help drive.
AI applications for common business scenarios
Document interpretation
As the name suggests, in this scenario, AI assists organizations in classifying and extracting information from unstructured documents. With the evolving maturity of ML models, businesses can get significant accuracies and confidence levels while extracting data with fewer datasets. For instance, with Forms AI (available via UiPath Document Understanding), we can drag and drop just two to three invoices to train the ML model accurately.
AI Computer Vision
Computer vision allows interpretation of on-screen elements with human-like recognition. This allows organizations to build vision-based automation that can run on most virtual desktop interface (VDI) environments—regardless of framework or operating system. Our AI Computer Vision enables robots to recognize and interact with on-screen fields and components.
Natural language processing (NLP)
An NLP capability helps with language detection, extracting unstructured data, and sentiment analysis. Communications mining is the application of NLP to business communications. It extracts intent data (like customer issues and reasons for contact), tone, and sentiment to drive automation and understanding in business processes.
One of the main uses of communications mining is email automation:
Extracting emails from underlying systems

Classifying based on the target scenarios

Extracting information from the respective email (unstructured)

Processing the information as per the requirement (such as creating a ticket in ServiceNow)
Scientific discovery: process mining and task mining 
UiPath Process Mining, equipped with ML models, allows organizations to discover bottlenecks in business processes using digital footprints such as transactional logs of various applications or systems. Both Process Mining and UiPath Task Mining are conveniently available within the same platform: UiPath Business Automation Platform. Task Mining allows organizations to identify different paths employees take to perform the same task by interpreting data (collected across multiple agents over a defined period of time).
Predictive analytics 
Now, with access to historical data, ML models empower businesses to make more educated decisions. Businesses are using this capability to better forecast demand, provide personalized offerings, predict network outages, prevent fraudulent transactions, and more.
Get the white paper "How RPA Analytics Drive Better Business Outcomes."
Industry relevance
There is potentially no industry that hasn't been touched by AI. With a wide range of proof of concepts (PoCs) and industry-specific ML models offered in plug-and-play mode, businesses have doubled down on their investments in this incumbent technology.
Banking and financial services
Forrester predicted that AI would be one of the top technologies that would "win over banks in 2022." "Interest in AI, microservices, and analytics remains high . . . Overall investment levels vary, but particularly, budgets for AI/machine learning are high."
Pharmaceuticals
As per a McKinsey report, the use of AI technologies improves decision making, optimizes innovation, improves efficiency of research and clinical trials, and creates beneficial new tools for physicians, consumers, insurers, and regulators.
Telecommunications
"The global AI in telecommunication market size" is projected to grow "at a CAGR [compound annual growth rate] of 42.6% during 2021-2027." This is widely influenced by service providers adopting 5G technology, resulting in net new use cases for both business-to-business (B2B) and business-to-consumer (B2C) segments.
IT
Chief information officers (CIOs) are being recognized as the torch bearers driving AI adoption at scale across businesses. When it comes to IT, there are two aspects to look at. First, IT leaders are using AI for their internal functions to optimize IT operations, execute zero-touch service desk, etc. Second, IT teams are promoting AI best practices to businesses, driving adoption with minimal risks. Accordingly, CIOs are taking the lead to drive transformation and business outcomes.
Human resources (HR)
According to a 2020 Gartner article, "17% of organizations are already leveraging AI-based solutions within their HR function." "HR leaders are citing cost savings, accurate data-driven decision making and improved employee experience as the top reasons to deploy AI."
Get the e-book, "How automation helps HR make work worthwhile for humans."
The table below lists key areas for AI intervention across various industries (though not an exhaustive list):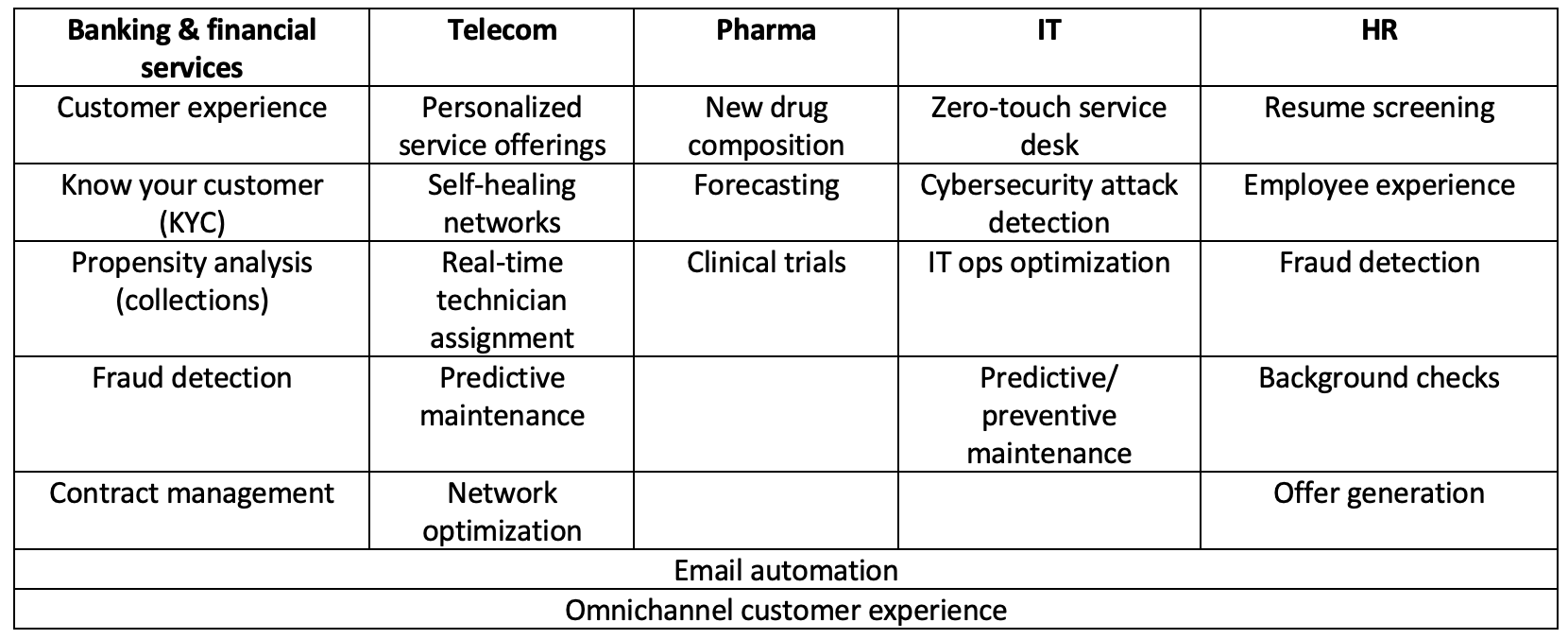 Scaling AI with UiPath
As a strong proponent of AI, we've embedded AI across the UiPath Platform. As a result, businesses can remain focused on problems and objectives without being stressed about technology adoption.
We discussed earlier that UiPath Process Mining and Task Mining leverage AI capabilities to drive scientific discovery for organizations to identify process bottlenecks. And multiple tools within the UiPath Business Automation Platform (UiPath Studio, StudioX, AI Center, and Document Understanding) leverage AI to create automation solutions while dealing with unstructured data and documents.
Find out other common business scenarios that benefit from AI. Register now for access to all UiPath AI Summit sessions. Or sign up for a free trial to try out UiPath AI capabilities for your business scenarios.