Since 2020, our customers have equipped their testing teams to continuously test applications with UiPath Test Suite, available via UiPath Business Automation Platform. The UiPath Platform includes production-grade, low-code automation and artificial intelligence (AI) capabilities. Many enterprises have adopted Test Suite to build automated tests that reliably run unattended and adapt to changes.
In 2022, three of our customers—Palo Alto Networks, Cushman & Wakefield, and Entrust—shined as exemplary models for using Test Suite to transform application testing practices. Read on to discover why these customers stood out.
Palo Alto Networks: automating application testing to boost innovation cycles
As a global cybersecurity leader, Palo Alto Network's IT team prioritizes delivering innovation to enable secure digital transformation. They also consistently need to meet the demands of accelerating changes of pace.
"Your QA [quality assurance] programs need to be fully automated and able to support changing go-to-market strategies as they continue to shift," said Justin Chongtoua, Staff Software Engineer at Palo Alto Networks. "That means you need to be able to automate against all the different regression test cases and all the test scripts you run. They've got to be fast, and they've got to be bug free."
Having experienced success with the UiPath Business Automation Platform for their robotic process automation (RPA) needs, the IT team decided to leverage the UiPath Platform test automation capabilities as well, powered by Test Suite.
"With our test automation program, we were really looking to consolidate all of [our different tools] and create one standardized approach in which test automation can be deployed across the entire organization," said Chongtoua.
Palo Alto Networks especially wanted to capitalize on the synergy between using UiPath Platform for their RPA needs and their test automation needs. By extending their use of UiPath Platform to utilizing the automation testing capabilities, the IT team quickly saw enhanced testing quality for applications like Salesforce and SAP®. Additionally, they boosted their innovation cycles by minimizing maintenance and building test cases at an enterprise scale.
Our CIO has a phrase she uses often and that's called 'being nimble.' To be nimble means that you have the architecture frameworks and automations in place to keep up with all the changes happening in the market.

Justin Chongtoua, Staff Software Engineer, Palo Alto Networks
Through developing and sharing object repositories and reusable component libraries between their process automation and testing teams, Palo Alto Networks also maximized their automation health.
Cushman & Wakefield: automating test cases for SaaS application testing
Like the IT team at Palo Alto Networks, the Intelligent Automation Center of Excellence (CoE) at Cushman & Wakefield wanted to increase the efficiency of testing cycles for their software as a service (SaaS) applications. As part of a transformation initiative, Cushman & Wakefield deployed a SaaS application to extract unstructured, complex data from specific processes. This application had frequent releases and updates, which required extensive testing.
"Our team was spending a lot of time away from value-added activities like delivering automations and new applications to our stakeholders. Instead, they were spending too much time engaging in application testing," said Thomas Mandel, Transformation Manager at Cushman & Wakefield. "This really delayed the speed-to-value for applying new features."
So, how did Cushman & Wakefield shift their focus to value-added activities?
In partnership with Ashling Partners, Cushman & Wakefield deployed Test Suite (automation testing capabilities available on the UiPath Platform) to automate the test cases needed to thoroughly test their application.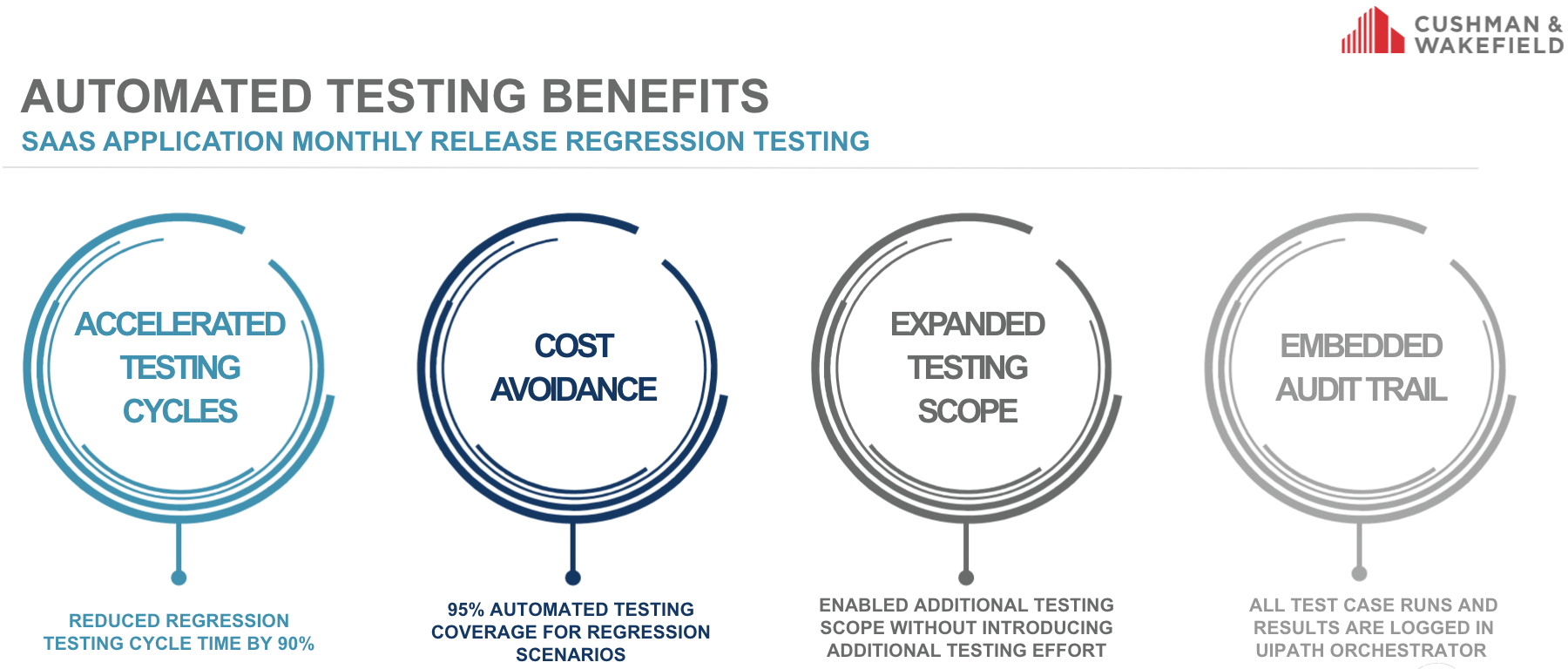 Source: "The Future of Digital Testing Showcase" panel at UiPath FORWARD 5
As a result, they reduced testing cycle times by 90%, enabling the Intelligent Automation CoE to accelerate their transformation initiative.
With 95% automated testing coverage for regression scenarios, they saw the benefits of cost reduction and an expanded testing scope.
The role of QA in organizations is to be part of the fully automated enterprise and attain speed of value without sacrificing stability and reliability of processes and automations in production. We prioritize releasing new upgrades, new features, and new releases faster and faster. With UiPath Test Suite, we've freed up that time away from standard regression testing so that testers can focus on these activities.

Thomas Mandel, Transformation Manager, Cushman & Wakefield
Entrust: automating e-commerce application activity testing to elevate the customer shopping experience
The e-commerce team at Entrust, which offers digital security and credential issuance products and solutions, also found success with UiPath Test Suite for application testing. Using Adobe Commerce software to build their own e-commerce web application, the e-commerce team wanted to quickly test executions related to various customer actions within the application. Actions included:
Accurately authenticating credit card charges

Correctly verifying product additions to shopping carts

Rapidly testing security updates
"We needed to find a way to transform our touchpoints—they used to be manual touchpoints where customers would call us to book orders, buy consumables, or subscribe to services. We needed a digital experience that would perform at scale—an e-commerce that could be used by financial institutions, governments, and citizens across the globe. So, it needed a well-tested experience that is reliable and consistent," said Yannick Miaffo, Director of Automation Engineering at Entrust.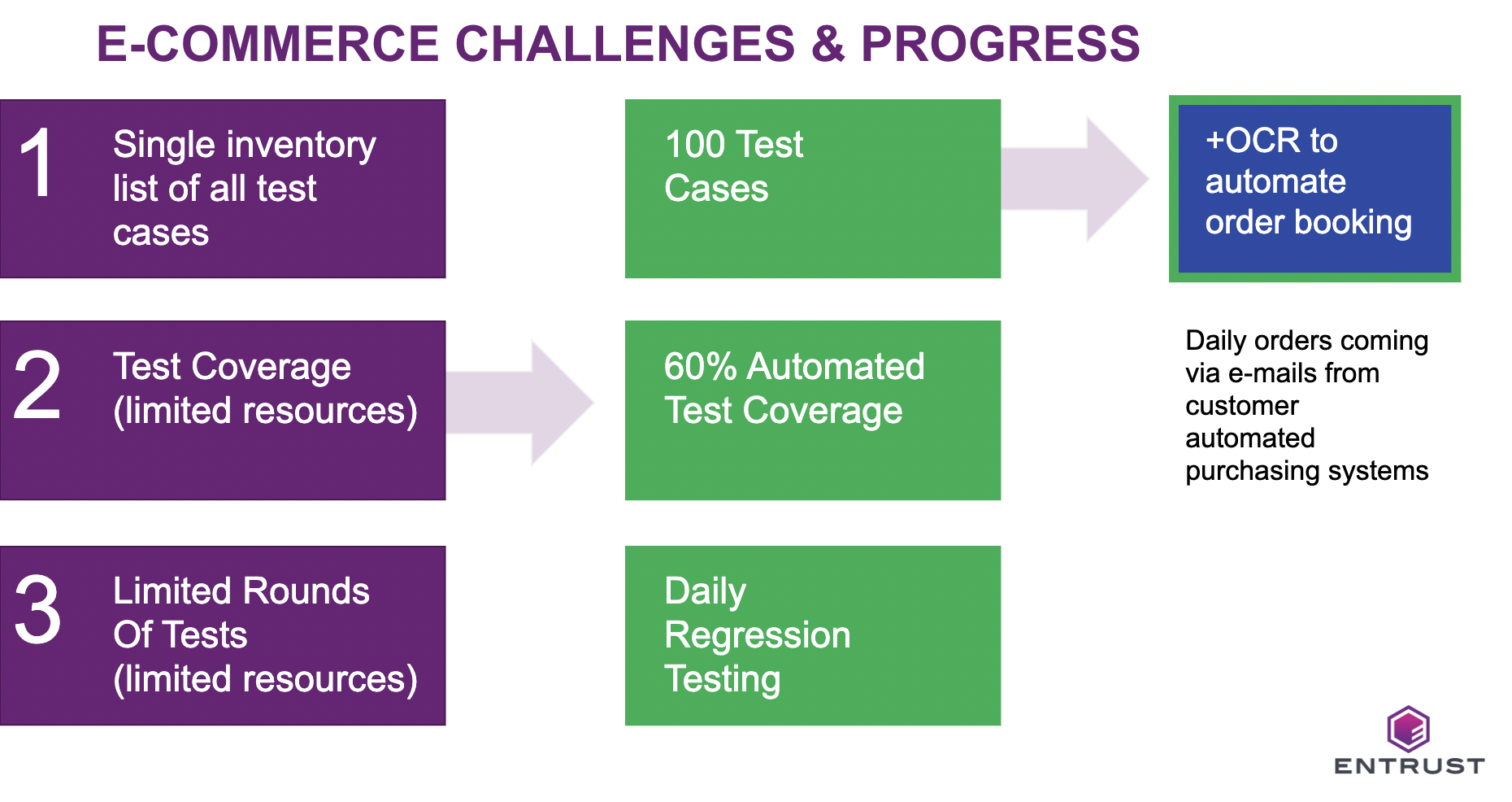 Source: "The Future of Digital Testing Showcase" panel at UiPath FORWARD 5
By leveraging testing automation capabilities via the UiPath Platform, the e-commerce team at Entrust engaged in more frequent testing, running over 100 testing scenarios daily. Increased testing allows them to release software updates more quickly.
With automation, analysts have accelerated store regression testing, resulting in saved time, increased store quality, and more positive customer feedback. Automated testing has also created the opportunity for Entrust to double their e-commerce capabilities.
QA is really the heartbeat of digital transformation. When you come up with a new solution, the only way you can ensure that you can have the solution release and transform your business is through validating it with UiPath Test Suite.

Yannick Miaffo, Director of Automation Engineering, Entrust
'Best of Test'
Interested in diving deeper into these application testing success stories? We've curated the best test automation content for you. Register for the Best of Test to get on-demand access to recordings of these customers sharing their testing tales.
Feeling inspired by these customers? Get started with UiPath Test Suite today and see first-hand how you can transform your application testing practices.