Who runs two million times but never gets tired?
Well, you might say the 100-year-old runner who recently broke a world record at the Penn Relays (finishing the 100m race in 26.4 seconds).
Our robots know a bit about tireless runs, too! Unattended and attended automations have run more than 2.2 million times in recent years.
But before we get to just what those robots are running, let's continue our tradition of giving an inside look at our automation metrics.
New to this blog series? Each quarter, we update the automation community on our internal automation progress. Bookmark this page to stay in the know!
We're grateful to report the "up and to the right" trend continues as UiPath employees have shared more than 1,200 automation ideas in our internal Automation Hub.
I'm tremendously proud of the center of excellence (CoE) team for transforming those Automation Hub ideas into real-life automations, delivering more than 600,000 hours of extra time to the business.
For this quarter's update from the UiPath CoE, let's explore:
Jokes from our favorite (robot) comedian—and a sneak peek at a feature we're testing in UiPath Assistant

The curriculum from our second citizen developer cohort

Exciting new scenarios the 2022.4 product release unlocks
And join me on June 30, 2022, for a special webinar. We'll share more details behind the CoE's achievements and you'll have the opportunity to ask us questions.
UiPath Assistant has all the automations (and jokes) we need
Leading the automation CoE at an automation company is a tremendously fun job because we get to try new innovations from our Product team often.
There's the normal cadence of updates like the recent 2022.4 release, of course. (I'm particularly excited about Automation Cloud Robots and UiPath Assistant on Mac. Then there's Automation Launchpad, which enables CoE Leads like me to democratize and evangelize our automation programs. For more on 2022.4, check out the most recent UiPath Live.)
But there are also CoE-driven innovations my team can offer to employees outside of the normal release cadence.
One experiment from the first quarter (Q1) included a chatbot widget delivered through UiPath Assistant.
Employees love this solution because it centralizes all the automation-powered chatbots we're used to hunting for in Slack to our UiPath Assistant. We no longer need to make sure we're in the correct Slack workspace or remember chatbot names. It's all available in the one place we're in, our UiPath Assistant (and we're in that even more than in Slack).
Which brings us to our next dad joke. We apologize in advance...
Now we know why the chatbot crossed the road: to get to Assistant's side.
Thankfully, the chatbot functionality in Assistant makes up for the bad jokes. Now when an employee wants to request, say, a Zoom Pro license, they don't have to wade through our service desk and wait for a reply. All it takes is a quick conversation with the chatbot widget in UiPath Assistant.
By the way, did you notice an easter egg in the GIF above? The chatbot graced us with another joke before fulfilling our Zoom request in seconds.
Governing (and growing) a citizen developer program made easy
Q1 also marked the start of the second round of our citizen developer program. Last year, we certified nearly 100 non-technical employees as citizen developers.
This time, 200 colleagues enrolled and passed the initial citizen developer challenge. They're taking five weeks of curriculum, which includes topics like:
Error Handling in StudioX (45 minutes)

File and Folder Automation with StudioX (30 minutes)

Working with Data in StudioX (60 minutes)

Email Automation with StudioX (50 minutes)

Excel Automation with StudioX (2 hours, 30 minutes)

PowerPoint Automation with StudioX (50 minutes)

Running StudioX Automations (20 minutes)

Orchestrator Personal Workspaces (30 minutes)
We'll update you as this cohort progresses!
From RPA to automation, embracing the full platform tapestry
As I reflect on more than four years at UiPath, I marvel at how much the platform has grown. In the early days the industry was all about robotic process automation (RPA), and the exponential number of automations that could be applied in a finance department. These were referred to colloquially as "macros on steroids."
But now, there is a rich tapestry of automation solutions. And customer use cases are incredibly elaborate, spanning every imaginable department.
Plus, we no longer offer just three products. We have a robust platform of more than twenty ways to discover, build, manage, run, engage with, and govern your automations.
The expanding tapestry was clear this quarter through one of my favorite automations, which alerts our Sales team to expiring multi-year invoices. And saves the Finance team 160 hours a year processing these orders via UiPath Action Center.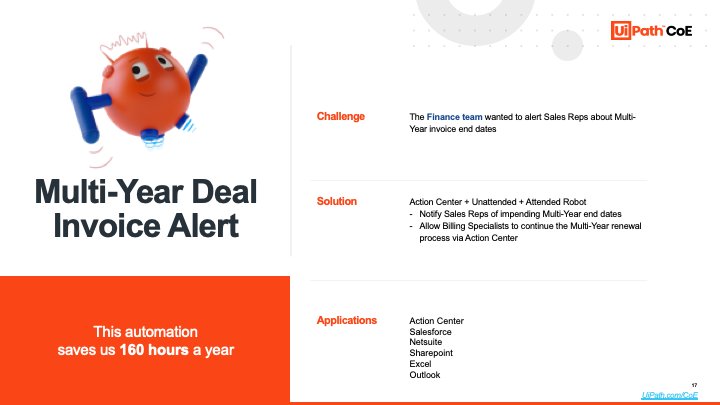 Then there are the awesome automation-powered interfaces we can now build in UiPath Apps.
In the CoE, we use UiPath Apps to deploy automations seamlessly. The interface allows us to update test environment information (like packages, assets, and queues), submit a deployment request, and update the project status in Jira.
Lastly, compared to four years ago, automation has broken out of the Finance department.
Want to dig deeper into use cases by department? Our encyclopedia of CoE automations has you covered.
We see exciting use cases in every UiPath department that not only save north of 600,000 hours of time, but also enhance the employee and customer experience.
When you join a new company, you know how overwhelming it can be to figure out which software to download, which Slack or Teams channels to join, and (in general) where the virtual or real-life "water coolers" are.
This automation idea from our Customer Success team helps accelerate onboarding for new hires, connecting them to all the systems they'll need to succeed.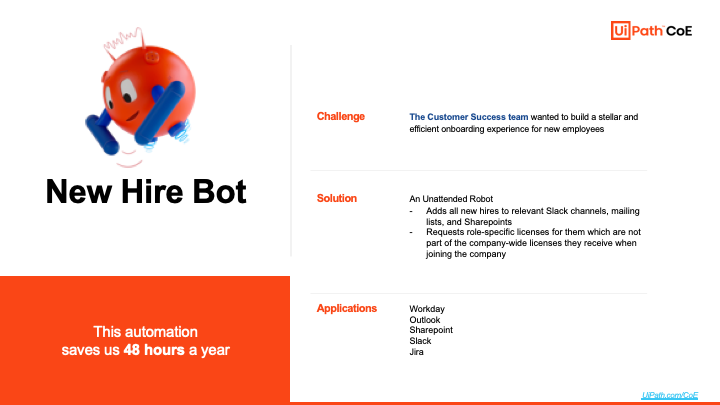 And while it saves 48 hours a year, I think the true value is in the enhanced employee experience.
The Customer Success team can tirelessly run their onboarding processes faster and get to customers across the road (or globe) quicker.
Want to keep up with our citizen developer program, automation CoE, and the dad jokes?