Last week was a great week in Las Vegas at FORWARD 5, where partners, automation experts, and automation practitioners gathered to learn how automation helps accelerate human achievement.
FORWARD attendees chatted with industry pros in Expertsville, heard keynote talks from company leaders, and networked with others looking to level up automation at their companies.
But one of the most anticipated agenda items was from UiPath Co-CEO Daniel Dines, who shared his perspective as the founder of UiPath in a keynote address.
"We've built an industry together"
Just seven years ago, UiPath was 10 people in an apartment in Bucharest.
Now, UiPath is a leader in multiple categories, including robotic process automation (RPA), process mining, cloud testing, and low-code development.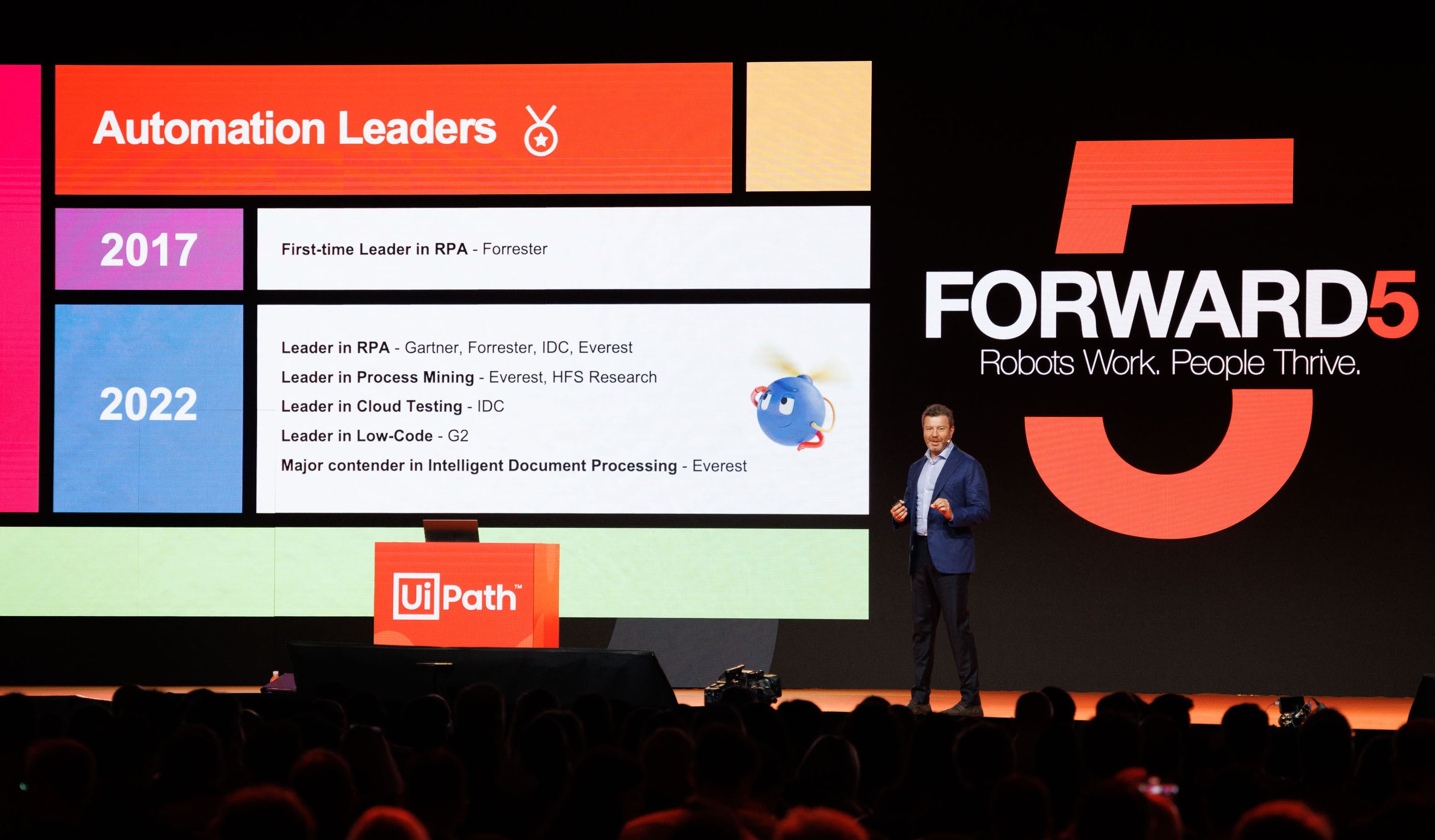 That was Daniel's opening to his keynote—describing how far the company has come in such a short time.
The first UiPath FORWARD conference (in 2017) focused on identifying ways in which robots could help companies. Over the last several years, that message has expanded. It became clear that software robots were going to change entire industries, and that a well-integrated automation platform was necessary for enterprises.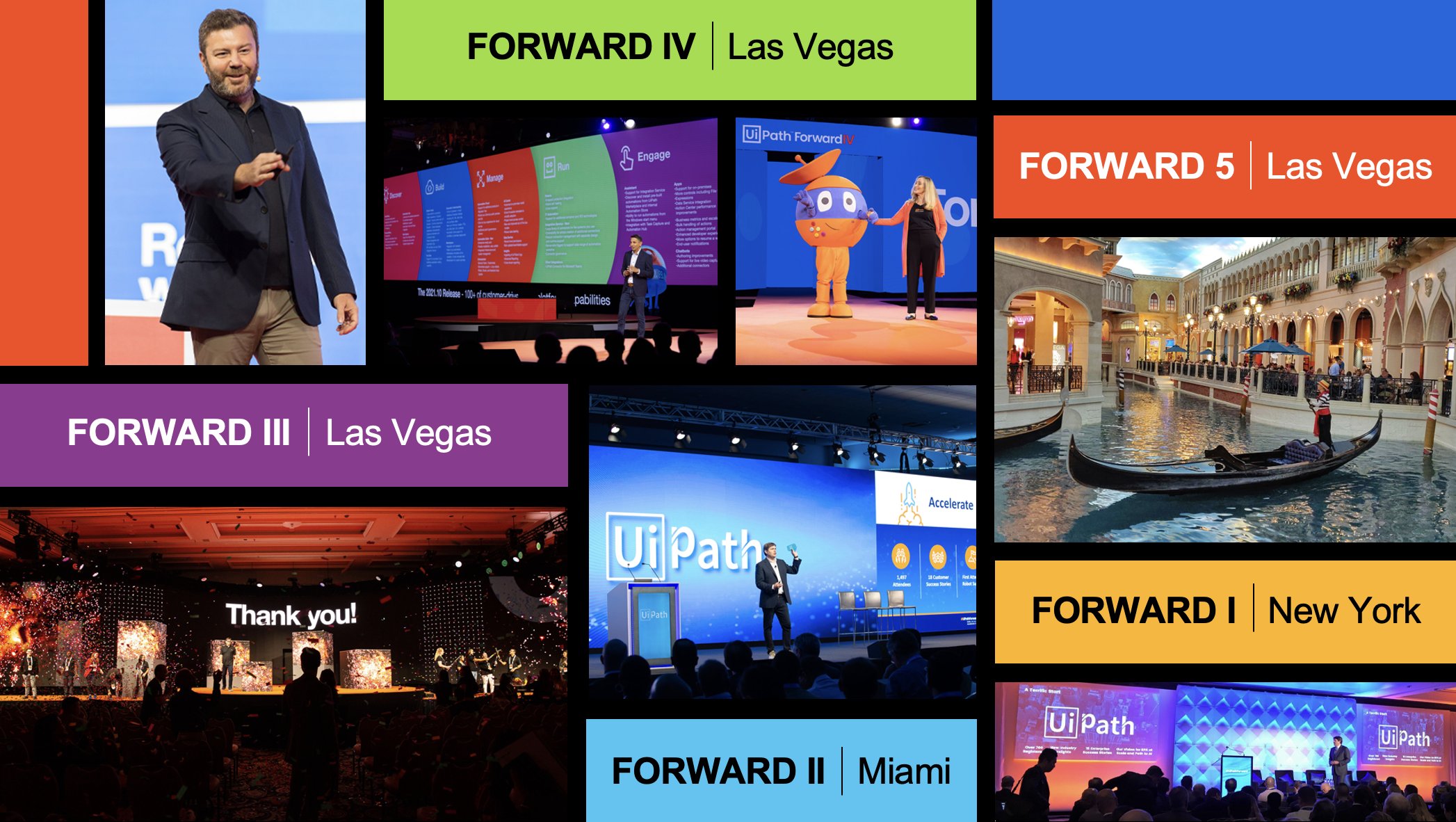 At FORWARD 5, Daniel discussed how automation is drastically changing the way organizations of all sizes operate and innovate. The UiPath Business Automation Platform brings together various tools, including API integrations, process and task mining, and AI-based tools, to create a cohesive experience for customers.
It's hard to take different technologies and make them work well together. This is why we imagined this platform that combines everything.

Daniel Dines, Co-CEO, UiPath
Moving automation upstream
Throughout his keynote, Daniel emphasized that a great automation platform is better than the sum of its parts.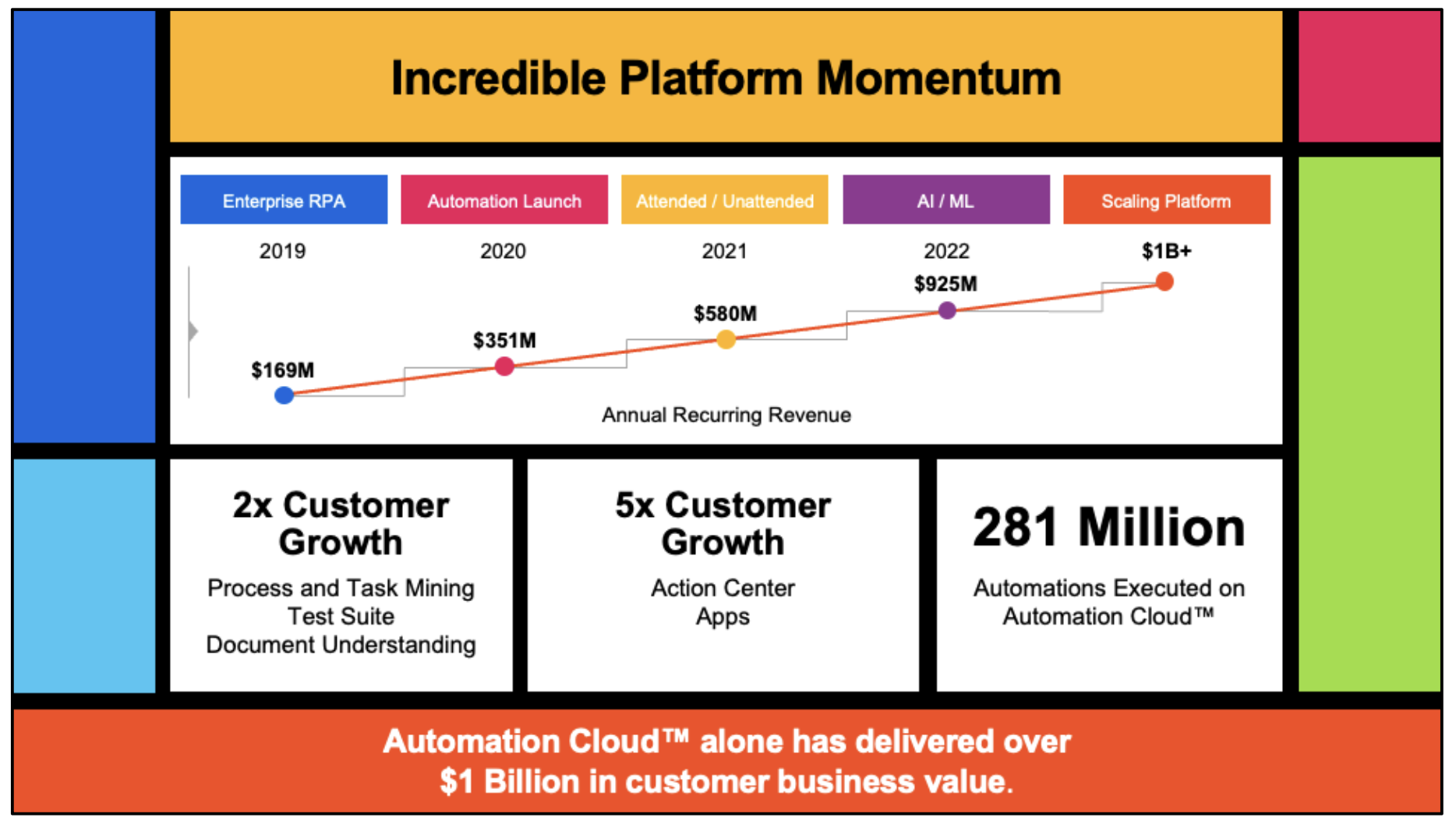 He stated that few people realize the breadth of no- and low-code capabilities within the UiPath Platform. A new recognition from Information Services Group (ISG) names UiPath a leader in these capabilities.
Citizen developers are often on the front lines of automation, building robots that can help them with a particular task. The beauty of the UiPath Business Automation Platform is that those automations can be scaled up to the enterprise level, using the same set of tools as the citizen developer.
Customer growth in UiPath Apps (the low-code automation apps builder) has been strong, and the tool integrates well with the newly-announced Studio Web product.
In the past, automation was primarily reactive. Employees would struggle with tedious tasks until robots could enable them to focus on higher-value work.
But now, automation is moving upstream, Daniel explained. Process and task mining can unveil automation opportunities that employees and management hadn't previously considered. Those automation opportunities can be conveniently managed and prioritized in UiPath Automation Hub.
Daniel recounted his time as a developer, and how open platforms were easiest to build new tools on top of. The UiPath Platform integrates easily with commonly-used APIs, allowing companies to customize automations without having to change their other existing platforms.
Transformational outcomes
After talking about how far UiPath has come and what's in store for the future, Daniel went on to highlight transformational outcomes that customers have had from automation:
ADT, the largest security company in the United States (U.S.), empowered its security experts with digital assistants, allowing them to deliver better customer interactions

Sportswear brand Puma saw a 50% increase in supply chain management efficiency after implementing automations

Xerox reinvented its business with RPA as a Service

DHL is creating a worldwide virtual workforce to be able to handle more demand for shipping and logistics

Cigna, according to Daniel, has "the most ambitious plan [he's] ever seen from a company" after it unveiled a $1 billion target ROI for its automation investment
These amazing outcomes show the power of enterprise automation, but Daniel emphasized that UiPath isn't neglecting personal automation. Rather, both can coexist and work well together.
Related read: The Difference Between Personal & Business Workflow Automations (and Why You Need Both)
Accenture
Accenture was a partnership Daniel announced on stage at FORWARD IV last year, and this year's attendees heard how that partnership has progressed.
Penelope Prett, Global Chief Information Officer (CIO) at Accenture, joined Daniel on stage to discuss how automation is transforming work in tax advisory, audit, and consulting businesses.
Companies have to change to keep pace with what's happening in their competitive sectors, or they die.

Penelope Prett, Global CIO, Accenture
Prett highlighted that the demand for business transformations has been accelerating, and timelines for doing so are shorter than ever. That puts significant pressure on companies to "keep up with the pace of change or die."
With workers harder to come by these days, Prett explained that it's created the "perfect storm" for companies: there's a demand for transformation, but timelines are shorter and businesses have a limited number of people to help make it happen.
Prett also mentioned the industry-wide shift to the cloud, and the opportunity it presents for new efficiencies. Her point was that, if you don't take the opportunity to get more efficient while you're undergoing big changes, you're missing out.
Prett closed her time on stage by emphasizing the citizen developer revolution. It's no longer just the job of the CIO to encourage digital innovation—people should be empowered to create their own automations. It can be hard as a company to figure out where to start your automation journey, but enabling employees to create their own can be a good first step, she advised.
New partnerships for the future
Daniel had exciting announcements about partnerships with Microsoft and OutSystems.
Microsoft
While Scott Guthrie, Executive Vice President of Cloud + AI at Microsoft, wasn't able to join the conference in person, he delivered a video message to the audience highlighting the benefits UiPath has brought to Microsoft.
Guthrie also announced that UiPath is now a preferred partner for Microsoft. UiPath, in collaboration with Microsoft, has developed over 80 best-in-class integrations. The out-of-the-box integrations are available to joint customers.
OutSystems
Daniel also announced a new UiPath and Outsystems partnership on stage. The partnership will help customers automate complex, cross-platform applications securely and seamlessly. 
The pressures of digital transformation are creating a mandate for all kinds of organizations to make smarter, more efficient workplaces and effortless experiences for customers. Our high-performance low-code development approach, combined with the power of UiPath automation, provides our joint customers with a proven roadmap to higher-order efficiency gains. The result of this integration enables IT leaders to bridge the talent gaps of their teams in order to accelerate innovation and generate massive value for their organizations.

Rui Pereira, Vice President of Global Channel, OutSystems
Semantic automation: the 'next big thing'
Daniel welcomed Cosmin Voicu, Principal Product Manager at UiPath, for a demo of Clipboard AI.
The app is powered by semantic automation, which is essentially how a robot learns to identify patterns in unstructured data, rather than simply 'doing' a routine task.
Voicu showed how it can populate a web form with form fields for information such as name, address, and passport number. Clipboard AI recognized these fields from a picture of a passport, and correctly filled in the appropriate fields on the web form.
He then showed a different example, where the robot went through a vehicle purchase contract to glean relevant data. It extracted the correct data and transferred it to the right fields. The robot also understood the long warranty clause on the form and inputted "yes" or "no" accordingly into the sheet.
Clipboard AI could save countless hours that people spend copying and pasting data from one source to another. It's currently available in private preview to UiPath Insiders.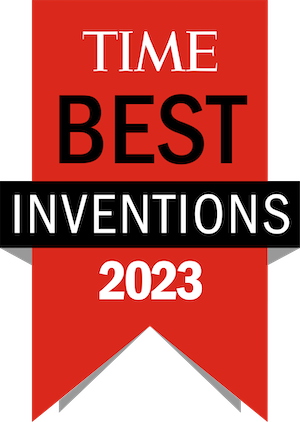 Editor's note: UiPath Clipboard AI™ was named one of TIME's Best Inventions of 2023. Read why TIME recognized Clipboard AI for improving productivity.
Automation for Good
Daniel finished his keynote by inviting representatives from two key customers to the stage to show how automation can be used to better society.
Tara Williams, Deputy Chief of Innovation for Oklahoma Human Services, explained that during COVID, her state experienced a revenue failure and had to reduce staff while significant work remained.
Automation helped remaining employees manage the significant workload, and spend more time helping clients.
Christopher Apsley, Assistant Deputy Commissioner for the Georgia Department of Human Services, described how arduous it used to be to review food stamp applications. Case workers had to check 47 different data feeds just to approve a single application.
UiPath Robots now do most of that checking work, allowing case workers to spend more time supporting applicants.
The future is bright
Daniel closed his talk by saying that while UiPath is no longer a scrappy startup, we're still true to our north star. Automation is providing new forms of innovation, and the future is bright.
You can also sign up for FORWARD 5 'The Best Bits' to receive exclusive content and recordings from the event.