The atmosphere was electric throughout the week at FORWARD VI, with attendees buzzing about the game-changing possibilities that artificial intelligence (AI)-powered automation brings to the UiPath Business Automation Platform.
But while UiPath has been creating cutting-edge technology for nearly a decade, what truly sets us apart is our resolute customer focus. As UiPath co-founder and Co-CEO Daniel Dines highlighted in his Founder's Keynote, several new tools, including UiPath Autopilot™, are leveraging AI and automation to unleash a new era of customer collaboration.
SMBC and Wesco show what's possible with AI and automation
Daniel began the keynote with a nod to an important UiPath anniversary: "exactly 10 years ago, we met our first customer." UiPath began with a small team of engineers committed to designing effective solutions for customers, and Daniel learned plenty of hard lessons during those early years. Namely, one or even a few automations isn't enough—"you need to orchestrate hundreds or even thousands" of them to make a real impact.
Three years after realizing this, UiPath Orchestrator was born. It was a great product perfectly positioned for the transition to the cloud, designed from the ground up to solve customer needs. That was around 2016, and Daniel set out to show companies how the new product could help them save time and money.
Commitment to customers wins over SMBC
On the other side of the world, Koichi Hasegawa was thinking along similar lines. In between jobs at the time, he believed in the potential of robotic process automation (RPA) to increase productivity across the Japanese economy, benefitting companies and employees alike. Over dinner, he and Daniel agreed that Hasegawa would work part time for UiPath.
Around a year later, Hasegawa informed Daniel that a Japanese megabank, SMBC, was rolling out a large RPA program and considering UiPath for the job. Daniel hopped on the next flight to Tokyo, and promised SMBC a substantial investment in Japan, along with six full-time employees dedicated entirely to the effort, if they chose our young company. It still seemed like a long shot for UiPath, since we were up against bigger and more entrenched incumbents.
To Daniel's surprise, SMBC chose to replace both of its existing automation providers with UiPath. At FORWARD VI, Kei Yamamoto, President of Value Creation at SMBC, joined Daniel on stage to discuss that decision. He explained that Daniel's technology, especially UiPath Orchestrator, was impressive. But that wasn't the only thing that convinced him—ultimately, it was the intense customer focus UiPath demonstrated that sealed the deal.
Daniel shared his own 'ah-ha moment': understanding that the best technology in the world doesn't get you very far if you don't have the customer's interest in mind every step of the way. "It made me reflect on our roots. Humility is a core tenet of our culture, and it's the way we've built UiPath," Daniel said.
In the end, the willingness to listen to a key prospect at the right moment propelled UiPath from humble beginnings into the automation leader we are today.
SMBC's impressive automation journey
Like any large financial institution, SMBC is "very mindful of costs," according to Yamamoto. Its early investment in UiPath paid off massively. To date, on a cost basis of just under $30 million USD, SMBC has realized a staggering return on investment (ROI) of $136 million and saved more than six million hours of employee time.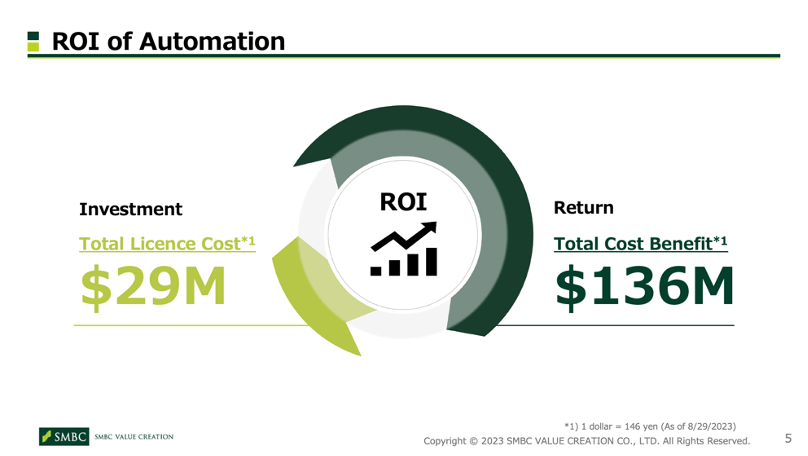 While these returns are impressive, they don't capture the full picture. Yamamoto explained to Daniel that automation also reinforced the ancient Japanese concept of "Shu-Ha-Ri" within the bank, creating a culture of constant learning and improvement.
At SMBC, Shu-Ha-Ri is aligned with each stage of the automation journey.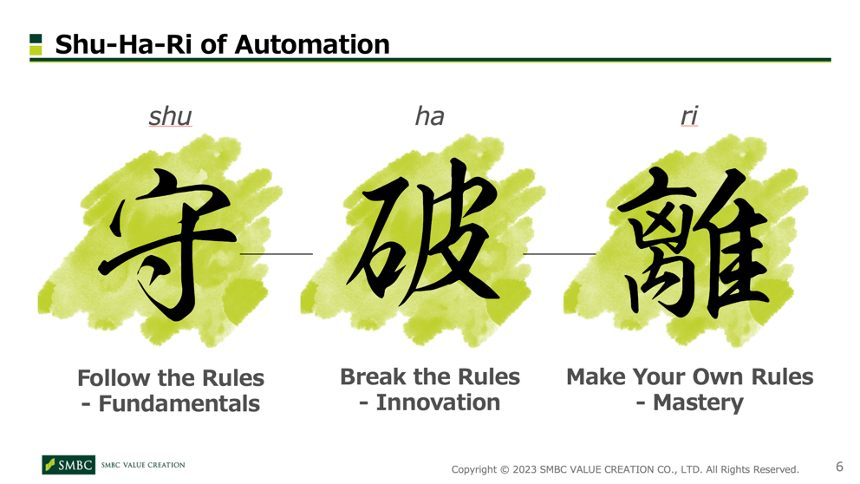 Shu: automate manual tasks
The traditional concept of shu is the importance of understanding fundamentals and following those foundational rules. Similarly, for SMBC, the first stage is automating basic manual tasks, typically through RPA. This has become commonplace at SMBC. "Thanks to UiPath, we've moved past this stage," Yamamoto said.
Ha: creative innovation
Once you understand the fundamentals, ha in the traditional Japanese concept signifies knowledge to break those rules for true innovation. At SMBC, after mastering the shu stage of the automation journey, in ha, businesses can move into more complex areas. Through AI-powered automation, companies can creatively develop solutions for a wider range of processes.
Ri: maximize your own abilities
The ancient Japanese stage ri is the final stage of Shu-Ha-Ri. The stage at which there's a mastery of knowledge, from which flows the ability to make new rules based on that mastery. For companies at the mastery stage of their automation journey, the task is to maximize their own abilities and impact on the world.
Together with UiPath, let's pave the way to a future where people can have a work life that is more meaningful, creative, and truly fulfilling.

Kei Yamamoto, President of Value Creation, SMBC
Wesco: reducing tedious document processing with UiPath Clipboard AI
During a night out with senior colleagues in 2020, Daniel realized that existing automations were "kind of dumb." Software robots didn't understand what they were doing, which limited their capabilities. The group thought there must be some way to give the robots context so they could do even more.
That vision became a reality with UiPath Clipboard AI™, recently made available in public preview.
Wesco is one of the first users of the app, championed by their Global Intelligent Automation Leader Maxim Ioffe.
With 20,000 employees, 50,000 suppliers, and hundreds of thousands of customers, Wesco processes an unimaginable number of small documents on a daily basis. But each one is unique, which has made broad-based automations difficult historically.
It didn't take long for Wesco to begin using Clipboard AI and start saving employees countless document-processing hours. The effort has been enabled by citizen developers, which Ioffe explained bring two key benefits to Wesco. One is pragmatic, through eyes on the ground and practical solutions, and the second benefit is making other employees' workdays more enjoyable. Both are vitally important to the company's future.
[Clipboard AI] allows us to tackle negative ROI automation with ease, telling citizen developers 'here's an app for you.' My center of excellence doesn't have to invest a single dollar.

Maxim Ioffe, Global Intelligent Automation Leader, Wesco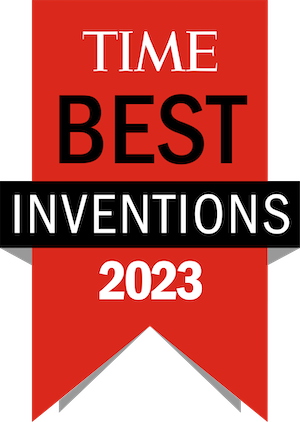 Editor's note: UiPath Clipboard AI™ was named one of TIME's Best Inventions of 2023. Read why TIME recognized Clipboard AI for improving productivity.
The dawn of the semantic automation era
Key to the future of UiPath is semantic automation, something Daniel began thinking about three years ago. At FORWARD IV, he mentioned that the technology would allow robots to do more complex tasks. Then, at FORWARD 5, he and Cosmin Voicu, Principal Product Manager at UiPath, walked through a demo of UiPath Clipboard AI™ on stage. 
This year at FORWARD VI, we pushed the envelope even further. UiPath Chief Product Officer Graham Sheldon joined Daniel on stage to demo UiPath Autopilot™, a new set of AI-powered experiences across the UiPath Platform. By blending the best of Specialized AI, Generative AI, and user interface (UI) automation, "everyone can now have an AI-powered assistant to help them get their business tasks done," Graham said.
There are multiple uses for UiPath Autopilot across the UiPath Platform, and they help different people in different ways. For example, UiPath Autopilot for Assistant is an AI companion that helps you tackle your daily task list: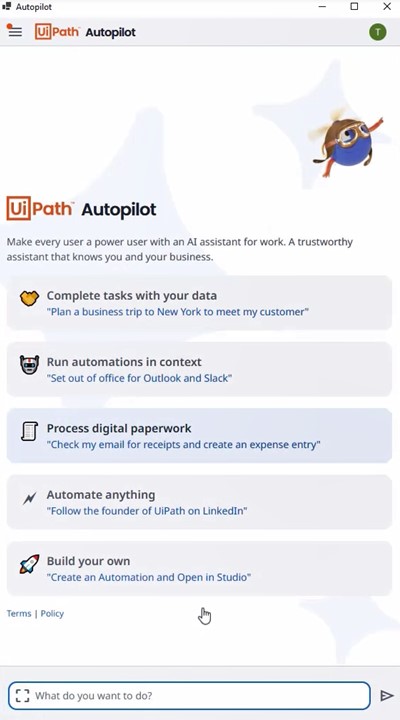 Part of the magic of Autopilot is that it works seamlessly across applications and systems. Through UiPath AI Computer Vision, Autopilot for Assistant can read and understand web pages, documents, and even screenshots. Plus, it has background knowledge on company policies and individual characteristics, unlocking powerful possibilities.
On stage, Graham walked through an example of how Autopilot for Assistant can help plan work trips. By simply asking it to "help plan a trip," it responded with a set of action items based on his role. But that was just the start—Autopilot for Assistant then analyzed Graham's passport, filled out a service ticket to get it renewed, and sent a Slack message to his team with updates on the trip.
As with any automation containing sensitive data, having a human in the loop is an essential precaution. Autopilot for Assistant prompted Graham to confirm several of the tasks before proceeding.
Sharing Autopilot automations with a single click
After demonstrating Autopilot for Assistant's trip planning prowess, he asked it to open LinkedIn and connect with someone he met at FORWARD VI. How would Autopilot react when asked to perform a task it had never done before?
Quite well, it turns out. Even though it wasn't previously familiar with LinkedIn, Autopilot used AI Computer Vision to figure out how to search for the person and connect with them, then prompted Graham to confirm the connection.
Automating LinkedIn connections is something that could be useful to other UiPathers, so with a single click, Graham captured the automation and uploaded it to UiPath Studio. Now, it's available for anyone at UiPath to use.
Moving forward, customers will need flexible solutions that work across different platforms, rather than individual, rigid ones. Through Graham's demo, it became clear that this new set of AI-powered experiences across the UiPath Platform provide the flexibility customers need.
Looking towards the next decade of progress
You overestimate what you can do in one year, but underestimate what you can do in 10 years.

Daniel Dines, Co-Founder and Co-CEO, UiPath
This is what Daniel learned after reflecting on meeting his first customer in 2013. UiPath was launching Studio 1.0, which appealed mainly to a small audience of developers that didn't see the need for no- and low-code products.
Now, with the rise of semantic automation, everyone is waking up to the immense benefits that natural-language-based tools bring. They empower citizen developers to take advantage of the power of AI and automation, drastically expanding their impact.
Going forward, Daniel expects these digital assistants will "materially reduce the total cost of ownership for our customers," since they're reliable and have fewer maintenance requirements than other types of automation.
He closed by saying:
UiPath is the company that can help customers the most in building knowledge of their processes and creating digital twins that can work side-by-side with their employees.

Daniel Dines, Co-Founder and Co-CEO, UiPath
The AI-powered UiPath Platform empowers companies to grasp and automate their specific processes. Daniel and Yamamoto both spoke to a new phase of UiPath and customer collaboration that's here now, with a shared goal of building the next generation of business-oriented AI solutions.
And automation is the best path to deliver on whatever AI sparks. With Clipboard AI and other new features across the UiPath Platform, there's no better place to harness the potential of AI.
If you missed Daniel's FORWARD VI keynote, there's still time to access the replay. Bonus: register to access Daniel's keynote and you'll be able to watch all available on-demand recordings of FORWARD VI keynotes. 
Or, sit back and have the best of FORWARD VI delivered right to your inbox when you sign up to receive 'The Best Bits'. The three-volume series is a curation of the biggest insights from FORWARD VI.