Efficient Claims Processing: The Key to Business Success
At the heart of the business of insurance is Claims Processing. It is at this stage that the insurance company meets its commitment to its customers, sets standards of service, drives credibility, and fulfills its obligations. The claims environment is deeply reliant
on process speed and accuracy to meet customer demands, as it involves layers of administrative, managerial, and customer service functions, marked by information intensive manual tasks and problematic document formats.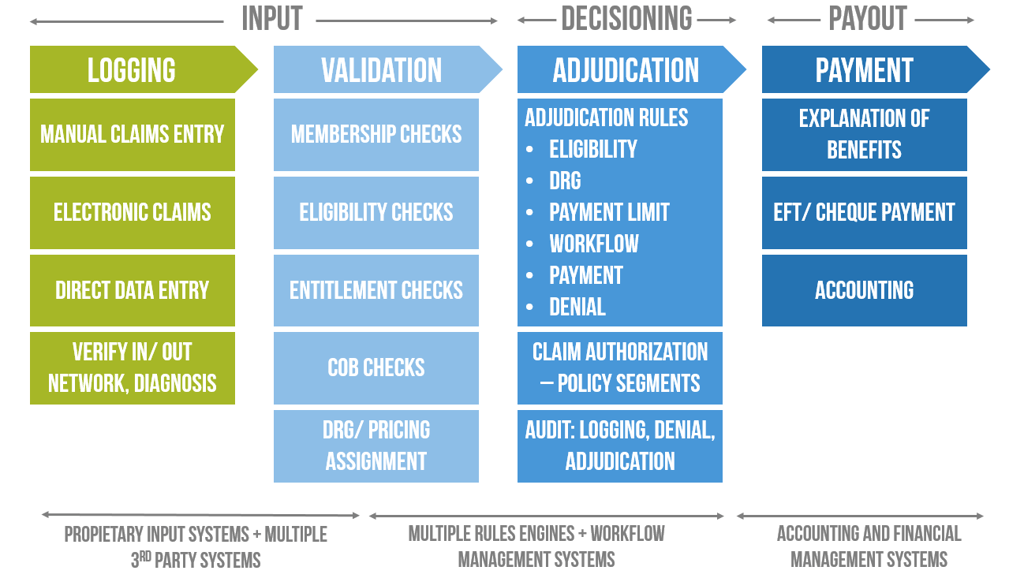 Challenges to Efficient and Error Free Claims Processing
Manual Inputs
Traditional claims processing depends heavily on manual labor. This makes the process increasingly inconsistent and prone to errors. The situation becomes worse when the workforce is outsourced. Companies often have to depend on unreliable and indifferently skilled workers, which increase the costs and the time it takes to complete the process.
Disparate Input Media
Paper, electronic documents, images, emails, and sometimes even the apps handling different stages of the process are different and not integrated. As a result, there is a distinct lack of fidelity and accountability.
Legacy Applications
Insurance companies are often trapped within the framework of the legacy apps that drive their core processes. These applications are sometimes outdated and do not interface well with newer, up-to-date solutions.
Data Retrieval
In the labyrinth of software, processes, applications, and systems, data often get lost or become extremely hard to retrieve. This can go on to greatly increase the cost, as well as the dedicated time data retrieval takes.
Regulation and Compliance
Changes in regulations can greatly impact processing. In fact, sometimes the whole process might have to be overhauled. This becomes more of a conundrum when the company operates in different states and countries, each with its own sets of laws and regulations.
RPA and Claims Processing
Many insurers already implement some level of automation, be it basic automation like scanning PDF documents or more advanced automation of entire workflows. However, these solutions are disparate and come with their own set of challenges that can further add to the complexity and difficulty of processing. The quality of output from these automations depends largely on the quality of programming. Every time there is a change in the process, the entire programming needs to be overhauled. Another shortcoming is that they still rely on manual input from human
workers to process and navigate data between different systems, which burdens the claims process, leaves it exposed to errors, and adds extra cost. This is where Robotic Process Automation (RPA) comes in as a fully integrated, end-to-end automation solution that overcomes the abovementioned obstacles. RPA works at the presentation layer, integrating with all applications and systems, including legacy systems, without creating disruption. It is entirely scalable according to necessities and has up to 100% robotic accuracy.
Reduce Turnaround and Increase Efficiency with
UiPath Claims Processing
Seamless Integration
Robots can seamlessly integrate different systems and software, including CRM, ERP, Helpdesk, Claim Application Software, and more. Even better, you can also be assured of a perfect fit with your legacy applications.
Operational Accuracy and Speed
Eliminate the margin of human error of manual data entry and speed up processing by streamlining work distribution. UiPath can sometimes halve the average time it takes to process a claim, which greatly increases customer satisfaction as well as reduces costs.
Increased Efficiency
By using UiPath, all the burdensome and repetitive tasks are taken care of automatically, so employees can be used more efficiently in processes and tasks that require higher level thinking and judgment.
Easy to Upscale and Downscale
With UiPath, upscaling or downscaling operations can be done in an instant. There is no added cost involved with the increased volume.
UiPath Robotic Automation Framework
UiPath software robots are easy to train and require no coding skills. This means that you do not have to outsource a whole team of programmers to adapt UiPath to the particular idiosyncratic processes of your company. Anyone can do it, even your non-technical staff. It provides 100% accurate scripts that "see" the presentation layer at control level.
UiPath combines an intuitive and easy to learn Visio-style process designer with an enterprise grade management platform, which can be deployed in the Cloud or on the premises to manage all of an organisation's robots from a single console. With UiPath, you will be ready to strategically augment your business and deliver exceptional customer service.
UiPath – RPA Designed for the Needs of Global Enterprises and BPOs
UiPath RPA is an enterprise computing platform dedicated to automating business processes. It provides process modelling, change management, deployment management,
access control, remote execution and scheduling, execution monitoring, auditing, and analytics in full compliance with the enterprise security and governance best practices.
UiPath Studio is the highly visual productivity environment where business users can model end-to-end business processes into a process diagram with simple drag-and-drop functionality.
Advanced error checking and history visibility ensure flawless execution and detailed project monitoring.
UiPath Orchestrator is a scalable RPA server, fully integrated and equipped with centralized instrumentality for enterprise class management, security, compliance, support, and auditability.
Our Orchestrator records everything the robots do through log files and transforms them into advanced analytics.
UiPath Front Office Robot is the agent-assisted robot that shares the same workstation with human employees and assists them to automatically execute business activities.
UiPath Back Office Robot is the autonomous software robot programmed to run unattended, independent from human interaction.