Does your software need a performance improvement plan (PIP)?
If you had to give your work apps a performance review, how would they do?
Are they not "exceeding expectations?"
Perhaps you're gritting your teeth right now as you imagine putting them on a dreaded PIP?
Our work desktops are often full of applications that don't make a passing grade. Some apps show up to work late, are slow, and have interfaces whose user experience (UX) is more at home in the 1970s than the 2020s.
While there's a renaissance underway in API-enabled software with modern user interfaces, many of the applications we rely on today were built some time ago—and don't have APIs.
Think of the bank still running atop a COBOL mainframe. Or the hospital system relying on an email client from 30 years ago. Just as we all age, our software does, too.
But what if you could refresh the look and feel of your software investments without abandoning your existing systems?
Reflecting on the automations and automation-powered apps that our center of excellence (CoE) built this quarter within UiPath, I'm reminded of how automation helps organizations, including our own, modernize without always needing to replace underlying systems.
As we celebrate saving over 800,000 hours with our own technology this quarter, here are some lessons we've learned automating our operations:
Don't go it alone—automation is a board priority everywhere

UX is as important as workflow

Automation starts where your other software ends

Measure everything to track your business value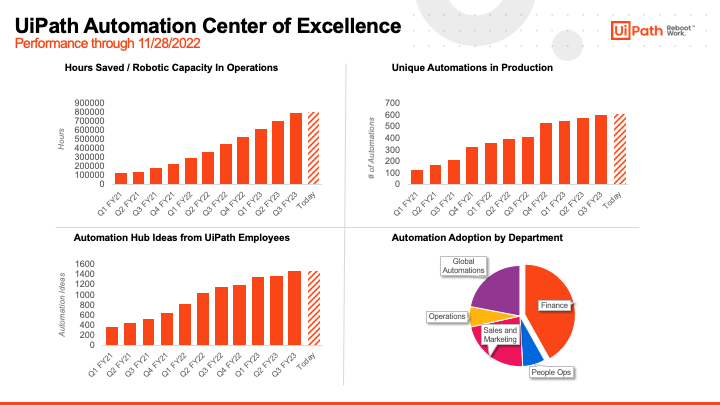 Note: if you're new to this series, every quarter we update our community on our internal automation progress.
Explore this encyclopedia of CoE automations, where we add new automation entries each quarter
Automation professionals aren't unicorns – they're here, real, and talkative
If you had a pressing automation question, do you know three automation professionals at different companies you could ask? How long would it take you to assemble that list?
If you were at UiPath FORWARD 5 in Las Vegas, the answer would be "not long at all."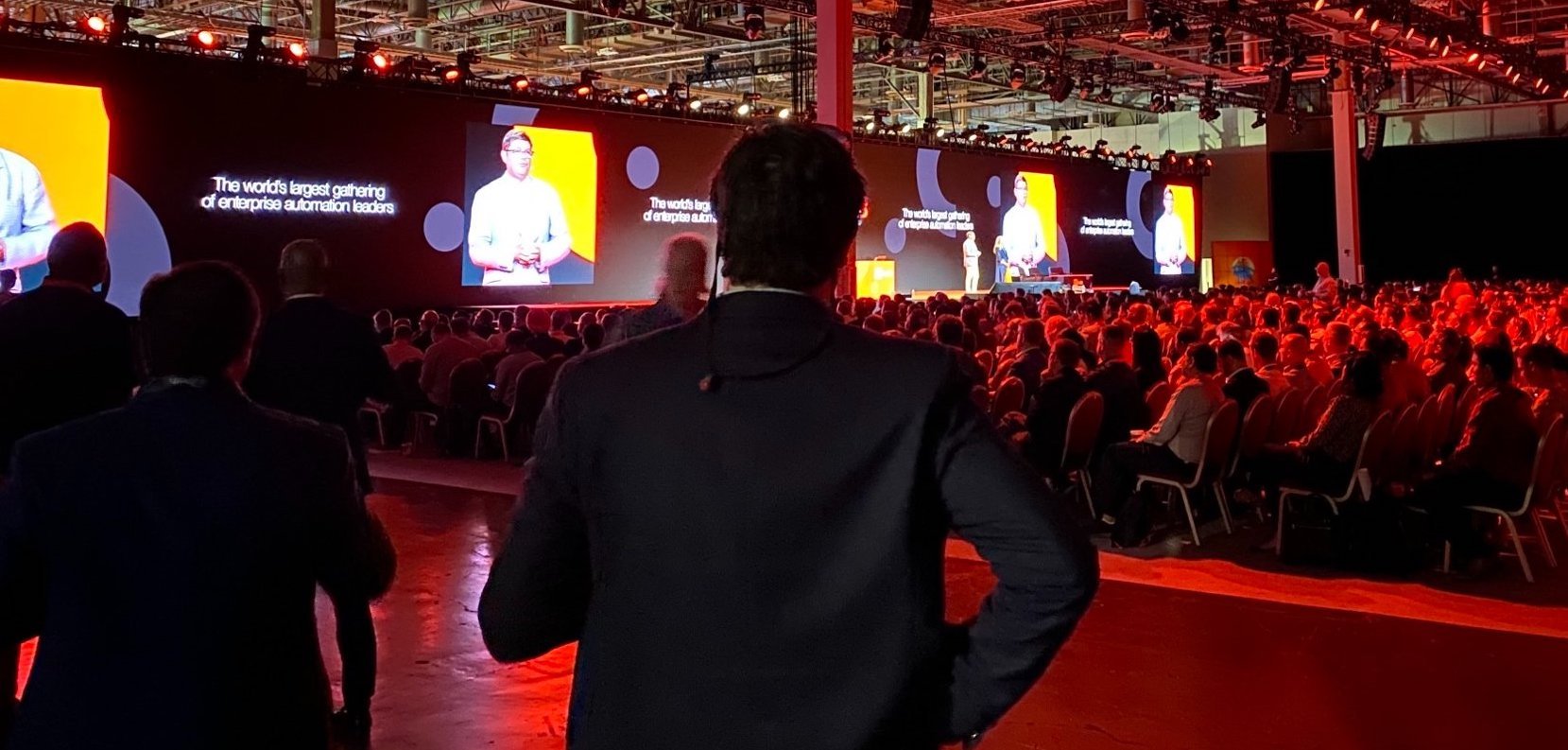 UiPath FORWARD 5 kicked off to a packed house. It was standing room only for the Day 1 opening keynotes.
We were amazed by the sheer volume of professionals in one building. Thousands of automation developers, CoE leads, business analysts, and more descended upon the Venetian to talk automation in Q3.
Our CoE spoke with more than 100 customers and partners in Expertsville.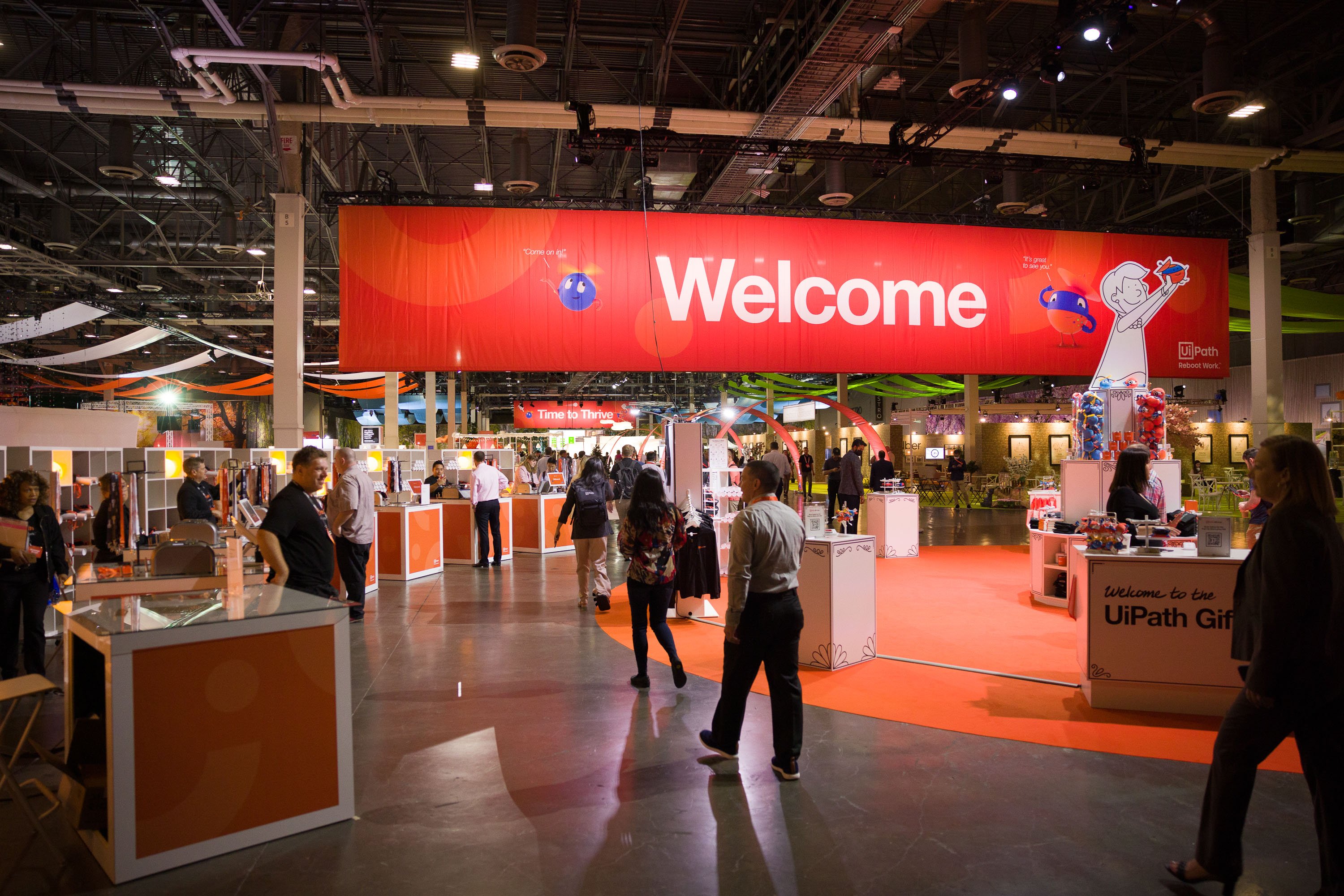 We also participated in two panels at FORWARD 5.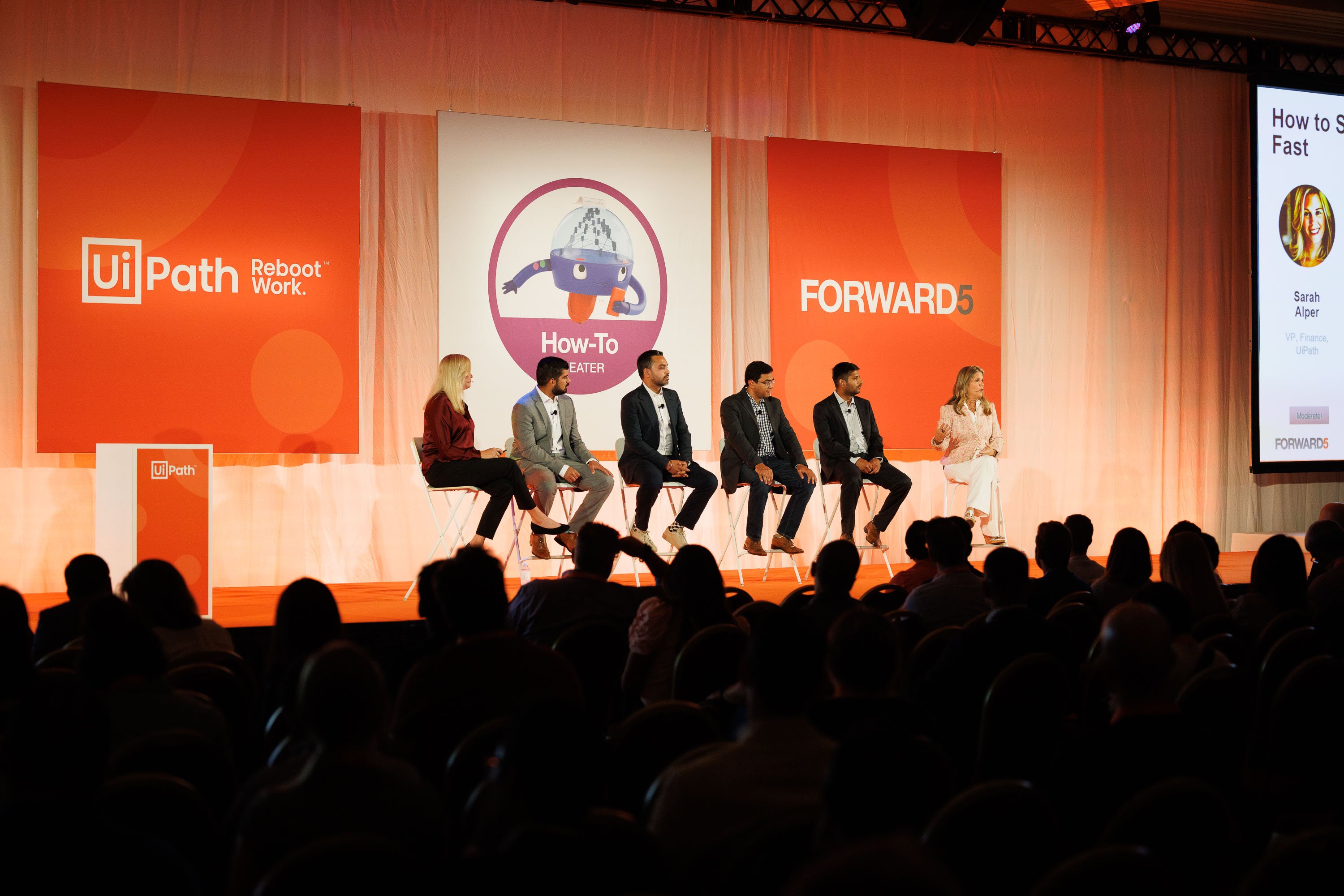 In "How to Scale Automation Fast," Amazon, CVS Health, PwC, Toyota Financial Services, and Cox Enterprises shared with our Finance Vice President (VP), Sarah Alper, the strategies and tactics they used to blast through scaling obstacles like:
Finding new opportunities once you've exhausted your initial pipeline

Moving beyond unattended automation

Evolving your CoE structure to support a much larger automation program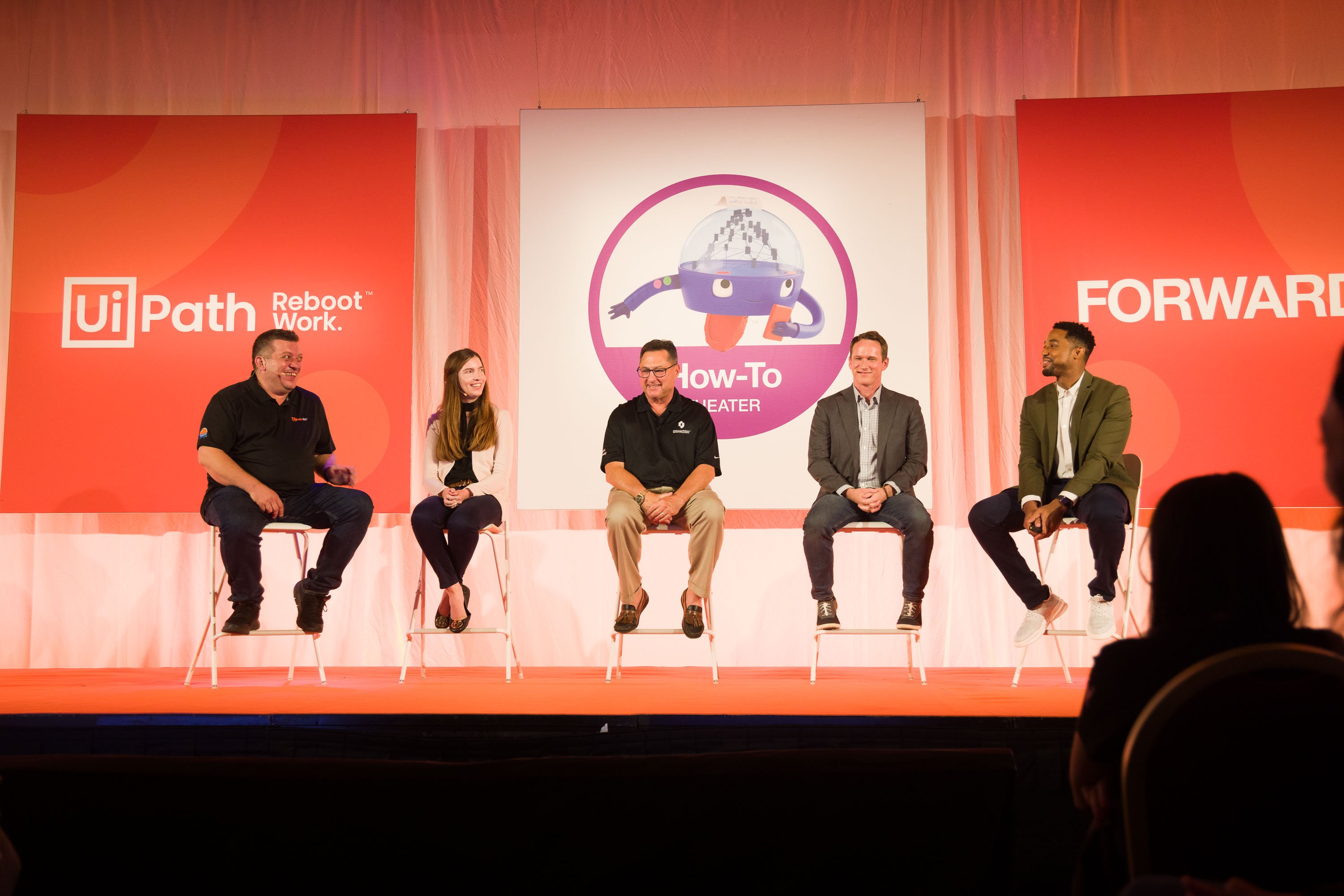 In "How to Succeed as a CoE Lead - A Fireside Chat w/Meta (Facebook), Indeed, Oshkosh, and UiPath," I spoke with other CoE leads about:
Securing executive sponsorship and budget

Partnering with business groups to build a robust pipeline

Expanding your automation impact throughout your company
During our Product team's keynote on the main stage, we also helped build a demo experience showcasing the power of the new public-facing functionality for UiPath Apps.
We raffled an Xbox Series S using UiPath Apps, Integration Service, and Studio Web.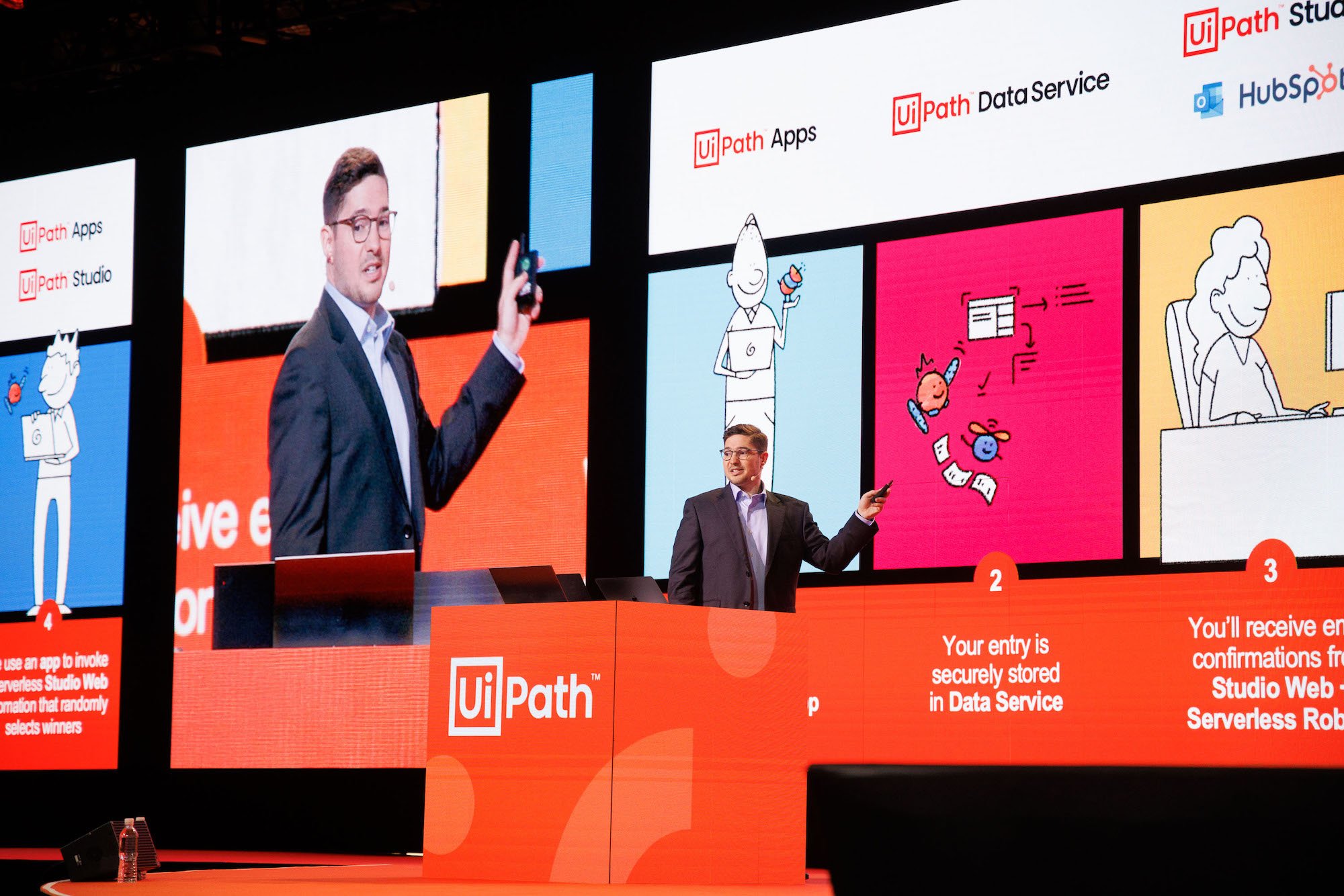 While this was a relatively simple use case, our Product team showed what can be unlocked when stakeholders outside of your company can access your automations in a secure, governed way.
For instance, this reimagined onboarding process built on top of UiPath Apps gives new joiners one place to select and track their office equipment even before they officially join a new company. And once they have access to company systems, the app gives them one clean interface to schedule 1:1s, join relevant Slack channels, and more.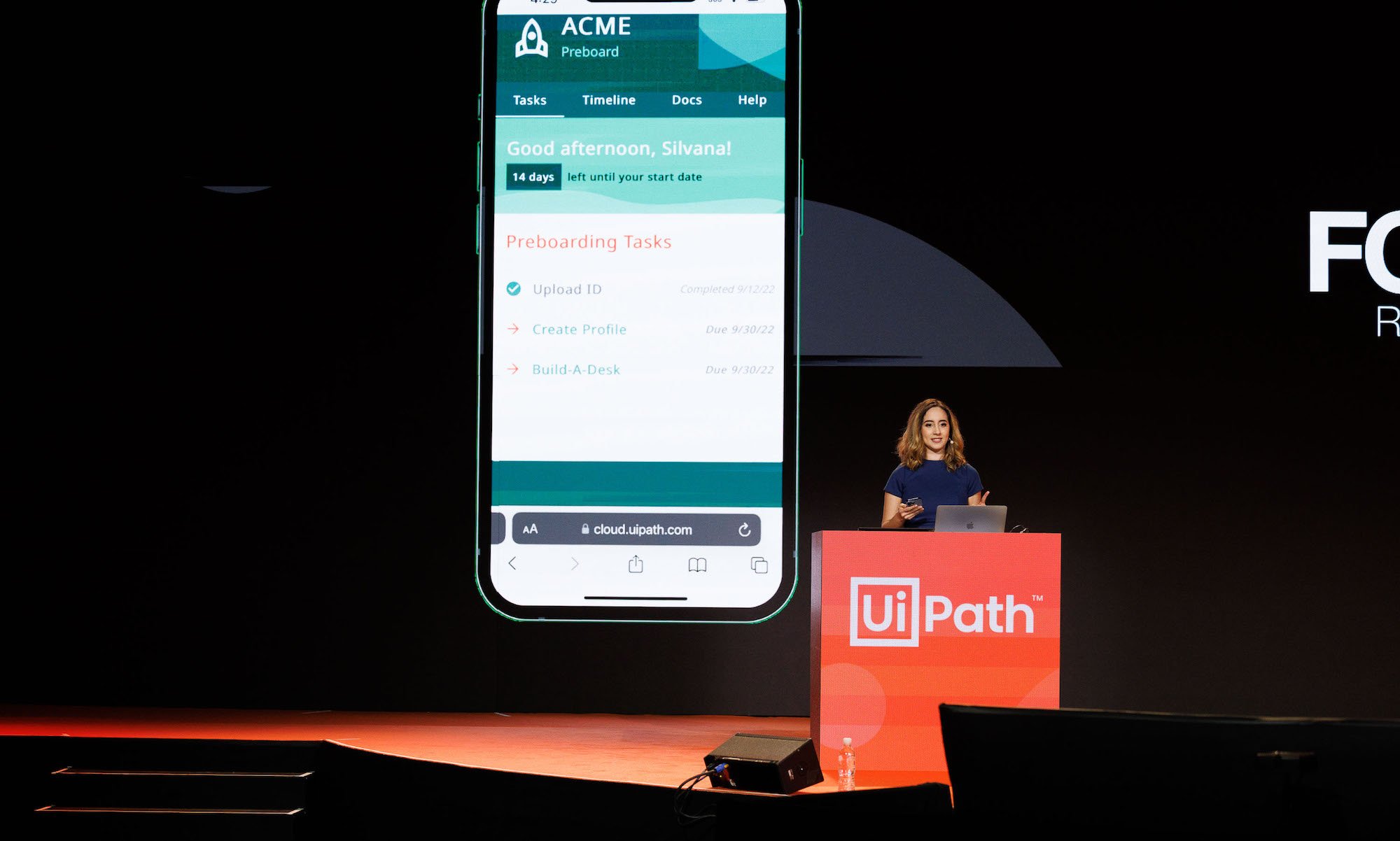 See the employee onboarding experience of the future, built on UiPath Apps.
Best of all, this is turning from a demo to reality. Our very own HR team is implementing the onboarding experience imagined by our Product team, and we'll share a version on UiPath Marketplace soon, too.
When it comes to building great automations, don't skip the UX
Speaking of UX, the employee onboarding experience is not the only one we're reimagining with UiPath Apps.
Rather than having to procure an entirely new website, we leveraged UiPath Apps and Data Service to build an interactive version of our Pricebook. Ask your account executive to check it out😊

Those of you with our Premium Plus Support may have seen an example of another app that launched in Q3. While we hear extremely positive anecdotal reviews of the Premium Plus Support offering, we always like to validate that assessment with data. We wanted to send out surveys to customers without procuring a new survey product. The team built a public-facing app where customers could share their input via an experience built on UiPath Apps and Data Service.
Finally, a really fun automation-powered app from our Product team.
Our Product Designers, Olena and Alexandra, wanted to imbue a bit of Halloween festivities into an 8:00 am global design review. Alexandra invited everyone to dress up and Olena suggested everyone could vote on their favorite costume.
The only problem?
Olena didn't have the necessary licenses for polling in our video conferencing solution. Rather than having to ask for more budget, Olena went to her UiPath Apps toolkit and quickly spun up a solution.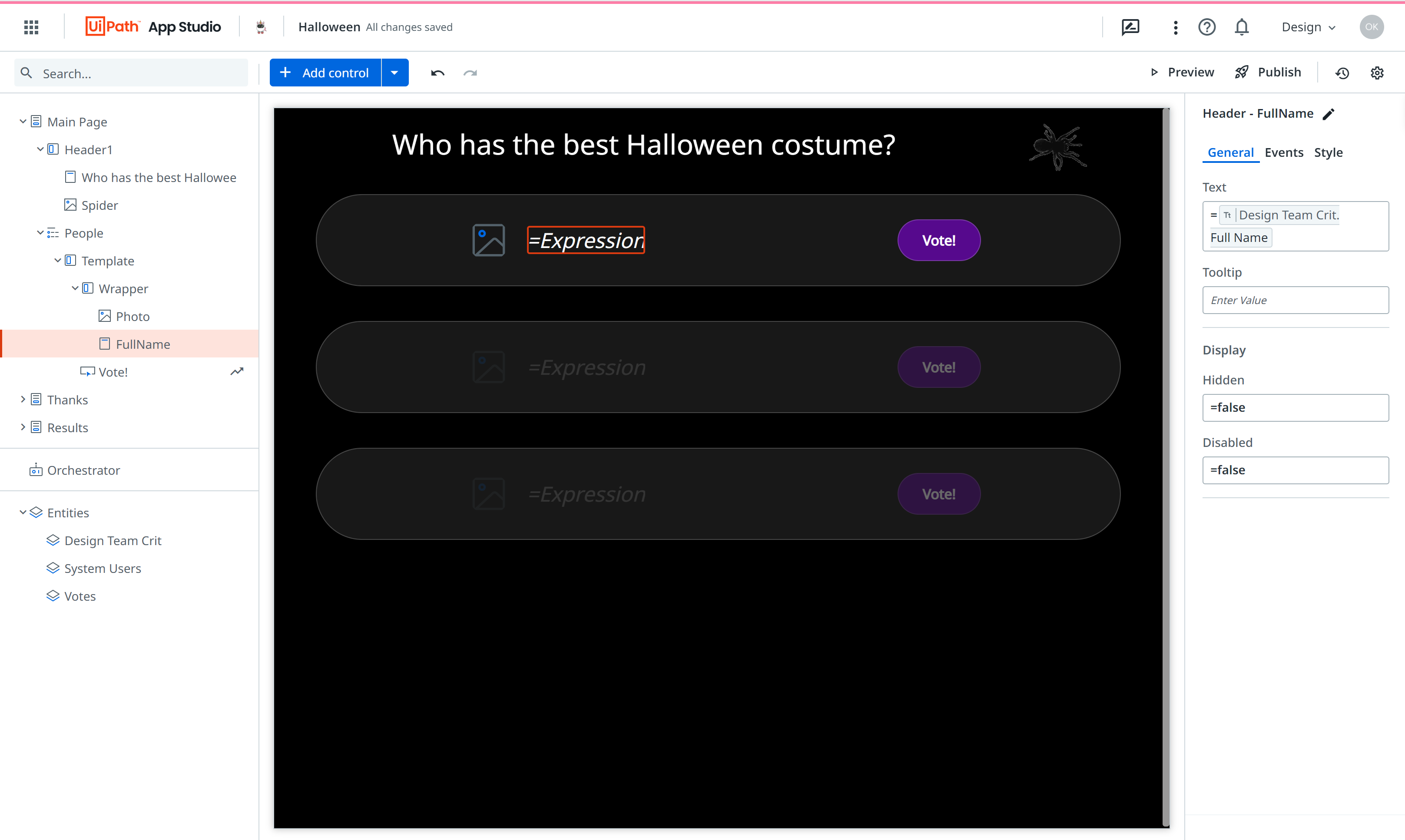 You might wonder who won the costume contest? Let's just say that the resourceful UX pro who used UiPath Apps to build a poll also wowed the group with her Avengers costume, too. Who knew Gamora was a UiPath Apps aficionado?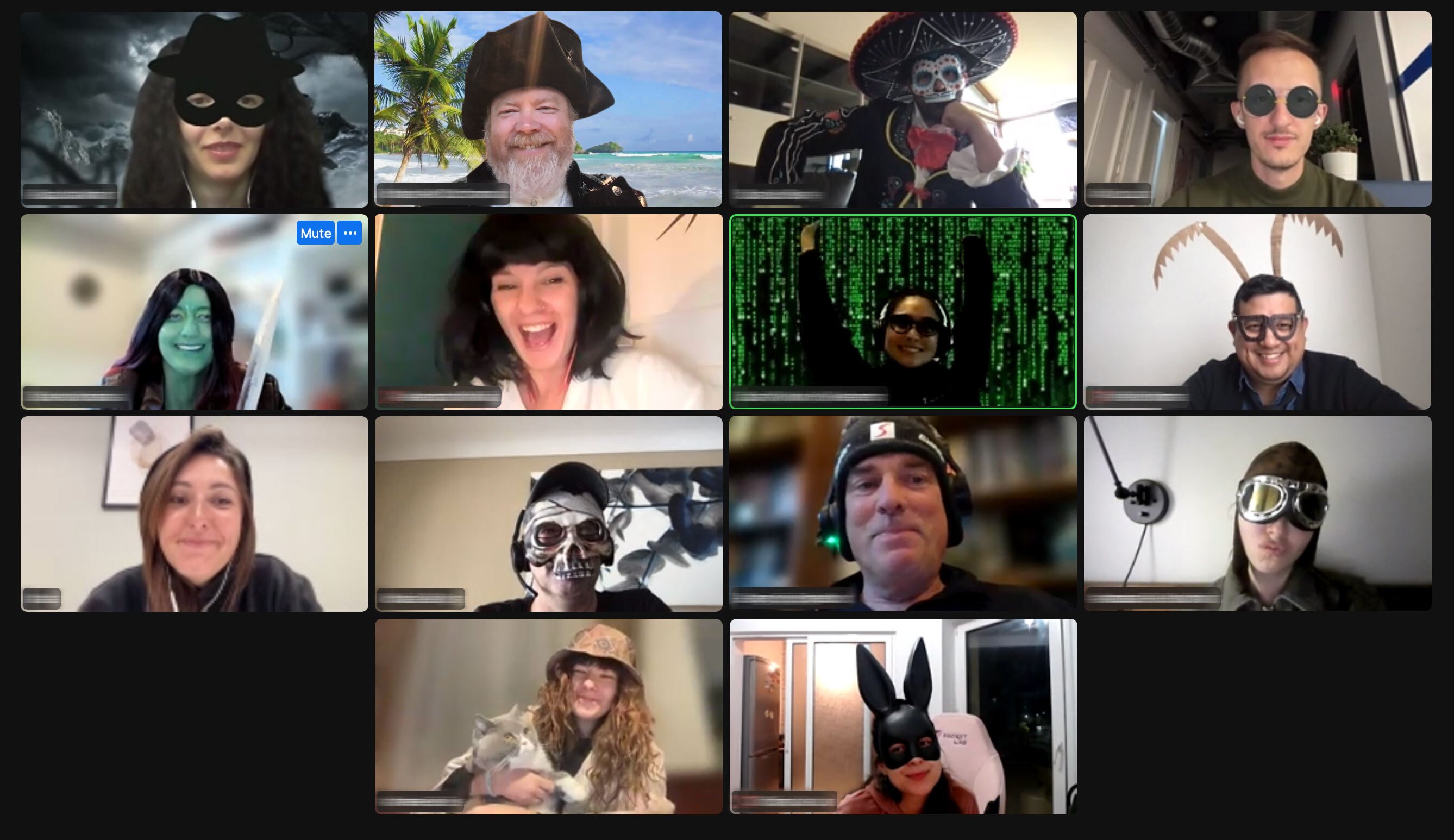 Picking up where other software ends
Finally, while this was an app-filled quarter, we released plenty of traditional attended and unattended automations, as well.
Here are some of my favorites from this quarter.
A 200-hour-saving bot for our Procurement team: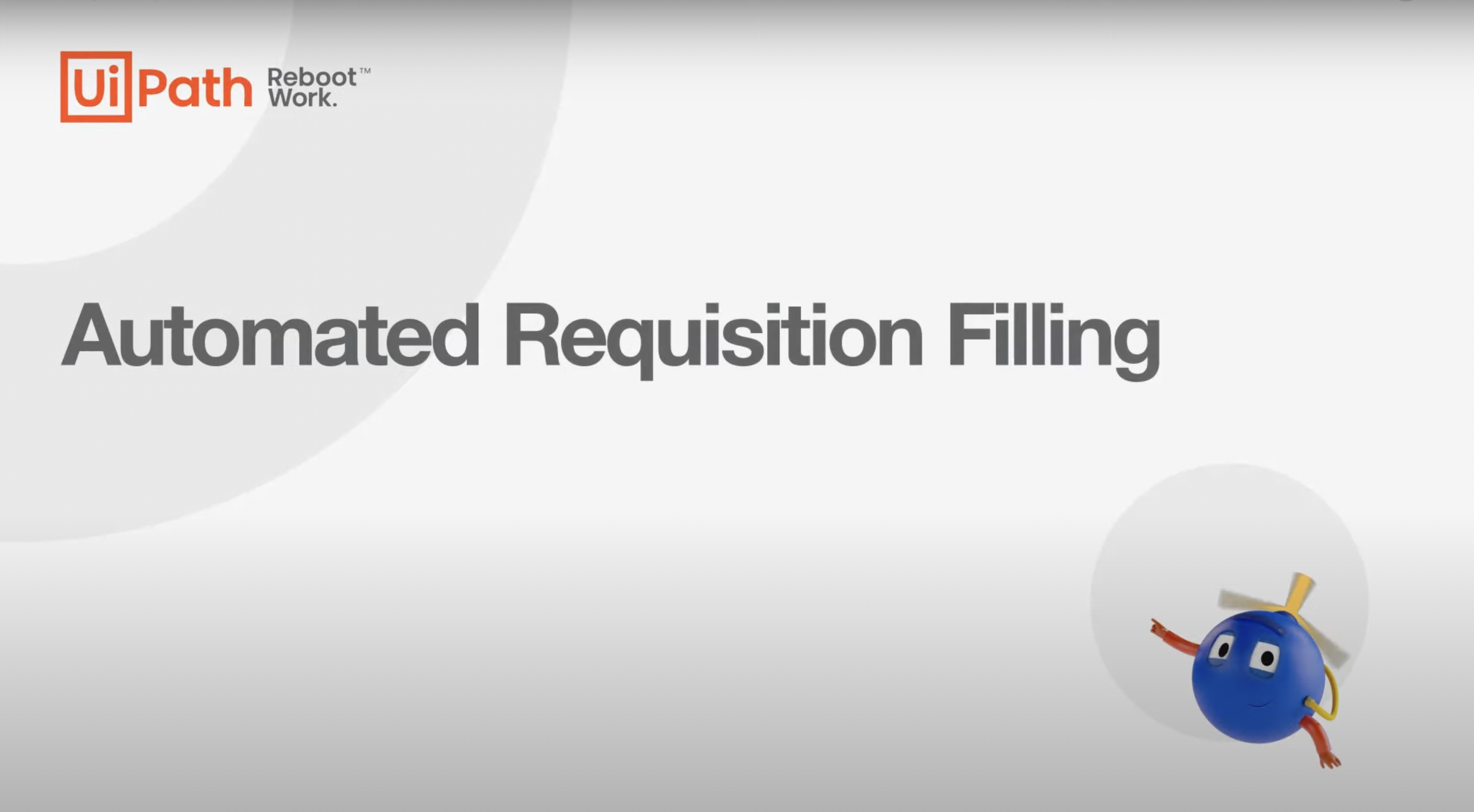 A better audit process? It may not seem possible, but this automation knocks the socks off the SOX process for auditors by making it easier to take multiple screenshots with a simple keyboard shortcut. This is another example of automation solving a problem that we could have purchased additional software to do, but using our own UiPath Platform saved costs.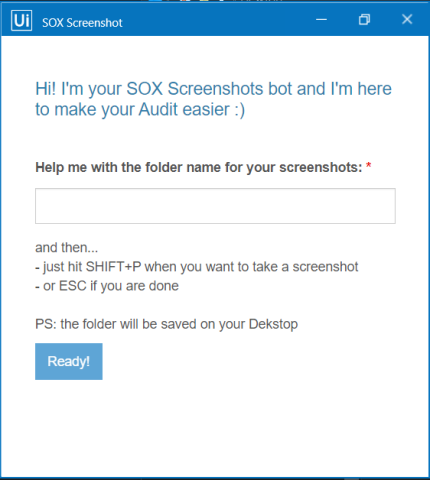 An easy way to remember international holidays. Working in a global organization with numerous holidays across countries, it can be hard to remember when colleagues in different locales are on a well-deserved holiday. But no more. With the new Get International Holidays bot, any UiPather can easily see the list of upcoming holidays for any colleague.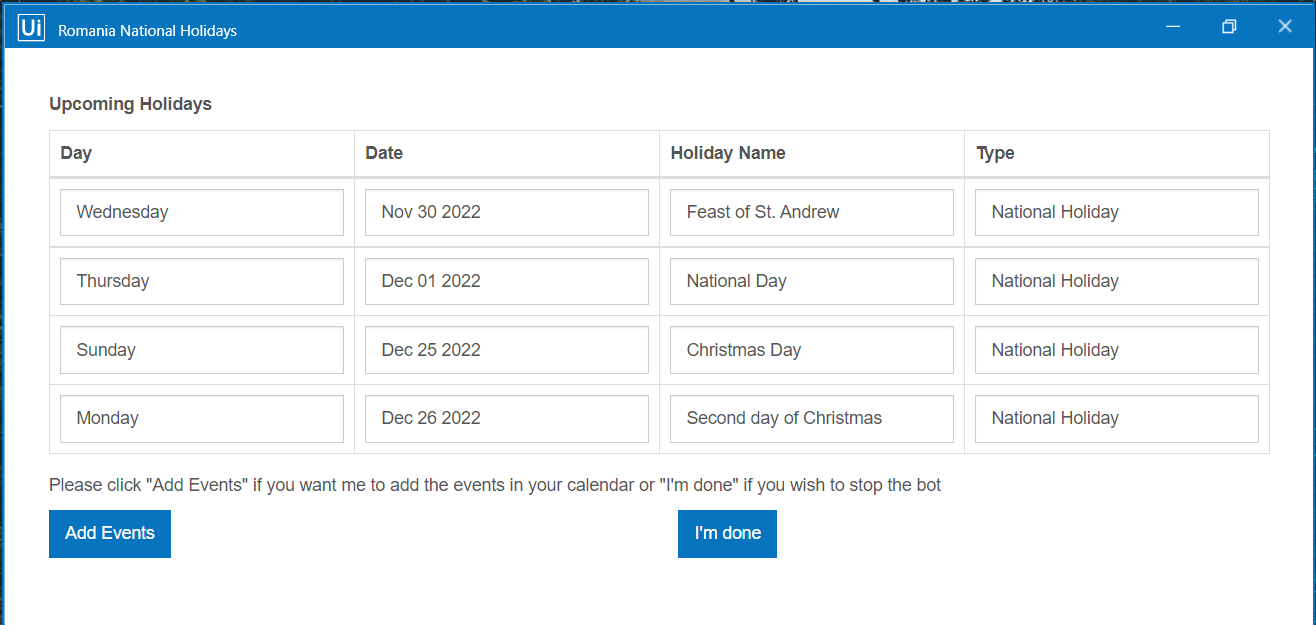 Measure everything (with UiPath Insights, naturally)
We're big believers in measuring not only the hours saved by automations, but also the practical business value that those saved hours unlock.
We leverage UiPath Insights dashboards to measure business-centric questions like:
How many sales orders did automations fulfill for the Finance team?

How many additional credit risk assessments did we run last month?

How many license certificates did our GTM Ops team generate, and what impact did those have on our business?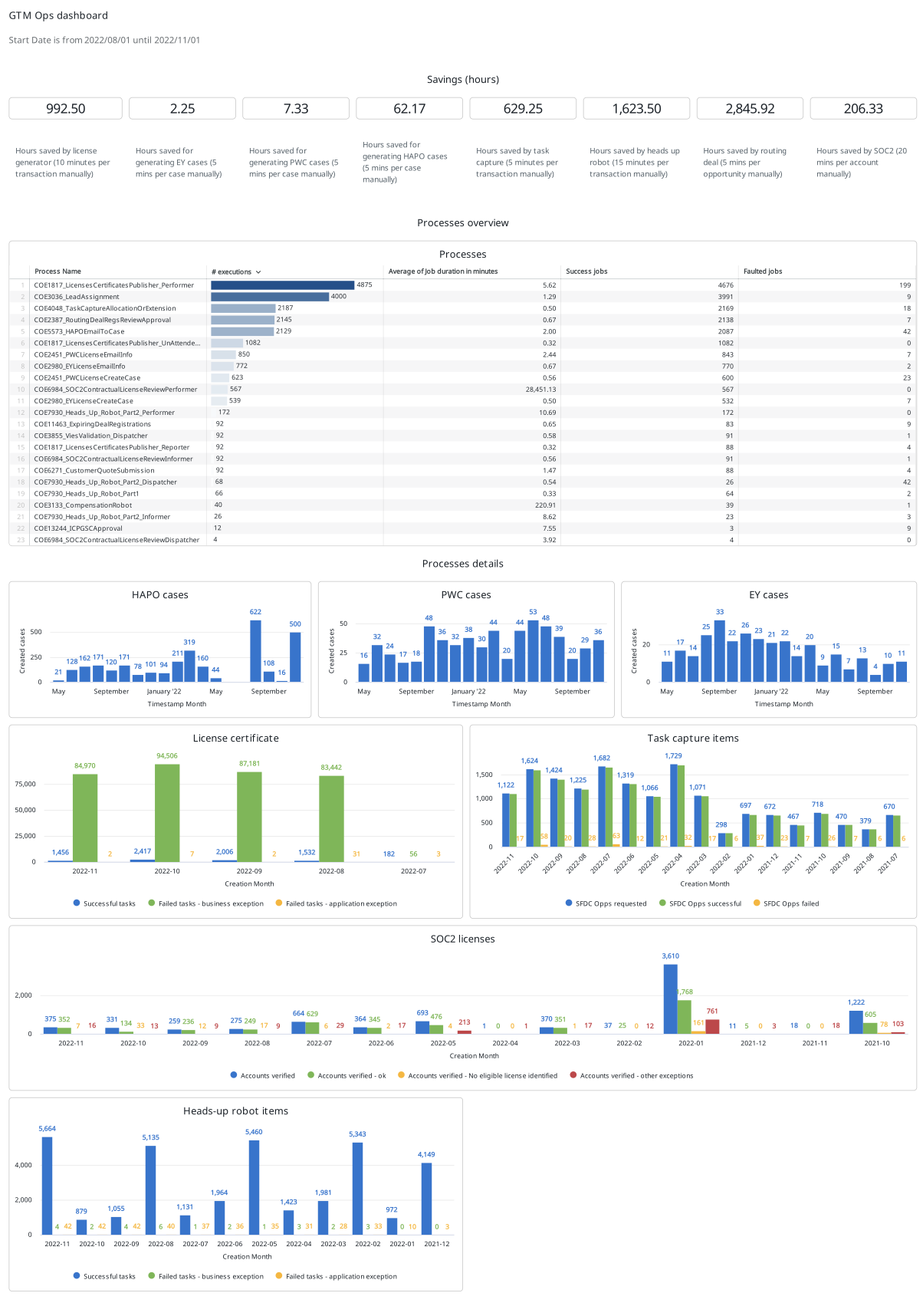 We're looking forward to sharing more Insights dashboards in future blog posts.
Dive into next generation apps
Could you use more business value from your automations? UiPath Apps is unlocking end user experiences for us. We've only scratched the surface of new capabilities that are available as part of our 2022.10 release.