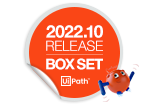 Hi everyone. In late September, we previewed the latest release of the UiPath Business Automation Platform at our FORWARD 5 conference. It was great to see such a positive reaction from customers and the market.
In a world where every enterprise must operate as a digital business—or be out of business—automation is no longer a discretionary line item. Instead, enlightened C-suite executives are embracing it as a strategic imperative and a new way of operating and innovating. And their full-on investment is unleashing automation-fueled value: faster and more profitable growth, higher cost savings, and superior customer and employee experiences.
It's clear: to remain competitive in a digital world, companies need to build out world-class, enterprise-wide automation capabilities—now. And that requires powerful, enterprise-ready automation technology.
That's the UiPath Business Automation Platform. With market-leading capabilities in every stage of the automation lifecycle—from discovering opportunities to automating processes to operating an enterprise-grade capability—our platform provides the solid technology foundation for strategic, enterprise-wide automation.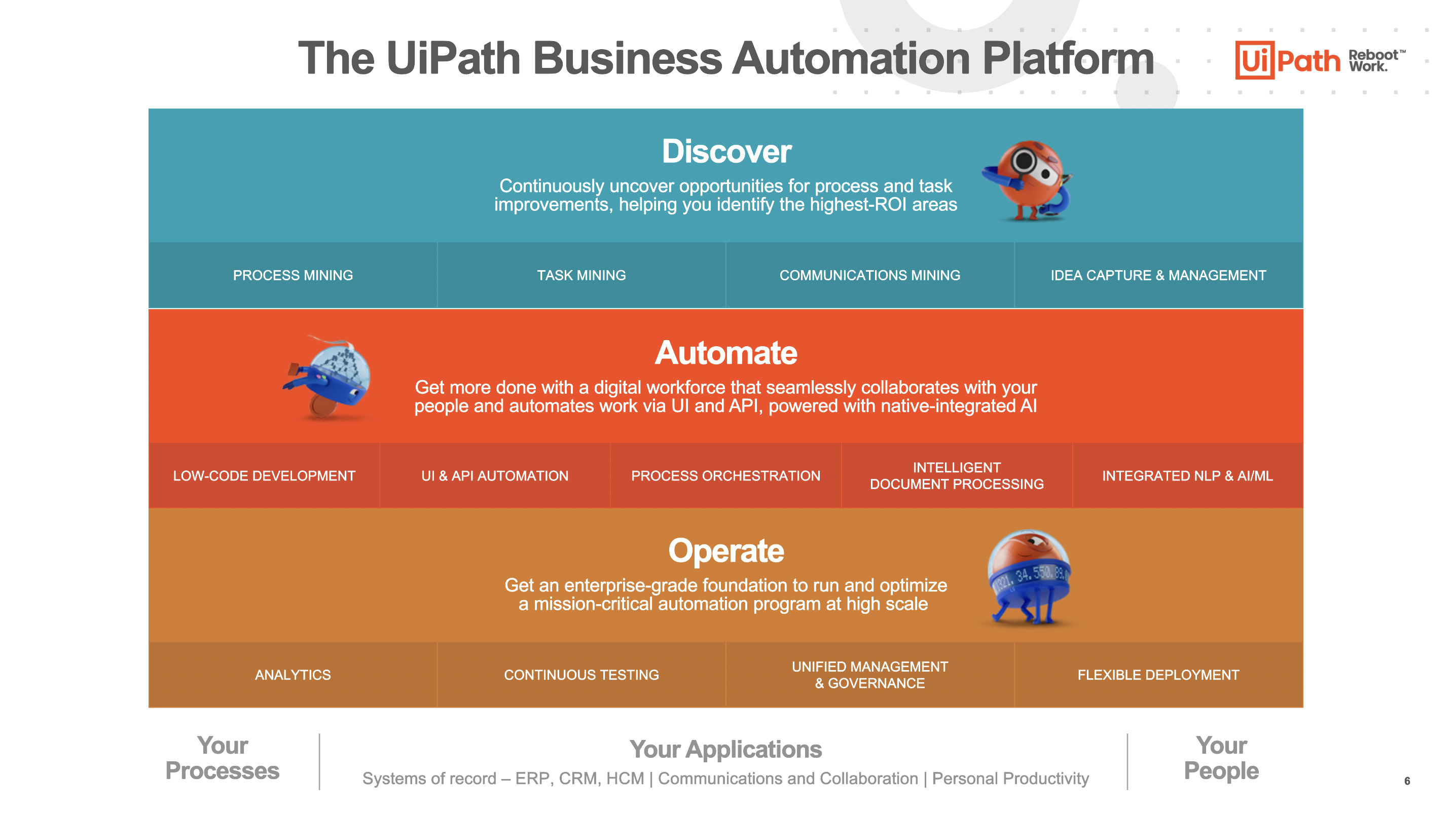 UiPath Business Automation Platform
The 2022.10 release offers even more enhancements that allow businesses to automate more, automate faster and with less friction, expand user and builder bases, and operate it all more efficiently and effectively.
We focused on four main themes in this update: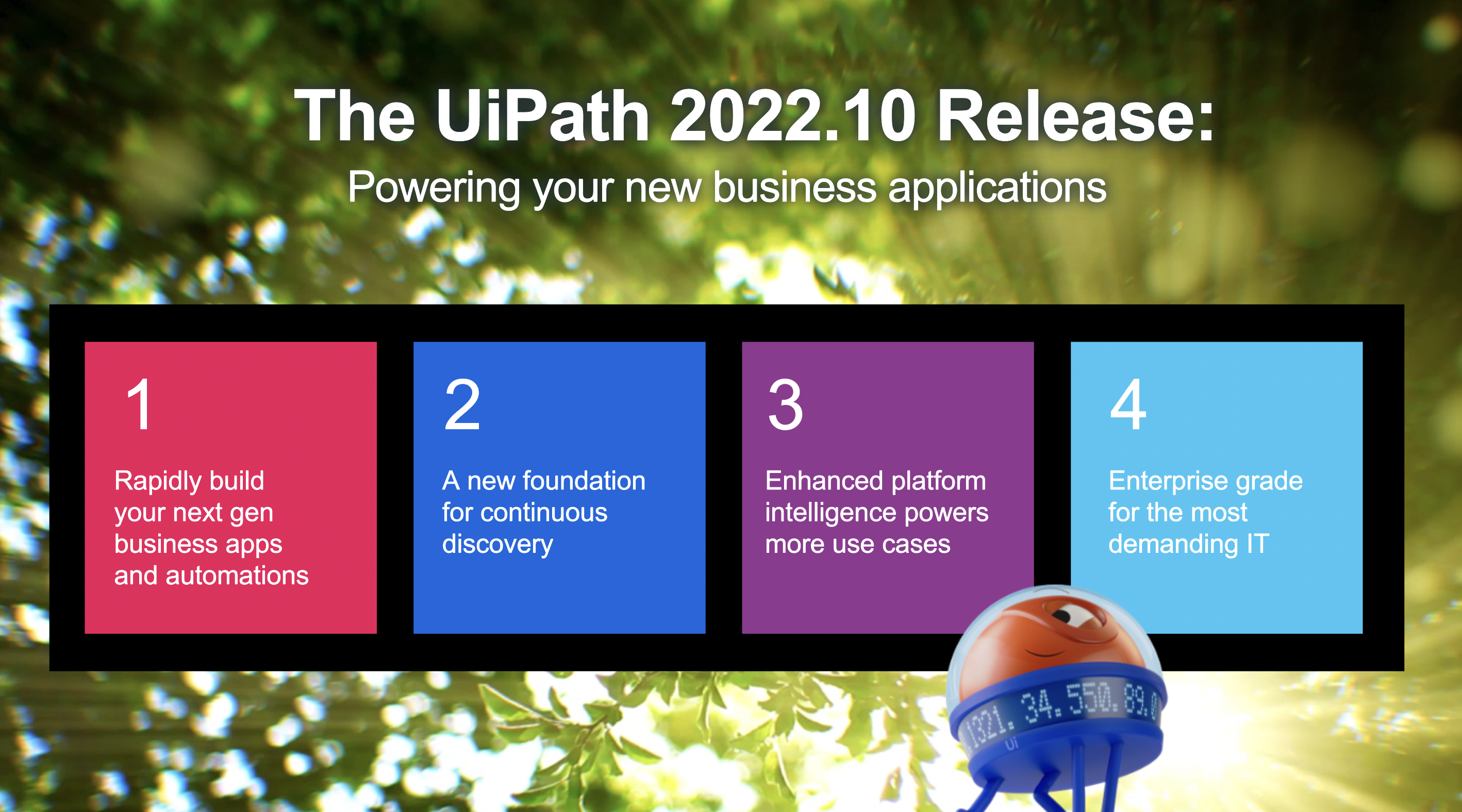 Rapidly build your next-gen business apps and automations
The 2022.10 release provides expanded access and simplified development experiences for developers and business users alike.
The more you can automate—and the faster you can do it—the more value you can reap. The UiPath Platform delivers low-code experiences that use the power of automation to quickly build new business processes and adapt existing ones.
The 2022.10 release offers expanded low-code and cross-platform experiences that not only reduce build time and complexity for automation experts, but also make it easier to increase your pool of citizen developers.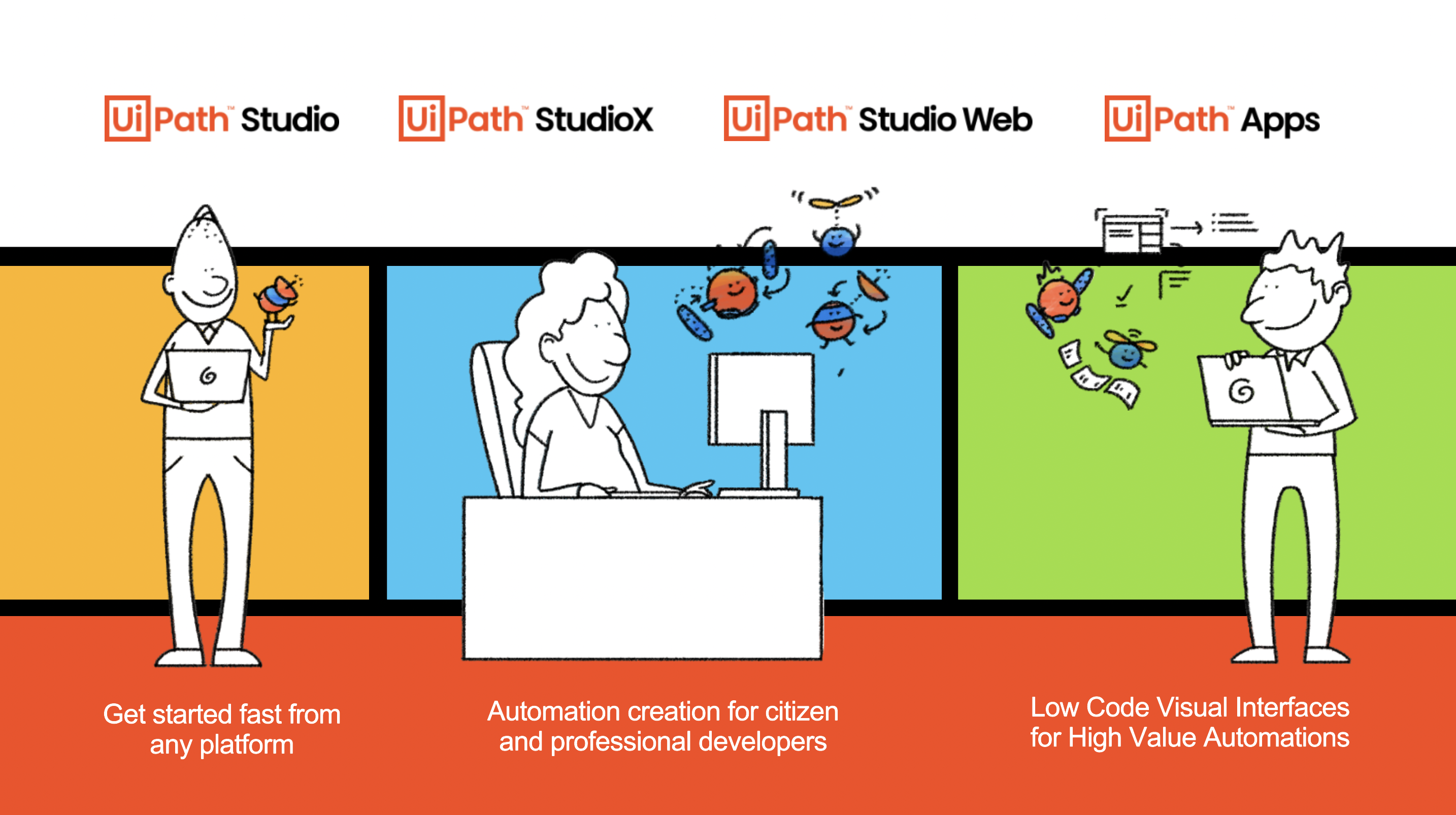 Developer experiences
A new foundation for Continuous Discovery
Zero in on the biggest-opportunity processes—and amplify automation's impact across the enterprise.
Continuous Discovery helps you discover the as-is state of your processes and tasks, take action to optimize them, and monitor them to find additional improvement opportunities. It's a core component of most high-performing automation programs. In fact, McKinsey reports that the most successful automators are almost 2.5X more likely to use process discovery tools than their peers.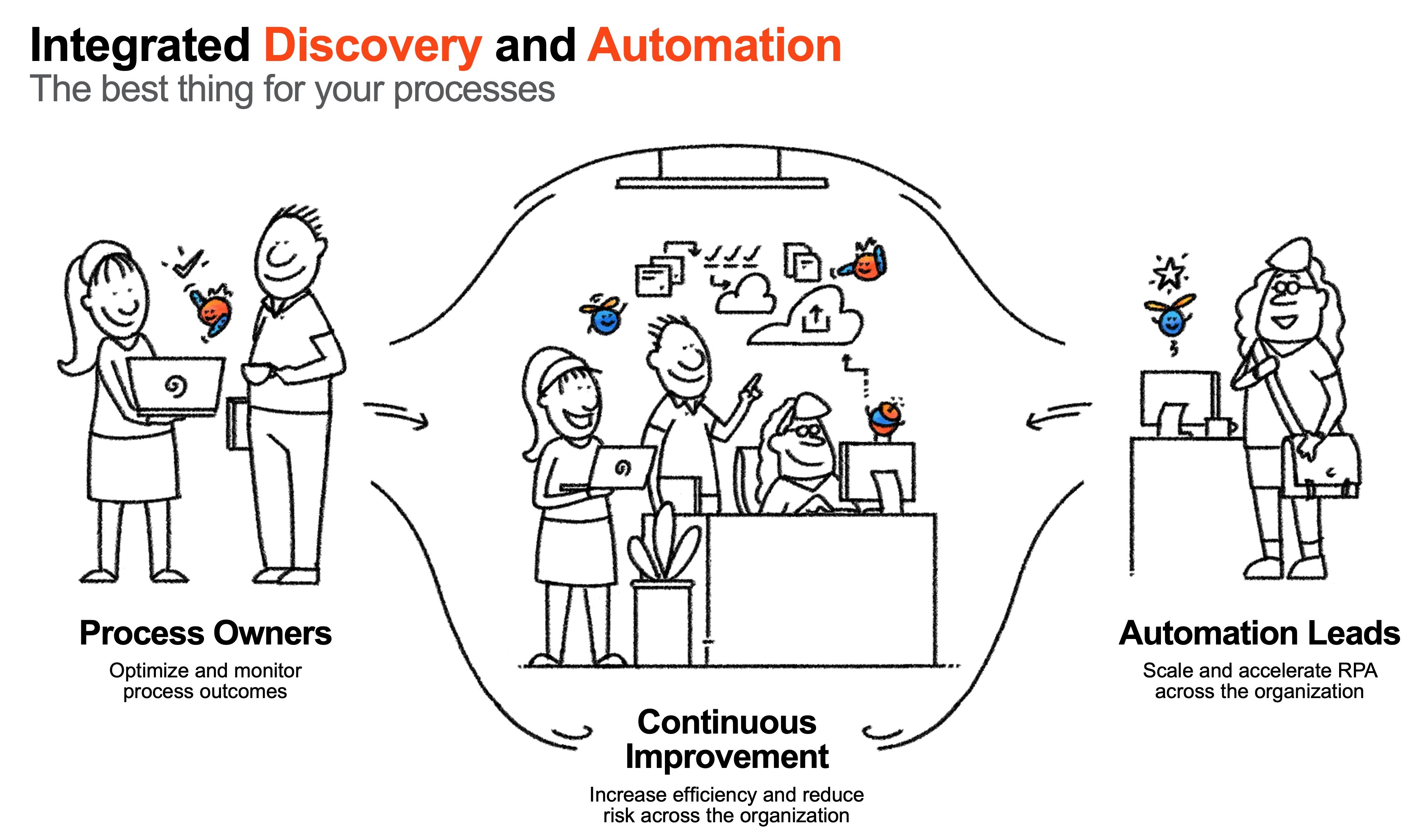 Continuous Discovery
New capabilities introduced in 2022.10 provide an even stronger foundation for a robust continuous discovery capability.
Enhanced platform intelligence powers more use cases
The industry's smartest robots get even more accomplished…to accomplish even more.
There's a massive amount of value to be captured by automating processes involving unstructured data. But to do so, you need robots that can 'understand unstructured.' The platform intelligence enhancements incorporated into the 2022.10 release do just that.
Our recent acquisition of Re:infer adds communications mining to the platform, extending our semantic automation capabilities to include a vast swathe of previously unusable unstructured communications data. Now you can parse the content, context, and intent of emails, service tickets, documents, chat logs, social messages and more—and use UiPath robots to understand and act on this content. This opens up many new processes for automation, such as processing millions of customer and supplier emails.

In UiPath Document Understanding, an expanded array of natively supported documents such as bank/financial statements and packing lists make it even easier to automate financial and supply chain processes.

Our robots have always been able to read static screens like people do. But now, enhancements to UiPath AI Computer Vision also let them read dynamic screen content like scrolling tables on the web and in applications.
Enterprise-grade platform for the most demanding business and IT needs
Our enterprise-grade capabilities get even higher grades for their significantly enhanced security, compliance, resilience, and flexibility.
Automation Cloud™ now supports delayed enterprise releases that allow more testing time. There are also new security and compliance features, like IP range restriction and customer-managed Orchestrator keys. And Automation Cloud robots now have site-to-site VPN support, so you can use them to automate systems and data that live in private clouds.

If you self-host, Automation Suite offers a raft of updates, including UiPath Process Mining and Automation Suite robots, new enterprise capabilities such as active-active high availability/disaster recovery support, and lower resource requirements when starting just one or a few services.

While we recommend the full, integrated platform delivery that Automation Cloud and Automation Suite offer, there are also a myriad of updates to other IT- and enterprise- friendly products you know, like Orchestrator, Integration Service, and of course the robots.
As you can see, there's a tremendous amount of innovation from the team and many new capabilities to help you take your automation program to the next level. We can't wait to see how you apply it in your organization as you deliver on a new way of operating and of innovating.
We hope you'll join us for our upcoming 2022.10 release webinar. UiPath product experts will show you these new capabilities in action.
From blog posts to a new UiPath Academy course, there are many ways to find out more about the 2022.10 release. Explore the 2022.10 release 'box set'.