The next generation of digital technologies, such as big data, artificial intelligence (AI), the Internet of Things, and blockchain, are playing a crucial role in the workplace and our daily lives. And digital transformation has become the core strategy for many enterprises.
As a full-service technology solutions provider, Lenovo has been undergoing an enterprise-wide digital transformation as it pursues its 3S strategy (Smart IoT, Smart Infrastructure, and Smart Verticals for industries).
As part of this effort, Lenovo Global IT has established an IT intelligent operation ecosystem, with new strategies and measures across various departments such as finance, human resources (HR), and Internal Audit.
The first step to Robotic Process Automation (RPA) success: screening the appropriate process
As a major functional department, Lenovo HR is responsible for important personnel management work such as recruitment, compensation, career development, and benefits administration.
Lenovo's HR and IT teams have pursued information transformation since the 1990s. Since that time, the teams have successively integrated SAP, PeopleSoft, Workday, and other solutions to optimize the internal HR management systems.
The increasing complexity of digital and intelligent transformation makes it more challenging to realize digitalization through simple data integration and system upgrades.
In the area of Human Resources, daily routines regularly involve cross-system operations, repetitive manual entries, manual verifications, and other "manual-intensive" work. Examples of common tasks include individual income tax declaration, attendance data verification, the recruitment process, and others. These tasks are repetitive, tedious, time consuming, and error prone. For this reason, Lenovo Global IT has been looking for solutions to achieve the next level of digital transformation to streamline the workflow of the HR department.
Screening the appropriate processes is the first step in achieving success with RPA. Lenovo prioritized processes that could be optimized. Processes were then "quantified" according to return on investment (ROI) and prioritized for implementation. Below is a diagram of the processes that were selected as first priority: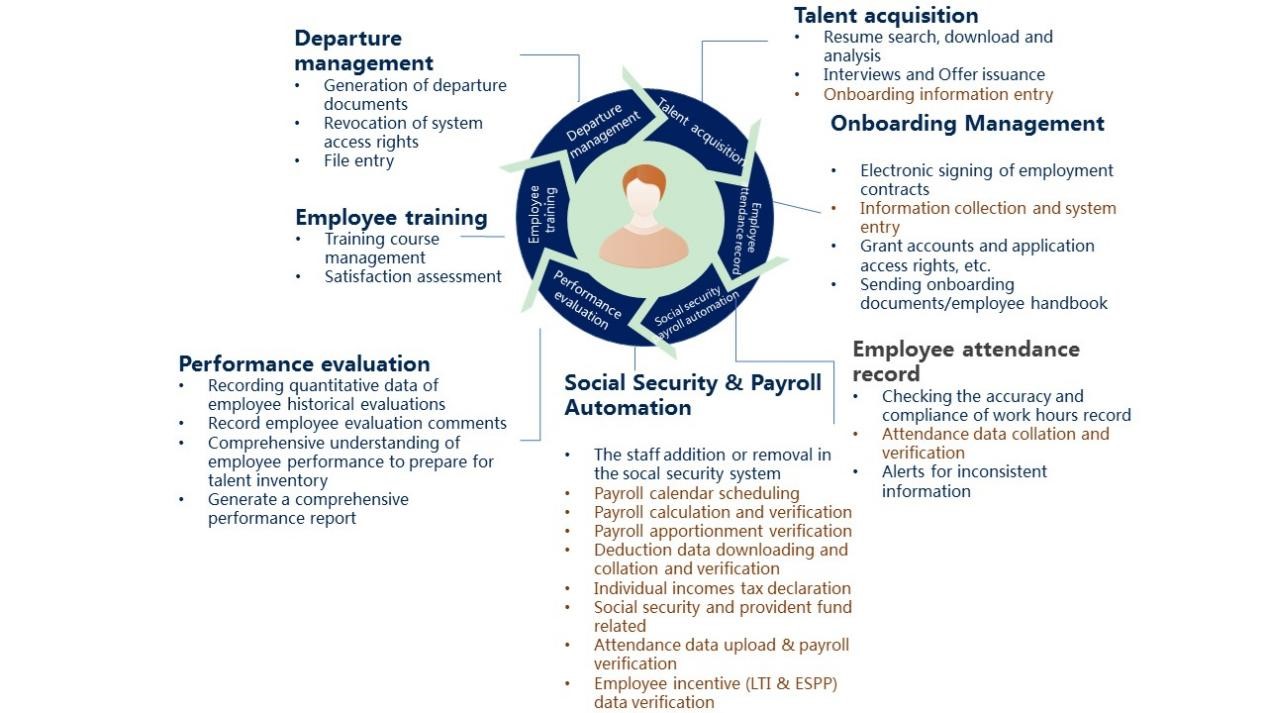 RPA improves business efficiency and optimizes processes
According to the "pain points" defined by the HR team, individual income-tax declaration, reimbursement of business expenses, and payroll accounting were selected for the first deployment.
Four approaches — global deployment, flexible deployment, human-machine collaboration, and user self-help — were applied to maximize the 24/7 efficiency advantage of the robots, while guaranteeing maximum use of IT and business resources.
Individual income-tax declaration
Individual income-tax declaration has always been an important and tedious task for the HR team. It takes a lot of time and person-hours to organize hundreds of documents and complete repetitive tax-related operations. The process is complex and complicated.
To start, the process was broken down into several sub-processes.
Robots upload individual income tax files into the individual tax system, then do the declaration and verification, and automatically rerun whenever an exception occurs. By streamlining the Individual income-tax declaration processes, HR and IT reduced the cost and the time required for this process.
Expenses reimbursement
In the old reimbursement process, employees needed to fill out forms,then submit the reimbursement application in the system, download and print the approved documents, and send them to the Finance department. This manual process was inefficient and sub-par in terms of quality. After the introduction of RPA, the data is automatically identified through optical character recognition (OCR) software, and then filed and submitted.
The results:
Employees now need less than 10% of the amount of time to submit their expenses

The accuracy rate increased by nearly 99%

Verification quality and timeliness have greatly improved as well
The whole process is highly visualized, structured, and digitalized so that internal audit management and control of expenses can be completed online in an efficient and convenient way.
Payroll calendar scheduling
Every month, the HR team needs to calculate and verify employee attendance and payroll for employees of hundreds of legal entities in nearly 100 countries.
This task involves a lot of repetitive manual calculation, verification, and multiple operations across systems and platforms, which is very labor-intensive and time-consuming. Using RPA, the HR staff can now implement process optimization in a modular way. The flexibility, scalability, maintainability, and reusability of the project is guaranteed. In the end, the processes were successfully launched in nearly 100 countries.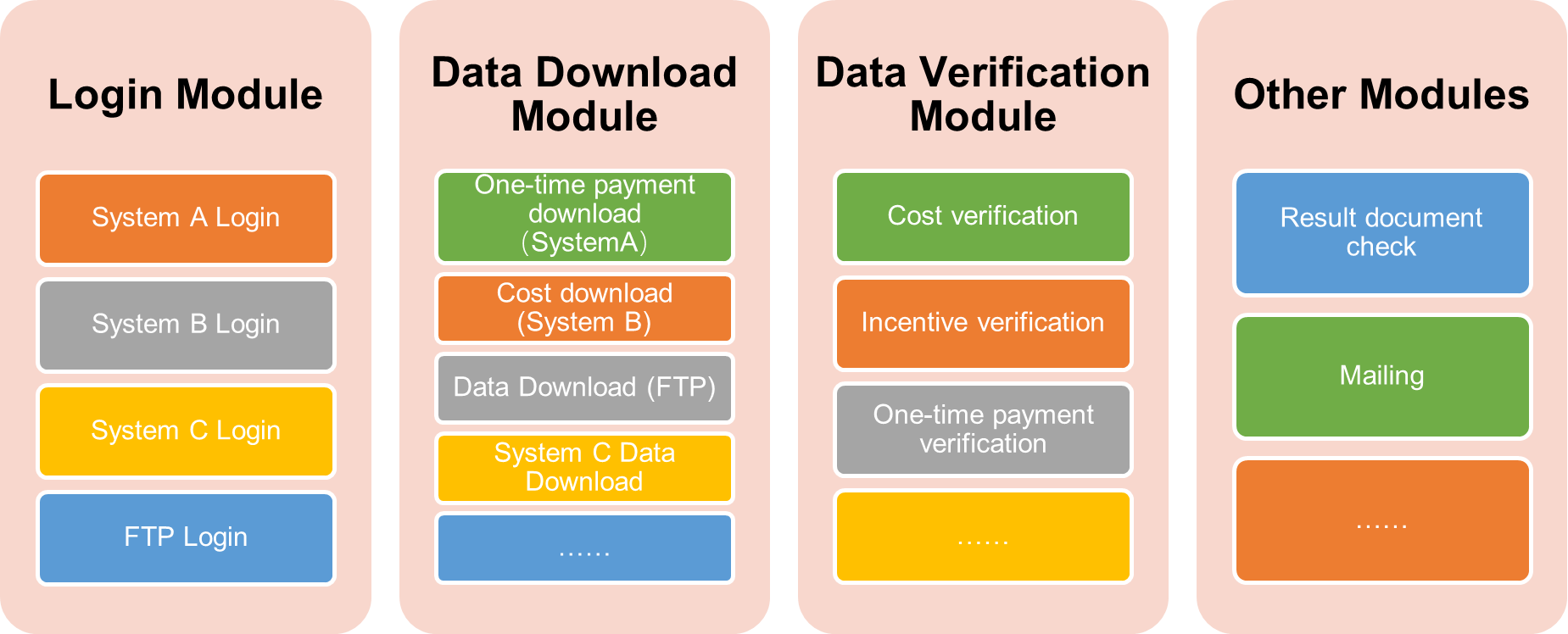 Lenovo employee payroll operations are one of the most important areas in HR. Every year, the global payroll team needs to carefully schedule and formulate the payroll calendar by considering different holidays in several countries. Because of the complex data logistics, this process causes a lot of pain for HR, as it is time-consuming and comes with high error rates.
In the traditional development model, HR staff would do the processing logic, bringing subjective judgments or redundant operations. In this situation, the developer needs to "rebuild" the process on top of automating it. If Lenovo Global IT follows the regular model, it means the logic will be summarized from more than 60 countries around the world. The workload would be huge if IT revisits the processing logic from each entry, then transform them into a uniform process.
Lenovo Global IT adopted an innovative "black boxes" approach by setting up a "Logic Generation Robot" to tackle this challenge. First, Lenovo Global IT set up a generic assumption, then used the machine learning KNN classification algorithm to analyze and conclude years of payroll calendar data, thus automatically generated the associated logic between data, and finally built up the RPA's own logical knowledge base.
On the other hand, Lenovo Global IT leveraged AI to summarize the knowledge base and developed a "Calendar Generator Robot." Results were cross-checked against real data to correct the logical knowledge base until the match was over 90% (after multiple iterations).
Finally, the two robots (Logic Generation Robot and Calendar Generator) collaborated with each other, and the logic parameters continuously corrected after several iterations, so that the fit between the robot-generated and manually generated calendar reached 96% accuracy. The Lenovo HR team was satisfied with the results and finally solved their pain point which had existed for years.
Automation operating model helps RPA projects to be implemented smoothly
HR processes have made great progress following the introduction of RPA, thanks to the effort from Lenovo Global IT.
A self-service robot, "IT Robbie," and the mobile "CoChat app" (both Lenovo self-developed products) were developed to help users become comfortable with automated services.
We have carefully designed the AOM [automation operating model] management system to match the current level of RPA development. The system covers five dimensions: organization, governance, technology, process, people and culture, and strictly follows Lenovo AOM. The AOM management system is the key to the success of the RPA program, providing full guidance and support for RPA implementation in the future.

Bonnie Qiu · Global IT Operations Director of Lenovo Group
Lenovo Global IT is promoting internal automation deployments in a planned and innovative manner, thereby improving the overall operating efficiency of the enterprise.
Significant results
Previously, Lenovo still had a small part of business that needed manual operation, and human error was unavoidable. After adopting automation technology, these business operations' accuracy has been significantly improved, with zero business errors caused since the launch of RPA. In addition, process efficiency has increased by five to eight times.
From a cost perspective, applying RPA helps the HR team save at least 6,000 hours per year. Employees have more time to do valuable work. "RPA frees our resources from repetitive, manual operations. Not only in terms of workload, but also as a mental release for our staff," shared the HR Payroll Director of Lenovo China.
For the future, Lenovo also hopes to further deepen the application of RPA. "There are more RPA needs in the future, and we expect HR Ops tasks can be more automated and intelligent," the Vice President of Lenovo HR Strategic Operations pointed out.
Intelligent operation: stable, easy to use, and secure
Lenovo Global IT has acquired rich experience in "automation operation management" covering various maintenance functions. Their goals are to provide operation and maintenance stability, ease of use, and secure products.
Stability is the most important because of the direct business impact. For example, an update to the individual tax system can trigger a new pop-up that the robot cannot recognize, with negative effects to operational and maintenance work. Lenovo Global IT has automatically identified and improved the pop-up information library to guarantee smooth operation of RPA, reducing the pressure of operation and maintenance.
Lenovo Global IT provides users with a variety of process access methods, including self-service and operational and maintenance functions on their service platform. For example, users can start the process through Lenovo's self-service robot (IT Robbie) or through our mobile app, CoChat. This allows users to start the automation process flexibly, at anytime from anywhere.
In terms of security, Lenovo Group has a strict hierarchy for data security: Lenovo Restricted, Lenovo Confidential, Lenovo Internal, and Open Data. Lenovo manages the development and use of data according to the data classification level. Business teams are responsible for keeping highly confidential raw data (such as employee identity information, and payroll information) away from the data at the Open Data security level.
As the robot deals with highly confidential and important data directly, RPA projects are careful to guard the security of data storage hard disk, data backup and recovery logic. In addition, permission settings are carefully designed. For instance, Lenovo Global IT gives a robot the identification and permission to access the application system. On the other hand, it controls tenant setting and management as well as robots configuration and management. As a result, users can only view, start, or pause RPA workflows where they have permission.
Another highlight of Lenovo Global IT's automation practice is the integration of rich AI technologies. On top of clustering algorithms such as KNN in the payroll calendar development projects, the company also combines AI, machine learning, and automated monitoring to expand from automating individual sub-processes to the full departmental processes.
Lenovo Global IT has successfully and intensively applied AI technology. By combining RPA, AI, machine learning, and other integration technologies, Lenovo sets a good example for other enterprises on their journey to becoming a fully automated enterprise™.