This is Make Moves. An inspiring career growth series with real world stories, triumphs, and practical advice, all from our fellow UiPathers. Managing a career is both challenging and exciting, especially because you're the one in the driver's seat. To help our colleagues thrive at UiPath, we provide an ecosystem of different programs and tools to help them develop their skills, expand their impact, and explore new opportunities. Join us on this journey and read on to discover a career-making story that may just change your perspective. 
When Valentina Ditoiu graduated law school, she envisioned for herself the traditional in-house lawyer trajectory—working her way up to more senior legal positions throughout her career. But after over five years at UiPath, her journey has taken another direction, and she has no regrets.  
Valentina joined UiPath as a Legal Counsel, a role she held for over four years. She wasn't on the Security or Engineering teams, but she worked closely with them on compliance matters daily. When the Security team prepared to open a role dedicated full time to much of the work she was already doing, they asked Valentina to write the job description. She wrote it but didn't think about applying for the role herself—at least not at first.  
"But after a while, I started waking up in the middle of the night, thinking about this opportunity and I realized I wanted it," she said. Shortly thereafter, her manager received a call from the hiring manager, asking if Valentina might be interested in the job. She gladly accepted.  
With her manager's support, Valentina was able to write her own job description and move into a new field, going from Senior Product Legal Counsel on the Legal team to Senior Product Program Manager on the Security team. But how'd she get there?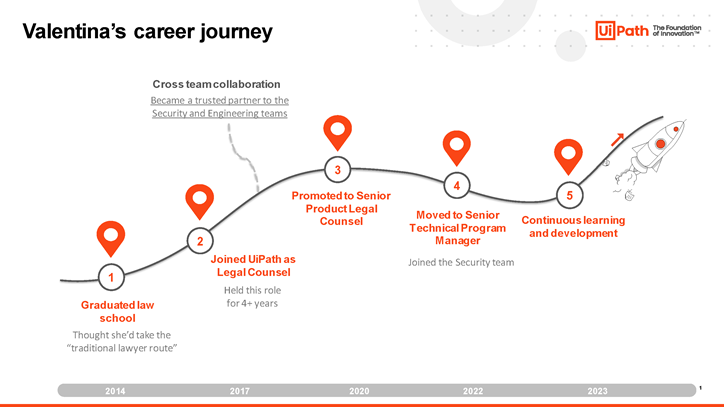 Don't shy away from a challenge  
If you would've told Valentina back in school that she'd someday be working in a technical role, she wouldn't have believed you. But after being exposed to new technologies, exploring UiPath products, and learning from her stakeholders, she was up for the challenge.  
Now in the role for one year, Valentina says there's been a learning curve, but she continues growing each day, with support from her team. 
Change can be scary, but it's also exciting  
Though her career hasn't followed the standard path after law school, Valentina is able to apply her legal foundation to her new role—in fact, she couldn't do the job without it. And yet, this new role in security presents an exciting challenge to learn new things every day.  
"After graduating law school, I thought I'd be a legal counsel the rest of my life," Valentina said. "As time went by, after working with engineers on a daily basis, I realized how much I liked the technical aspect—there was always something new to learn."  
Do the job you want—before it's officially yours
Before she changed roles, Valentina's future colleagues were her stakeholders. They worked together closely, and their relationship was built on mutual trust and respect. She became a natural fit for the job because, well, she was already doing it on top of her existing role!  
Even though her path was unconventional, she's grateful.  
"I wouldn't trade the experience for anything. I love the challenge—it's difficult but I want to know how it turns out. I'm so grateful for the opportunity," Valentina said.
Do you have other curiosities about making a career change? Be sure to explore our upcoming Make Move blog posts for more inspiring stories, useful tips, and advice.